Friends, you all know that Swiggy is one of the top meal delivery companies in India, but do you know "What is Swiggy Instamart and how it works?" Let's start with the small introduction.
What is Swiggy Instamart?
Swiggy has recently launched a project called Swiggy Instamart in response to the increasing popularity of online delivery. Under this project, home delivery of grocery items and other essential items will be done on the demand of the customers.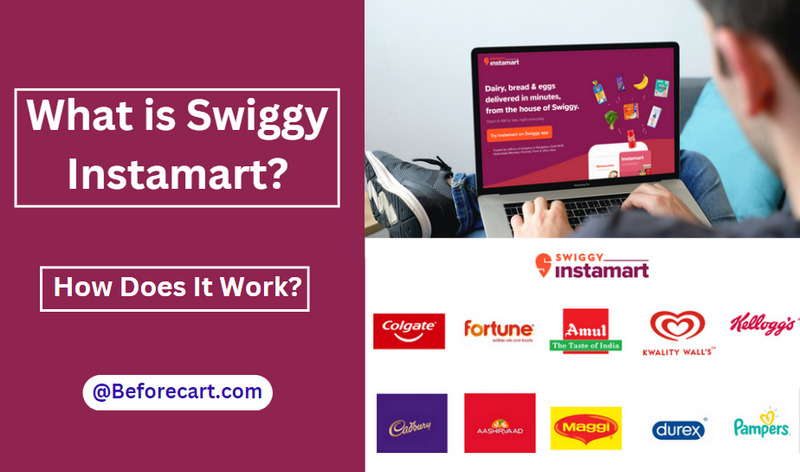 If you want, you can also call Instamart a branch of online stores because it delivers the goods found in the shop directly to your homes.
Through Instamart, you can order all grocery items, vegetables, fruits, meals, ice creams, dairy products, health care products, sweets, and many more at your home.
Some Key Information of Swiggy Instamart
| | |
| --- | --- |
| Launched in | August 2020 |
| Company's Moto | Instant Grocery Delivery Service |
| Working Hours | 6 AM To 11 PM (Every Day) |
| Official Email Address | [email protected] |
| Official Website | swiggy.com |
| Help Center | Call to 080-67466729, or Chat Support |
Some Key Information of Swiggy Instamart
How Does Swiggy Instamart Work?
Swiggy is based in Bangalore, India, and is available in 500 cities across the country. Swiggy delivers around 2 million orders a day as of November 2022. If we talk about users, then there are about 25 million monthly active users in it. If we talk about the revenue of the company, then it has crossed $330 million.
In view of the increasing popularity, the company launched a new service in August 2020, which is known as Swiggy Instamart, to make grocery items reach its users quickly.
Instamart provides services from 6 am to 11 pm from Monday to Sunday. It claims to deliver orders to its users within 45 minutes.
In early 2021, Swiggy insisted on making Instamart bigger by closing one of its services, Swiggy Stores. Due to this, Instamart has reached a commanding position today.
Due to the collaboration of Instamart with the local grocery store, the goods you need are easily available very easily and in a short time.
Which Items Does Swiggy Instamart Deliver?
Swiggy Instamart collaborates with all the branded companies you trust such as Amul, Colgate, Fortune, Aasirvaad, Cadbury, Kwality Walls, Kellogs, Pampers, and more.
Recently, Instamart has collaborated with some popular brands like Mamaearth, Beardo, Pedigree, etc.
Customers may order the following products at Instamart:
Fruits and Vegetables
Sweets and Cakes
Chocolates
Personal and Baby Care Items
Ice Creams
Cooking Essentials
Health Care Items
Beverages
Instant Foods like Maggie, Pasta, etc.
Munchies
Home and Cleaning
How To Use Swiggy Instamart?
The users may use the Instamart service on the Swiggy app. Swiggy app is available on Google Play Store and App Store. If you don't have the Swiggy app on your phone, you may get it from there.
Swiggy Instamart tries to fulfil all the basic needs of its customers. The company delivers its products within 15 to 45 minutes. So, if you order any product from Instamart, you will receive your items within an hour.
You may check; Swiggy New Coupon Code
What are the advantages of Swiggy Instamart?
Swiggy customers get lots of benefits through its Instamart services such as
Deliver products for normal charges.
Deliver groceries within 45 minutes.
Provides services for a long time from 6 am to 11 pm.
Swiggy provides a Coupon Code for the purchase of 199 rupees or more.
For more interesting and profitable information, you may check Zomato New Coupon Code.
Frequently Asked Questions:
How do you use Instamart Swiggy?

You can take advantage of the Instamart feature through the Swiggy app. Within the Swiggy app itself, you will find the Instamart option, which makes it very easy to get essential items at home.
Who is Swiggy Instamart owner?

Under the Swiggy app, there is a project called Instamart. Sriharsha Majety is the founder and CEO of Swiggy.
What is Swiggy Instamart?

With Swiggy Instamart, you can order groceries online and have them delivered to your doorstep.
How do I join Swiggy Instamart?

After launching the app, you will see a banner of "Instamart" on the homepage. After clicking the Instamart option, you will be able to order grocerry and other essential products.
Conclusion:
In this article, we explored Swiggy Instamart, including its working process, products, advantages, and hours of operation. I hope you found this article informative. For more, you may check our other content.
Thanks for reading.