Hello and Welcome back to our powerful content regarding Farming Games in Metaverse. In this article, you will learn about the best NFT Farming Games in 2023.
The games are designed to allow their users to perform farming in the metaverse, and players can also earn cryptocurrency and NFTs. Now you might be wondering what the metaverse is all about.
In simple words, you can say, Metaverse is a virtual platform that can be accessed through the internet. In 1992, the term Metaverse originated in the science fiction American novel, Snow Crash.
Now you must be curious about the 9 best farming games in the Metaverse.

1. Cropbytes
Cropbytes is a crypto farming game created in April 2018. As in the real world, the player owns assets, grows crops, and sells them for Cryptocurrencies such as TRX or CBX. After signing up successfully, you'll receive a starter pack of farming assets for a 7-day trial period.
After the trial period, the farmer will need to buy assets in order to continue farming. Farmers can sell many products in exchange for cash or cryptocurrency. Cropbytes is available on Playstore and App Store.
How much does CropBytes cost?
This farming game of the metaverse is completely free to play. Instead, you get paid if you play it. The virtual farmers get paid in the form of CBX and TRX.


Recommended: How does Robinhood make money?
How do you earn money on CropBytes?
You may earn money from CryptoBytes by converting your extracts into CBX tokens. Cryptobytes game allows you to make money by converting your extracts into CBX tokens, collecting utilities selling crops, and animals, or starting your own farming business.


2. Plant vs Undead
One of the most popular games in the metaverse is Plant vs undead (the NFT garden). In June 2021, this game was launched as a pay-to-earn game. To earn crypto or to make money in this game, you need to fight the "undead" by protecting plants.
In order to earn PUV tokens, users need to save more and more plants. Users do not have to pay anything for playing Undead vs plants, which makes it unique. Furthermore, the token for this game is also based on BnB smart contact (BEP20). There is a cryptocurrency associated with the game, called PVU.
Throughout its ecosystem, this coin can be used to facilitate every transaction as a utility token. It allows you to buy plants or seeds or trade them for in-game currency. There are several free plants you can grow in the game, which can also earn you rewards.
The current market price (CMP) of the PVU tokens is $0.011948 with a market cap of $530,908.18.


Recommended: Shiba Inu Business Model
3. Farmpoly
In the world of the metaverse, Farmpoly is another farming game inspired by Farmville. The farmer (Player) earns Farmpoly tokens by raising crops, feeding animals, and building a farm. Its main marketing strategy is to market the game as a play-to-earn game to attract players.
In the future, this game will reward user contribution with its blockchain-based economic design. Moreover, Farmpoly plans to mine bitcoins and invest in gold and real estate in the near future. Farmpoly is based on the BNB smart chain (BEP20), its ticker code is $POLY and its current market price is $ 0.0006552.


Recommended: Hbar Business Model
4. Farmer's World
An NFT game running on the WAX blockchain is Farmer's World. Compared to the real world, this game has a lot of similarities to the farming process. This game allows the player to use a variety of gardening tools as well as cultivate the land and buy and sell land which can be used to build a farm.
It feels like you are a real farmer working in the real ecosystem of farming, so it is the best farming game in the metaverse. In this game, the main currency used for transactions is WAX.


Recommended: Rivian Stock Price Prediction 2023
How to make money in Farmers World?
There are three main ways to earn money in the farmers' world: cultivating crops, mining gold, and raising animals. For example, a user can give crops to another user in exchange for animals or vice versa, or sell these items on the marketplace for Wax tokens.


Recommended: LUCID Stock Price Prediction 2023
5. Plato Farm
Plato Farm is another metaverse project based on blockchain technology. Players can raise animals and grow plants in small firms in the virtual world. There are two tokens in the Plato Farm ecosystem; PLATO and MARK.
Depending on your level, you will be able to hold a greater number of PLATO tokens. Alternatively, Plato Farm's most common trading medium is MARK. To obtain PLATOs, you must stake MARK tokens.
It is also possible for players to create their guild in the Plato ecosystem game in order to earn money while playing. Its tokens are created on Binance Smart Contract (BEB20). Binance smart contract.
PLATO is the ticker code for the Platform token. PLATO's current price is $0.0004602, with a total market cap of $50,626.55.


Recommended: Fintech Business Model 2023
6. Howdy Games
Howdy Games is a popular game created on the polygon network which is also known as the Honest Farmer Club.
Due to its environmental friendliness, all games by Howdy Farmers will launch on the Layer-2 scaling network. This game uses the POTATO token as its currency.
The game allows teenagers to create a team in a virtual world (Metaverse) to explore farms together, cultivate potatoes, and sell them for tokens. The Howdy Farmers Club has a unique set of NFTs.


7. Wanaka Farm
The game Wanaka Farm is also a popular virtual reality game based on the metaverse. It allows players to grow plants and crops, breed pets, cultivate lands, and decorate lands.
This game allows you to rent land to others so they can cultivate it, and vice versa. Once the land has been cultivated, crops can be sold for tokens. The assets in the game are designed as NFTs.
Wanaka farm token is also created on BEP20 i.e Binance Smart Chain. WANA is the ticker symbol for Wanaka farm tokens. Currently, WANA is priced at $0.01629 with a total market capitalization of $$1,169,045. Wanaka Farm is a very new project, so it's difficult to judge whether it's a legitimate project or a scam.


8. Krystopia
This adventure game follows Commander Nova Dune, a galactic researcher who receives a strange distress beacon from planet Krystopia and makes his way there.
You will definitely enjoy this game if you like mazes and riddles. Nova and her extraterrestrial companion Skrii would encounter residents of the city and engage in escape room-style trials. Krystopia is a very popular game that is available on Google Play Store.


9. HappyLand
Another revolutionary game in the metaverse is the Happyland farm game (Happyland finance). The game is based on blockchain technology and is inspired by the countryside in Texas, United States.
This game lets players own farms, cultivate crops, breed livestock, and build attractive farms to earn money. It is possible for players to create their own style of farms.
Players can also earn NFTs in this game, and they can also be purchased on platforms selling NFTs.
The best way to make money in HappyLand
The simplest way to earn tokens or money by using HappyLand is to grow crops, plants, vegetables, flowers, and fruits and sell them.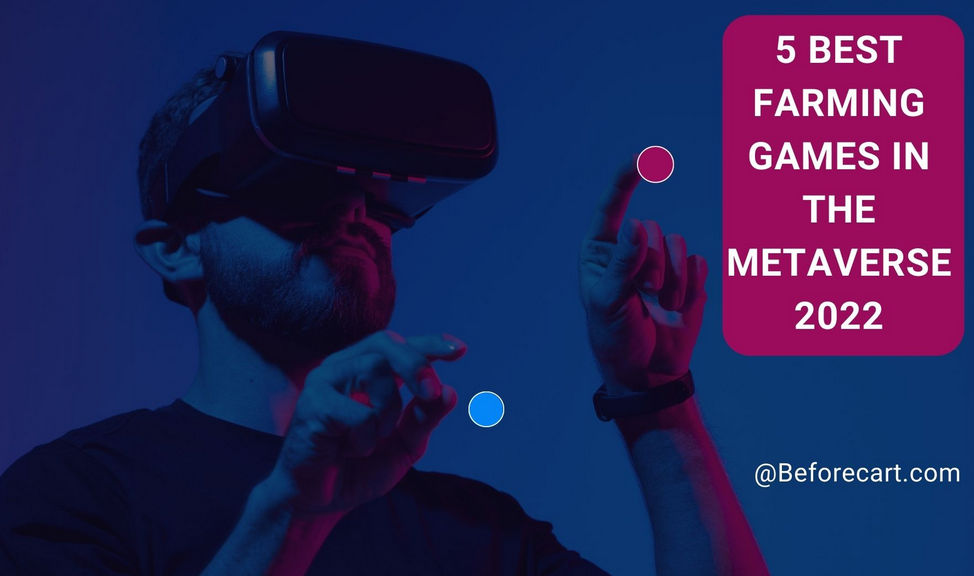 These were the 9 Best Farming Games In The Metaverse. I hope you like this information.
Conclusion:
To summarize, this article focused on the best farming games available in the metaverse, how they work, and how to make money from those platforms. While researching farming games, it was very challenging to select games to include in the list, but we found these games to be of particular interest to our users.
This article discusses how you can earn Crypto, NFTs, and money by playing the game. If you liked this article, share it with your family and friends. For more interesting topics, you may check out our other content. Thanks for reading!