Zomato is India's number-one meal delivery company with the best services. Zomato lets you order a large amount of food from your favourite local restaurants. But what if you have to cancel the ordered food due to some reason?
For your information, let me tell you that cancelling after ordering food from Zomato is not as easy as you think. To cancel an order, you must give a strong reason. However, it is important to understand why this happens.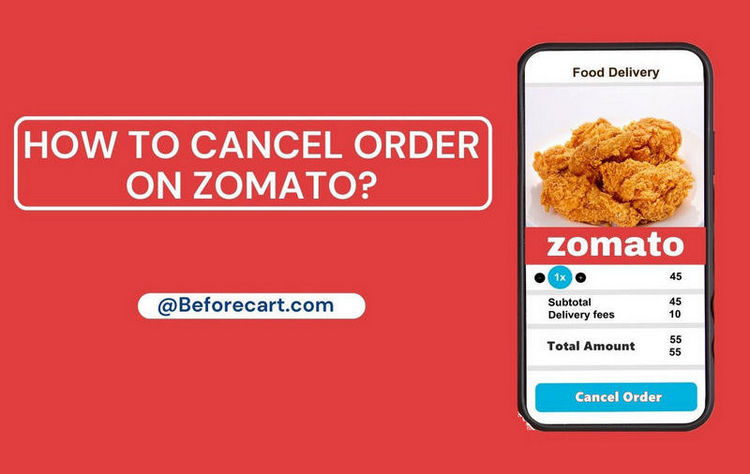 They accept immediately just after placing your order. Immediately after receiving the order, the restaurant starts cooking according to the order. If you cancel the order, the next order will take a lot of time.
Then, how will you cancel an order on Zomato? Let's check out the complete process to cancel an order.
Recommended: Zomato New Coupon Code
How To Cancel Order on Zomato? Step-by-step Guidelines.
After the order is successful, you will see the details in the order history section, but you cannot cancel the direct order from Wala. You have to go to the customer assistance section to cancel the order.
There you will get the option of chatting with customer executive members.
You just have to type "Cancel My Order" on that page and press enter.
After that, the customer service executive will ask you the reason for the cancellation.
You have to give solid reasons for cancelling the order.
Then they will take confirmation from you again for rechecking.
You will be given two options for confirmation "Yes, I want to cancel my order" and "No, I don't want to cancel my order".
You have to choose the option "Yes, I want to cancel my order".
After selecting this option, they will contact the restaurant immediately, and your order will be canceled.
Recommended: How do I log into my Zomato Partner?
How To Get A Refund From Zomato? Is Zomato Order Refundable?
Yes! Zomato refunds the amount after order cancellation. But it also has some rules and regulations. Understand all the details of the refund with the following steps:
If you have placed a prepaid order, but the restaurant has cancelled the order due to lack of food or any other reason, then in these circumstances, Zomato is entitled to get its total amount.
In this case, Zomato will refund the total amount. In this case, the full refund will be made to the same source you used to make your payment.
But, if you cancel the order for any personal reason or make any mistake like placing the order by entering the wrong contact number or address, then in such a situation, you will not get a complete refund.
In such circumstances, you will have to pay the penalty for order cancellation.
Recommended: If you do invest in shares or the stock market, you may read Zomato Share Price Target.
What Is The Estimated Time For A Zomato Refund?
The refund might be processed the same day within one hour if you paid through your Paytm wallet on Zomato. In other cases, it may take two to seven business days if you have used UPI, Debit or Credit Cards, Sodexo, or Net Banking. For more details, you may check the following table.
| | |
| --- | --- |
| PAYMENT MODES | ESTIMATED TIME FOR REFUND |
| UPI | Two to Four Business Days |
| Debit or Credit Card | Four to Seven Business Days |
| Net Banking | Five to Seven Business Days |
| Paytm Wallet | One Hour |
| Sodexo | Five Business Days |
What Is The Estimated Time For A Zomato Refund?
Recommended: Zomato IPO (Initial Public Offerings) Detailed Information
Can I get a money-back guarantee on Zomato Pro?
Users of Zomato Pro membership plans can take advantage of many lucrative offers and discounts. The company announced that it would provide its users with a money-back guarantee during the launch period of Zomato Pro.
Recommended: Uber business model – How does Uber Make Money?
Frequently Asked Questions About "How To Cancel An Order On Zomato?"
How to cancel a Zomato order?

Follow these simple steps to cancel a Zomato order:

First of all, you open your order section on the Zomato app
Visit the Get Help and Support section
Go to the "Chat With Us"
Select I want to cancel my order.
Is the Zomato order refundable?

You will get a full refund if Zomato's partner restaurant cancels the order. However, if you cancel your order for personal reasons, you will not be able to get a full refund. Instead, you will have to pay some fees as penalty charges.
How can I get a refund on my Zomato Order?

Once your refund request is accepted, you will be refunded through the same channel you placed the order.
Does Zomato issue refunds?

Yes, Zomato issue refunds with some terms and conditions. If Zomato cancels an order, you will get a full refund, but if you cancel for personal reasons, you won't get a full refund.
How can I talk to Zomato customer care?

You may chat with support executives on the Zomato app for any issues. They don't provide any customer service number.
Conclusion:
The article is about, "How To Cancel Order on Zomato?" Here, we have tried to cover all the curated questions asked by Zomato users. If you still have any doubts, write in the comment section. We will try to give our best to help you as much as possible.
Please share this information with your family and friends. Thanks for reading.