Sweatcoin Business Model: Sweatcoin is a popular mobile application that has been gaining traction in recent years due to its unique approach to incentivizing users to stay active and live a healthy lifestyle. The app uses cutting-edge technology to track and verify users' physical activity and then rewards them with a digital currency called Sweatcoins.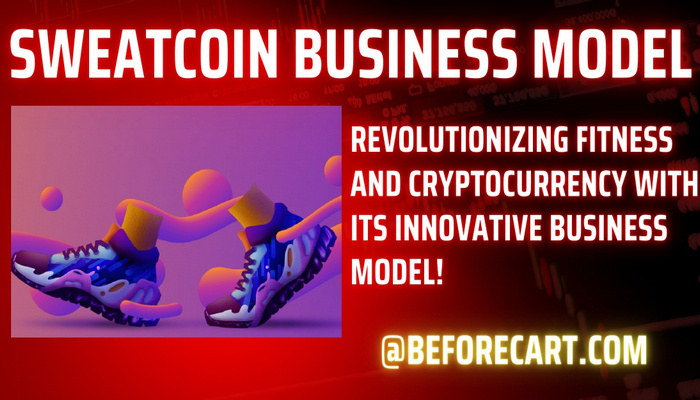 This currency can be used to purchase a wide range of goods and services in the in-app marketplace, from fitness gear to health supplements to gift cards. With millions of users worldwide, Sweatcoin has emerged as a leading force in the health and wellness app space, motivating people to get moving and improve their overall well-being.
Despite being a relatively young company, Sweatcoin has experienced remarkable success, amassing a user base of 100 million since its founding in 2015 while raising an impressive $13 million in funding.
Continue reading to learn everything about the Sweatcoin Business Model.
How does Sweatcoin work?
Sweatcoin distinguishes itself from other mobile apps by allowing users to earn virtual currency, known as "sweatcoins," simply by walking and engaging in physical activity.
By tracking a user's daily movements and converting their steps into virtual currency, Sweatcoin provides a unique way for people to stay motivated and rewarded for their physical activity.
Sweatcoin's earning system is straightforward – for every 1,000 outdoor steps taken, users can earn 0.95 sweatcoins, with the remaining percentage going to the platform's operation and development.
Sweatcoin leverages the pedometers in most modern smartphones, using its proprietary algorithms to verify the data and prevent fraudulent activity. By detecting and preventing cheating, the app ensures the integrity of the sweatcoins earned by its users.
To maintain accuracy and prevent abuse, Sweatcoin's algorithm only counts outdoor steps users take. Indoor activities such as running on a treadmill or participating in Zumba classes are not considered when earning sweatcoins.
After earning sweatcoins through physical activity, users can redeem them for various goods, services, and experiences available on Sweatcoin's online marketplace. In addition to spending sweatcoins, users can also choose to donate them to charitable organizations partnered with the app.
Sweatcoin collaborates with a wide range of partners, including brands like Audible, Harry's, Skullcandy, and Tidal, among many others, providing users with a diverse array of options for redeeming their sweatcoins.
In addition to earning sweatcoins for physical activity, users can choose from various membership options determining the amount of sweatcoins earned. The more advanced the membership tier, the higher the number of sweatcoins earned. However, these tiers require a monthly membership fee paid in sweatcoins.
Sweatcoin's user-friendly interface makes it simple for users to get started. After downloading the app and registering an account, users can grant the app permission to track their steps through the device's GPS, enabling them to start earning sweatcoins immediately.
In addition to earning and spending sweatcoins, members of Sweatcoin can also connect with friends and view each other's progress on the app's leaderboard. This allows for friendly competition and encourages users to stay motivated and active together.
For additional benefits, members of Sweatcoin can opt-in to monthly or yearly subscription plans, which provide a variety of perks, such as double token earnings and access to exclusive premium auctions. These plans offer even more ways for users to make the most of their physical activity and earn rewards.
Sweatcoin can be easily accessed through mobile devices, as the app is available on both Android and iOS platforms. Additionally, the app can be used with an Apple Watch, offering users another convenient way to track their physical activity and earn sweatcoins.
Sweatcoin has already gained an impressive user base of over 100 million people worldwide. Looking to the future, the company has ambitious goals and aims to attract an additional 1 billion users to the platform. If the app continues to provide valuable rewards for physical activity, this goal may become a reality.
Sweatcoin is available on the Play Store and App Store.
An overview of Sweatcoin's history
Sweatcoin, a London-based company, was established in 2014 by a team of Russian entrepreneurs, including Oleg Fomenko, Anton Derlyatka, Danil Perushev, and Egor Khmelev. With a unique concept for incentivizing physical activity, Sweatcoin has quickly gained popularity and has become a leading health and fitness tech player.
Derlyatka and Fomenko's friendship dates back decades, and they have shared many adventures together, including climbing to the summit of Kilimanjaro. Both individuals have always lived active lifestyles, which helped inspire the creation of Sweatcoin and its focus on incentivizing physical activity. Their passion for fitness and entrepreneurship has led to the development an innovative and successful company.
Before founding Sweatcoin, Oleg Fomenko was heavily involved in scaling Bloom Fm, a UK-based music app that achieved over 1.3 million downloads. However, the startup ultimately failed when its sole investor, Gazprom Media, withdrew funding following Russia's invasion of Crimea. Despite his efforts to secure additional funding, Fomenko could not keep the company afloat. However, this experience likely helped him develop the skills necessary to build and grow Sweatcoin into the successful company it is today.
Derlyatka was working on launching a fitness startup simultaneously, which, as luck would have it, did not succeed. After the failure of Bloom.fm, Fomenko fell into a period of depression and stopped working out altogether. However, his epiphany came when he and Derlyatka went for a run together.
During their run, they discussed how they could leverage emerging technology to motivate people to be more active and live healthier lifestyles. This conversation led to the idea of Sweatcoin, and the two entrepreneurs were determined to make it a success.
As Derlyatka discussed his fitness startup idea during that run, Fomenko was inspired. He wondered whether there was a way to combine emerging blockchain technology, the concept of cryptocurrency, and the simple act of working out. This is how the idea for Sweatcoin was born. Fomenko and Derlyatka saw an opportunity to incentivize people to be more active by rewarding them with a digital currency that could be spent on various goods and services.
Furthermore, his intuition was backed up by data. There was 62 percent of UK citizens classified as obese at the time. Over the next ten years, the country is expected to spend more than $12 billion curbing the effects of its overweight population.
After developing a compelling story, they started working on Sweatcoin. They then recruited Khmelev and Perushev, who worked on another startup then, to join them. Luckily, due to the founder's extensive experience, they were also able to raise a seed round of nearly $1 million to get them started.
After a year's worth of hard work, they finally unveiled Sweatcoin in May 2016. iPhone apps were made available in December 2017, while Android apps followed in April 2017.
In the early days of Sweatcoin, it had already formed partnerships with Vivobarefoot, BOOMBOOMAthletica, and Fitbug, a corporate wellness specialist. For the company's launch in the United States, co-founder Perushev moved to San Francisco in 2017. In November 2017, he left the company, according to his LinkedIn profile.
Fortunately, he established the app in the US before he left. As of the summer of 2017, Sweatcoin had become the most downloaded health and fitness application in the United States.
In addition to its rapid rise, the company also landed lucrative partnerships with Apple, HelloFresh, and Fitbit. In 2017, Sweatcoin accumulated more than 5 million users worldwide.
Another round of funding was raised due to the company's exponential growth. Greylock, Seedcamp, and Twitch co-founder Justin Kan invested a total of $5.7 million.
In addition to expanding beyond the UK and the US, the funding was primarily used to hire more people (especially data scientists). After receiving tons of coverage about its funding round in March 2018, Sweatcoin has amassed over 10 million users.
Later that month, in April, the firm entered the Canadian market. Additionally, an Apple Watch app was released.
The company received another boost in January 2019, when researchers at the University of Warwick found that Sweatcoin's app resulted in users increasing physical activity by up to 20 percent. The study, however, was sponsored by Sweatcoin itself.
Within a few months, Sweatcoin reached the inaugural milestone of 30 million users. While the app has experienced meteoric growth, it has also been criticized for draining batteries and not counting steps accurately. This issue leads to users not receiving the correct number of tokens.
Sweatcoin remained mostly out of the spotlight during the Covid-19 pandemic, which forced people into their bunkers at home.
In April 2022, the firm fulfilled its promise and launched its native crypto token dubbed SWEAT to fulfill its promise. Within 24 hours of the announcement, more than 150,000 people signed up.
Consequently, Sweatcoin raised an additional $13 million in funding from investors such as Electric Capital and Spartan Capital. In addition to its London headquarters, Sweatcoin employs over 100 people today.
Recommended: Binance Business Model
How Does Sweatcoin Make Money?
Besides promoting other brands, Sweatcoin makes money by charging subscription fees and partnering with insurance companies.
Sweatcoin does not make money from the issuance of its SWEAT token, nor will it in the future.
A separate organization, the SWEAT Foundation, manages the distribution of cryptocurrency. Token holders can vote on major company decisions through the SWEAT Foundation's Decentralized Autonomous Organization (DAO).
Therefore, Sweatcoin's business model is largely based on advertising. The advantage of promoting your brand on Sweatcoin is that it allows you to target a specific customer segment, i.e. people who are already or want to be fit.
Therefore, sports-related brands can reach tens of millions of customers eager to try out new products. Therefore, Sweatcoin offers free trials of various products, such as online gym memberships. As a result, trainees can become actual customers.
Taking a closer look at Sweatcoin's revenue streams will give you a better understanding of how it operates.
Recommended: Shiba Inu Token (Shib), Business Model
Promotions for brands
Its main source of revenue comes from promoting other brands on its app. Several brands are partnered with Sweatcoin, including Apple, Starbucks, Amazon, Les Mills, H&M, and hundreds of others. A user redeeming his or her tokens for one of the many available products or services will likely earn Sweatcoin money.
Companies can introduce new products and services to a highly targeted audience through these partnerships. Sweatcoin users, on average, are more active and, therefore, would make good long-term customers for brands that make sports clothes.
The app of Sweatcoin, which has over 100 million registered users, can also be used to introduce one's brand to audiences. Therefore, you often see direct-to-consumer brands advertising on the platform, which is often in need of raising awareness.
The popularity of Sweatcoin among fit people is not only used by Sweatcoin. The Paceline app rewards users for being active and partners with many of the same companies as Sweatcoin.
Involvement in partnerships
Besides insurance companies, Sweatcoin also earns income through partnerships with other institutions. Sweatcoin, for instance, partnered with Hannover Re in September 2019 to provide the reinsurer with various health-related data points.
In addition, Sweatcoin partnered with the National Health Service (NHS) to pilot a new type of behavior change program. Physical activity would be introduced to people at a greater risk of developing Type 2 diabetes as part of this pilot program. Throughout the partnership, Sweatcoin's partners likely compensate the company.
Subscription Plans
Furthermore, Sweatcoin generates revenue from premium subscriptions, which charge $4.99 as a monthly plan and $24.99 as a yearly plan. Users can access premium auctions, double donations, and earn unlimited 2x through subscriptions.
Furthermore, Sweatcoin has many benefits from offering a subscription. In the first instance, the company can invest money from annual plans once the cancellation period has passed.
Additionally, it increases activity among power users, which can be used during negotiations with advertisers as a negotiating tool. Generally, a more engaged audience can command a higher fee from brands.
Furthermore, it builds loyalty and creates something of a lock-in effect among users. A product or service's power users often help raise awareness of it, especially through word-of-mouth.
Funding, Revenue, and Valuation of Sweatcoin
According to the Crunchbase report, the three rounds of venture capital funding have raised around $14 million. Since Sweatcoin is a private organization, its revenue and valuation are not required to be disclosed.
Conclusion: Sweatcoin Business Model
Sweatcoin is a mobile app that incentivizes users to exercise and stay active by converting their steps into a digital currency called Sweatcoin. The company generates revenue through various channels, including partnerships with advertisers, sponsorships, and by taking a percentage of the in-app purchases made by users.
Sweatcoin's business model relies on the growing demand for health and fitness apps and the increasing interest in cryptocurrency. Overall, Sweatcoin aims to provide a unique platform that motivates people to exercise while generating revenue through innovative monetization strategies.