What is Snapchat Premium? Hello Friends! Welcome to our another fresh and interesting content. Snapchat has launched a paid subscription service following WhatsApp Business and Telegram to boost revenue. Snapchat plus subscribers will get early access to the new launching features. We've provided you with all the information you need about Snapchat plus in this article.

Snapchat+ Subscription Detailed Explanation (2022)
What is Snapchat Plus? Snapchat+ is a premium subscription of Snapchat that allows its users to access pre-release features and exclusive collections in the messaging app.
The app has tons of functionality, including a BFF (Best Friend Forever) option, an exclusive badge, and rewatch counts for stories. But, the only disadvantage of Snapchat Plus is that it doesn't remove ads from its platform.
Not only Snapchat offers subscriptions, but several other messaging apps do as well. The world's most popular messaging apps, Whatsapp and Telegram, have announced that they will offer premium features soon.

Here are some of the best new Snapchat+ features:
1. Snapchat+ Exclusive Badge: You will also receive an elusive star icon next to your Snapchat profile name if you become a premium member. Your Snapchat+ badge will be visible to others when they visit your profile.

2. Pin Your Friend as #1 BFF: Snapchat premium will allow you to pin a friend to the top of the chat window as your #1 BFF. The person doesn't need to be your best friend to be pinned. BFFs will receive a red heart next to their names in the chats list if they are each other's top friends for two consecutive weeks.

Recommended: Is Vine App still available? When and why did Vine fail? 11 Reasons You Should Know
3. Snapchat Exclusive Icons: Additionally, Snapchat+ subscriptions include custom icons. According to Alessandro Paluzzi's recent tweet, you will get over 30 icons on your Snapchat+ profile.

4. Snapchat's Ghost Trails: Using this feature, you can view the location history of your friend over the last 24 hours. But it's only possible if your friends share their location with you.

5. Story Rewatch Count in Snapchat: It allows you to see how many times your friends have viewed your story, as well as the number of times they've rewatched it. The feature, however, appears to be in a testing phase at the moment and may expand to other users in the near future.

6. Snapchat Premium Post View Emoji: Snapchat+ users can select an emoji that will appear automatically when friends view their snaps. By doing this, you will be able to have a sort of sign-off after each Snap you send.

7. Snapchat Web Feature on Premium Version: After getting the subscription to Snapchat premium, you will be able to access its web version. In this way, you will be able to send messages from your computer or laptop. Here, you'll learn how to use Snapchat Web features, download Snapchat PWA, etc.

8. Priority Story Replies on Snapchat: A Snapchat+ subscriber's replies to Snapchat Stars' stories will be prioritized and more visible. This feature may attract many users to convert their normal Snapchat profiles into premium ones.

9. Snapchat Premium New Bitmoji Backgrounds: You should definitely subscribe to Snapchat+ if you are tired of the Bitmoji backgrounds Snapchat offers. As soon as you subscribe, you will get access to new Bitmoji Backgrounds. Additionally, some of these backgrounds include subtly placed Snapchat+ logos.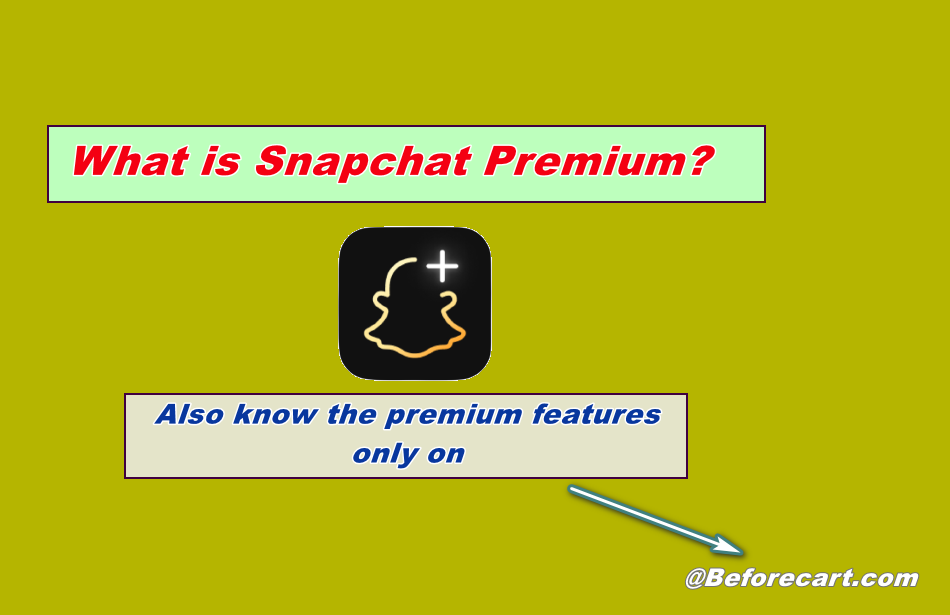 What will be the cost of Snapchat Premium?
If you want to subscribe to Snapchat premium, you will get three types of plans; a monthly plan, 6 months plan, and a yearly plan.
You will have to pay $3.99 per month if you choose the monthly plan. For 6 months plan, you will have to pay $21.99. However, if you choose the yearly plan, you may get a slight discount and pay $39.99.

Recommended: How does Venmo make money?
In which countries is Snapchat Premium available?
Snapchat is a very popular social networking platform all over the world. It is currently available in a total of 25 countries. Here are the following countries where people can subscribe and access Snapchat's premium features; United States, Canada, Norway, United Kingdom, Australia, France, Israel, Germany, Qatar, New Zealand, India, United Arab Emirates, Saudi Arabia, Kuwait, Netherlands, Switzerland, Finland, Oman, Sweden, Bahrain, Egypt, Ireland, Belgium, Denmark, and Austria.
Snapchat+ may expand to more countries in the future.

Recommended: How To Add FlyBuys To Apple Wallet?
Some Frequently Asking Questions About Snapchat
1. Does Snapchat+ give an ads-free experience to its users?
There are no ad-free experiences with Snapchat+ subscriptions. There is no indication that an ad-free tier will be offered any time soon. According to Jacob Andreou, Snapchat's SVP of Product, ads will be the company's long-term business model.

2. How much does Snapchat+ cost?
Snapchat+ costs $3.99 as a monthly plan, $21.99 as 6 months plan, and $39.99 as a yearly plan.

3. Is Snapchat+ available in the United States?
Yes, it is available in the United States with lucrative features.

4. What are the extra features you will get on Snapchat+?
Considering the features Snapchat offers in its premium subscription, Snapchat+ seems like an underwhelming value proposition to most users. It looks like there is no option to remove ads, which would have made the subscription more appealing. It will be exciting to see if Snap adds another tier to its subscription offering allowing users to remove ads.
Moreover, it will be interesting to see how the company's premium offering affects its revenue. In the meantime, you can check out our articles on remixing Snaps on Snapchat and fix Snapchat when it does not work.
Conclusion:
In this article, we have discussed Snapchat Premium and its advanced features. Hope you liked our article. Please do share this post with your family and friends. For more interesting topics, you may visit our other content.
Thanks for reading the complete article.