How Does Kahoot! Make Money? Kahoot! Business Model: Kahoot! is a learning platform used in schools and colleges for educational purposes. It is a platform where the user creates and participates in multiple-choice quizzes. Kahoot! is generally used to check the knowledge of students. Trivia quizzes are also available on this platform. Kahoot is also widely utilized at the workplace for teamwork and training. Kahoot! Makes Money from its premium subscription plans which help to keep Kahoot! Free for teachers and students all over the world.

It enhances and enriches the teaching experience. It is a tool that provides a simple way to improve students learning capacities and keep them engaged in the process. In 2012, Kahoot! was founded and has since grown to become one of the world's most successful EdTech startups. In October 2019, the company became public.
If you've never heard of this platform, it's natural to be perplexed about how it's feasible to combine Edtech with fascinating games. This blog will go through Kahoot!

Business Model in-depth and answer frequently asked topics like "How does Kahoot! make Money?" or "How does Kahoot generate money?" "How does Kahoot work?" and "Kahoot! Business Model."


Brief Information Regarding Kahoot!
Kahoot! is an educational game-based learning platform that allows users to design and play quizzes and educational games. Kahoot! asks the player a question and then provides them multiple-choice responses. The question might be supplemented with extra media items such as photos and videos to offer context and enhance participation.

Teachers and other educated persons can design their quizzes or select from hundreds of questionnaires created by the user base of Kahoot! Furthermore, it offers a host of other tools that help students learn more effectively. For example, Students can use Ghost to compare against their prior top scores. Teachers are then provided with thorough feedback on how their students scored and where they might improve.

Furthermore, Kahoot! can be linked with virtual video conferencing platforms, such as Zoom, Google Meet, Microsoft Teams, RingCentralVideo, etc. Teachers can also host remote learning sessions as a result of it.

Kahoot! offers a variety of products in addition to its games. For example, include a digital whiteboard, an online educational platform where others may provide information and advice, and Motimate, a corporate learning platform.


How Does Kahoot! Make Money?
Here you will get to know, "How Does Kahoot! Make Money?" also provides the complete details of Kahoot! Business Model.

Kahoot! Generates revenue through premium membership plans and licensing its game-based content to other businesses. Its quiz games are available for free. Furthermore, if certain users want greater customization, such as corporate clients, they may obtain it by subscribing to its premium plans.

The key benefit of this strategy is that Kahoot! Cannot only acquaint individuals with its goods but also produce delight when using them. The excellent association makes it simpler for the firm to offer its packages to corporate clients and others.


Subscription Plans & Licensing
Kahoot's primary source of earnings is the subscription plans it provides. In October 2017, Kahoot! Launched the subscription plan. It is a premium edition which is specially designed for business teams and lessons. Nowadays, businesses recognize the value of corporate training, and that's why they are constantly on the lookout for platforms that can assist them with this issue. Hiring trainers are expensive for companies, and most of the time, employees report that the sessions are boring or ineffective.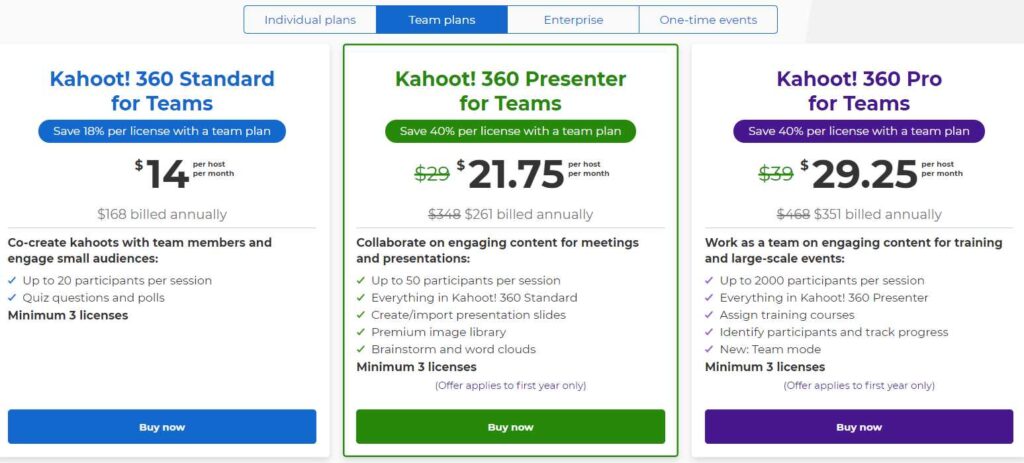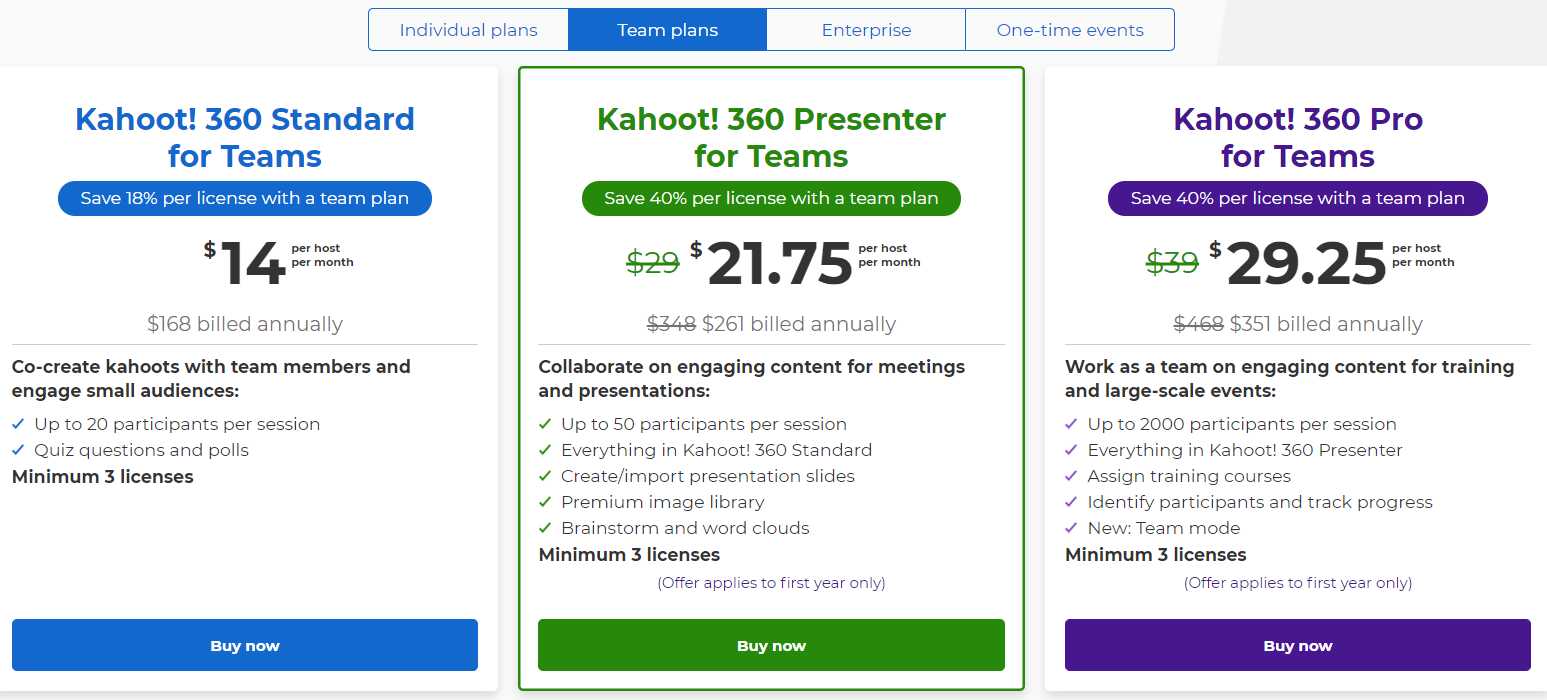 Kahoot! has four types of plans, Individual Plans, Team Plans, 360 for Enterprises, and One-time events. According to Individual Plans, it has three choices, Kahoot! 360 Standard which costs $17/host/month, 360 Presenter which costs $39/host/month, and 360 Pro Recommended which costs $49/host/month. According to Team Plans, it has three segments, Kahoot! 360 Standard for Teams which has $14/host/month, 360 Presenter for Team, which has 21.75$/host/month, 360 Pro for Teams which has $29.25/host/month.






On the business side, Kahoot! collaborated with the world's leading organizations such as Google, Amazon, Facebook, and others. Depending on the type of package selected, a distinct set of features will be available. In general, the more expensive the package, the more attendees a person may host.

Moreover, Kahoot! Earns subscription money from the several acquisitions it has completed since 2019. The acquiree's items were then either bundled into the above offers or remained separate products (such as in the case of Clever).

The mission is to develop a complete educational platform that can meet the demands of every customer. As a result, the company's total addressable market grows, giving them more concepts for selling at various user interactions.


Revenue & Funding
According to the Crunchbase report, over the course of nine rounds of investment, Kahoot! has raised a total of $363.9 million. On October 20, 2020, their most recent fundraising came from a Post-IPO Secondary round. Kahoot! is backed by nine investors. The most recent investors are Stefan Blom and SoftBank.

Kahoot! has bought seven businesses. On May 6, 2021, Clever was their most recent acquisition, which was purchased for $500 million.


Generates Revenue From Licensing
Licensing is another source of revenue for Kahoot! According to Dubbed Kahoot! Publisher, the product assists educational publishers, brands, and content providers in transforming their content into interactive learning experiences while ensuring control over advertising.

It effectively implies that these publishers will be able to incorporate Kahoot! games and other material natively into their own platform.


How Does Kahoot Work?
It is a platform where users have lots of options to select. The customers either use one of the millions of free public applications to begin game-based learning, or they can build their content. Students of any age can use Kahoot to learn any topic on any device at home, at work, or at any academy and the most exciting fact is that they don't even need to sign up for their accounts on the platform. Its app is available on the Play Store and Apple Store.

Such activities can be performed quickly by using rich and appealing media such as photos and videos. Kahoot! Isn't just for in-class use; it's also great for online learning. It is an excellent platform for teachers who want to create a quiz and conveniently examine their students' results. The quiz has a timer, but teachers can turn it off because some complicated topics can take a little more time to research.

To begin with Kahoot, first of all, the user needs to complete the free sign-up process. After signing up, the user will get four options, Teacher, Student, Personal, and Professional. They can select any one option according to their convenience. If you are a teacher, then select the "Teacher" option. After that, users may begin as teachers and create their quizzes or use the Kahoots already developed.

Also Recommended: Shiba Inu Token (Shib)

History Behind The Successful Business Model
In 2012, three engineers Johan Brand, Jamie Brooker, and Morten Versvik, founded Kahoot! in a joint project with the Norwegian University of Science and Technology.

They formed a partnership with professor Alf Inge Wang, who Norwegian entrepreneur Asmund Furuseth subsequently joined. In March 2013, Kahoot! was introduced in a closed test at SXSWedu. The beta version was available to the public in September 2013.

Kahoot! was created for social learning, with participants gathered around a standard screen such as an interactive whiteboard, computer monitor, or projector. The site can also be accessed using screen-sharing platforms such as Google Hangouts, Skype, etc. The game is designed in such a way that the players must regularly glance up from their devices.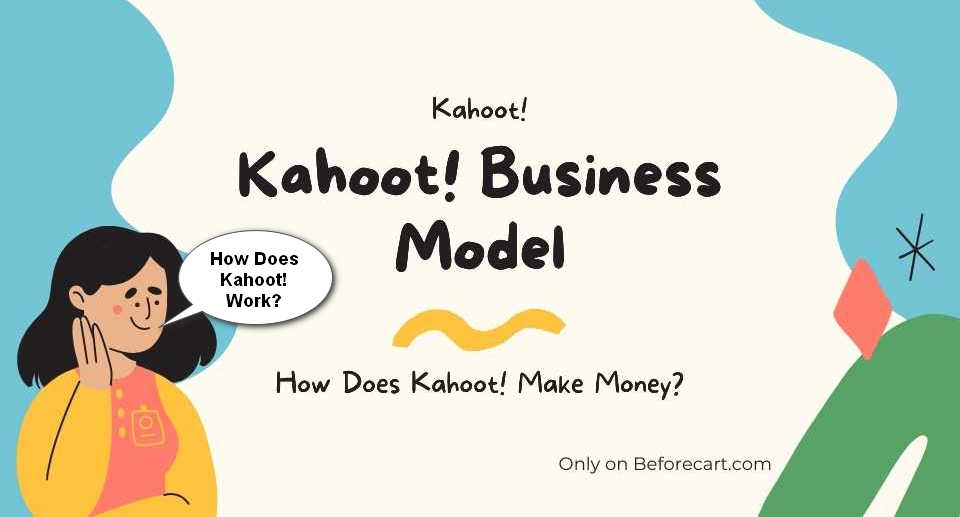 The game is straightforward to play. The players connect via a randomly generated PIN displayed on the standard screen and use a device to answer questions created by a teacher or other knowledgeable person. These questions can be altered to grant points. The designer can choose 0, up to 1000, or up to 2000 points.

The players receive more points if they answer quickly and adequately. After each question, the facts show on the leaderboard. The players can also achieve a streak, which means they answered more questions in a row. The longer their spot, the more points they earn when correctly answering a question.

Jumble questions are now available on Kahoot! It requires players to arrange answers in the proper sequence instead to pick a single correct answer. It provides a novel experience that motivates players to concentrate even more.
Also Read: What Happened To Vine?

Kahoot! can be played through its web interface on different web browsers and mobile devices. The company has also launched apps, which are available on Play Store and App Store. In 2017, Kahoot! hit 1 billion cumulative participating players, and the company was estimated to have 50 million monthly active unique users in May.

Kahoot! had received around $27 million in funding from Northzone, Microsoft Ventures, and Creandum as of 2017. It was valued at $300 million as of 2018. It was valued at $1.5 billion as of June 11, 2020, and obtained additional funding from Northzone. The creators of Kahoot! can now use multiple question types. Elementary questions are asked in the quiz.

It necessitates the question and at least two alternatives, one of which must be marked as the correct answer. Premium includes the option to pick Single Select or Multi-Select. The term Single Select refers to the player's ability to choose only one choice. In contrast, Multi-Select refers to the user's ability to select any number of the four alternatives displayed.

Polls are available to Premium members of Kahoot! The interface is similar to Quiz, except there are no correct answers and no points earned and Slides, which explain the participants.

The corporation announced three acquisitions over three months, from February to May 2021. It paid $6 million for Whiteboard.fi in February. In April 2021, the corporate learning platform Motimate was bought for around $25 million. Nonetheless, its largest acquisition to date would be disclosed in May.

"Clever", a single sign-on gateway for educators, students, and their families in the United States, was purchased by Kahoot! for a stunning $500 million. With the acquisition, Kahoot! was able to expand on its platform approach, which aims to fulfill the educational requirements of everyone from companies to academics.

In 2021, Kahoot! recruited over 500 employees across offices in Norway, Poland, Spain, Denmark, the United States, and other countries.

Also Recommended: Amazon Business Model