The Walmart Business Model has enabled the retailer to become the largest superstore in the United States, with more than 10,586 stores worldwide. The company employs roughly 2.3 million people worldwide and serves nearly 300 million customers.
Walmart's accumulated capital of more than 500 billion dollars makes it the world's largest company by revenue. Under the Waltons' direction, the Waltons own and operate a publicly traded retail chain with a business model heavily geared toward brick-and-mortar business but with a swift expansion into e-commerce.
Credits: Silicon TV | YouTube
The entire Walmart operation, since it was founded in 1962, has maintained the driving principle of founder Sam Walton: "saving people money for a better life." But how does this business model work? Here's what we found!
Walmart Inc. Overview
| | |
| --- | --- |
| Company Name | Walmart Inc. |
| Industry | Retail |
| Founded | July 2, 1962, in Rogers, Arkansas |
| Founder | Sam Walton |
| Headquarters | Bentonville, Arkansas, United States |
| Revenue | 572.8 Billion USD |
| Total Employees | 2.3M+ |
| Official Website of Walmart | www.walmart.com |
Walmart Inc. Overview
An overview of Walmart's operations
Throughout the world, Walmart operates in three main segments; Walmart in the United States, Walmart International, Sam's Club, and Walmart Mobile Application.
Walmart covers all 50 states and Puerto Rico in the United States. The company's physical and e-commerce stores constitute more than 60% of its sales.
Walmart's Sam's Club is a warehouse that offers membership-only memberships and online shopping in the United States and Puerto Rico. In terms of net sales, it accounts for about 15%. The Sam's Club stores offer groceries, consumables, home and apparel, technology, electronics, health and wellness, fuel, and similar products.
Furthermore, the Walmart app is available on Google Play Store and for Android and iOS users. People may also search and buy products on the Walmart official website. But mobile apps give us more flexibility and quickly get important and new offer updates.
There are 157 Walmart distribution centers in the United States. As of now, Walmart operates around 190 distribution centers all over the world.
You may also read the business model of a famous Sports retailer, Decathlon.
History Behind Walmart Successful Business Model
Sam Walton founded Walmart on July 2, 1962 (60 years ago), in Rogers, Arkansas, United States. But the company was incorporated under the Delaware General Corporation Law on October 31, 1969 (53 years ago), in Wilmington, Delaware, United States.
Before Walmart, he was a manager of a similar store and saw potential in the market. After the first Walmart opened in 1962, he decided to start his discount stores as his store was a big success.
Walmart positioned itself as a discount store for suburban and rural communities because most retailers competed in the cities. Walmart opened 24 stores in Arkansas by 1967 and reached a revenue of $12 million. In 1968, other states were included in the expansion. The company went public in 1972, allowing the growth to increase: by 1975, there would be 125 stores.
The Sam's Club was created in 1983 after years of expansion and acquisition by Walmart, which later became America's most famous wholesale store. A few years later, the first supercenter opened to offer everything in one place. A year later, it became the most profitable retailer in the country. The company achieved the target of 100 billion USD in sales in 1996.
You may learn about another successful business model of the food delivery company, Doordash. You may also check out Doordash Promo Code.
Does Walmart Inc. have a corporate owner?
The company was founded by the American business magnate Sam Walton. But now, his family runs the company smoothly. Sam Walton's elder son, Samuel Robson, is the president board of Walmart. Previously, he held the position of chairman since 1992.
For the fiscal year 2015, Walmart spent around $370 billion on merchandise. The company uses this economy of scale to negotiate better deals with suppliers. With cross-docking, Walmart further reduces costs and achieves price leadership. Distribution centers cross-docking inbound shipments to outbound trailers straight from suppliers. There are 158 distribution centers run by Walmart, one of the largest in the world. The Walmart Logistics fleet consists of more than 7k drivers and 6.5k tractors. Walmart is succeeding at pricing because of these innovative strategies.
Recommended: How To Get Zomato Pro Plus? You may also check out Zomato's New Coupon Code.
How Does Walmart Make Money?
Walmart makes money through its products and service revenues.
Walmart's Product Revenues
To generate revenue, Walmart sells goods and services to consumers and businesses alike. Almost all of Walmart's revenue comes from retail sales, which include products distributed under its brand and other national and international brands.
There are a variety of groceries on offer, including frozen foods, dairy, floral, dry fruits, baby products, floor cleaners, hand wash, liquid detergents, paper goods, and pet supplies. Health and wellness services include optical, pharmacy, clinical, and medications.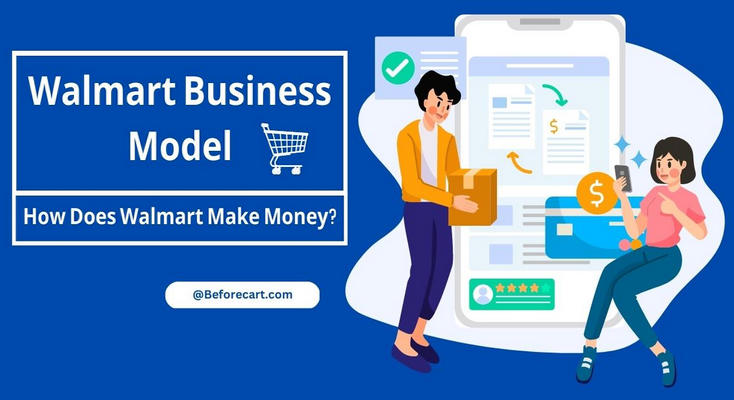 Walmart also provides products in the entertainment category, such as Mobile Phones, cameras, prepaid cellular services, books, video games, toys, and more electronic items. Walmart has a movie and music collection for its customers. There are also hardlines in automotive, stationery, sports, hardware, and seasonal items. There are a variety of apparel options available for all categories of people.
Revenue generated by different services
Walmart also generates a small percentage of revenue from services. There are four types of services, Financial, VUDU Movie Streaming, Clinical, and Health Insurance.
Walmart's Financial Services: According to Financial Services, the company generates revenue as service charges for money transfers, bill payments, wire transfers, money orders, etc.
VUDU Streaming Services: Walmart also has an online streaming platform named VUDU. The company earns revenue through its subscription plans for watching television shows and movies.
Health Care Services: It includes routine and preventative health services for common health ailments and screening needs that can be performed without urgent or emergency care, such as wellness and preventive care, primarily acute care, chronic condition management, referrals to specialists, lab tests, and vaccinations.
Health insurance services: Walmart also collaborates with some insurance companies. The company also generates revenue from the service charges for providing healthcare insurance.
After reading about the company and its revenue, you will also enjoy the Walmart Stock Forecast.
Walmart Social Media Profiles:
Walmart Social Media Profiles
What is Walmart's business model strategy?
Walmart's Leading Price Strategy
The main characteristic of Walmart's business model is its commitment to keeping its prices as low as possible so that nearly everyone can afford them. For this purpose, Walmart has the world's largest network of suppliers from which it purchases in large quantities, resulting in a bargaining power that enables them to get the best possible price.
In addition to cross-docking, the corporation uses other tactics to increase sales, especially at Sam's Clubs. Rather than storing goods received in a warehouse, it sends them directly to the point of sale or the customer. This reduces logistics costs significantly.
Accessibility is the key to differentiation.
The image of Walmart as a large retailer and supermarket always comes to mind, but Walmart has diversified its distribution channels to reach a broader audience. The following are some of the investments Walmart is making:
The company can improve the customer's e-commerce experience and connect physical and digital through digital marketing and retail.
Whether in brick-and-mortar or online stores, Walmart spends significantly on a wide range of products and brands.
Due to its pharmacy and clinics, the only American retailer to offer preventive health care checkups and wellness products, it provides services that are hard to access.
Deliver the Best Possible Experience To the Customers
Customer retention can only be achieved by offering them the perfect experience so that they will return to Walmart again and again. Furthermore, the company knows that satisfied customers depend on motivated employees. Therefore, it invests in personnel training while paying its employees well. Moreover, Walmart offers a 100% money-back guarantee for customers who are unsatisfied with its services.
Sam Walton shares many business insights in his autobiography. In Walton's opinion, every business owner should follow the following ten points to run a successful business:
Make your business a priority. It's the only thing you can rely on.
Profits should be shared with all your associates, and they should be treated as partners.
Make your partners feel motivated. It takes more than money and ownership.
Make sure your partners receive all the information they need.
Show your appreciation for all the work your associates do.
It would be best if you celebrated your achievements. Your failures can be a source of humor.
It is essential to listen to your employees.
Make sure your customers are satisfied.
Keep your expenses under control better than your competitors.
Take a stand against conventional wisdom. There's a good chance you can find the niche you're looking for if everybody else does it one way.
Recommended: You may also read "Top 15 Unknown Facts About Walmart," which also helped the company to create a business model.
Conclusion:
Using new technologies and innovative ideas, Walmart continues to improve its business model to grow its revenue. Its goal is to make people happy by providing them with good quality products. The company is following its slogan in every aspect. I hope you liked all the above information. You may write in the comment section if you have anything to ask.
Thanks.