How Does DoorDash make money? DoorDash is an on-demand delivery service in the United States. The company, which launched in 2013, is available in more than 190 cities and towns. DoorDash relies on independent contractors known as "Dashers" to fulfill customer orders. It operates in the United States, Chicago, and Washington D.C. DoorDash also provides service internationally in cities such as Sydney, Australia, Canada, and more.
The headquarter regions of DoorDash is San Francisco Bay Area, West Coast, and the Western United States. DoorDash makes money via delivery and service charges, commissions, premium subscription plans, Drive, and offering services for other businesses. Dashers use their cars to pick up orders from merchants that are not serviced by traditional delivery services (such as restaurants) and deliver the orders to customers. Payments were made to Dashers via a third-party payment processor.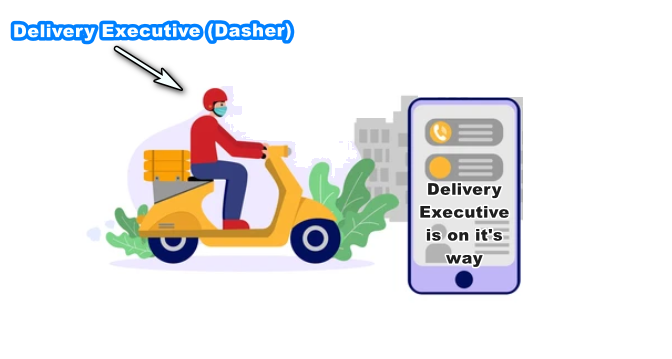 DoorDash's business model is to service orders for any merchant that does not provide delivery services. DoorDash did not take a stake in the local merchants that are part of its platform, but it does pay a commission for each order. The commission rate is determined by DoorDash and varies by location.


However, DoorDash pays a fixed fee per order, regardless of the number of orders placed on its platform. This amount is distributed to Dashers who complete deliveries. DoorDash has had several rounds of funding since its launch in 2013. In October 2017, DoorDash raised $535 million at a $1.4 billion valuation led by Sequoia Capital at a cash valuation of over $600 million.
Top Cities where Doordash Work: DoorDash works in Los Angeles, Miami, Washington DC, New York City, and more.
Top Cuisines Near to the Customers: DoorDash provides a variety of food such as Pizza, Italian Food, Sandwiches, Mexican Food, Asian Food, and more.




How Does DoorDash Work?
DoorDash is a food delivery company that allows users to purchase food and beverages from their nearest restaurants. Customers may place orders via the Doordash website or apps. The DoorDash app is available on App Store. DoorDash does not make the food to deliver to the customers' doors. Instead, it collaborates with regional eateries and national food chains to provide meals to residents in significant places.
Sometimes, DoorDash may provide cooking space so that the restaurant can concentrate entirely on making food for home delivery. The Dashers then carry out the food delivery procedure, the company's riders whom it contractually employs. Dashers are independent contractors, and the company only hires them on a contractual basis. As a result, the Dashers do not get the salary. They only get paid when they successfully deliver the orders.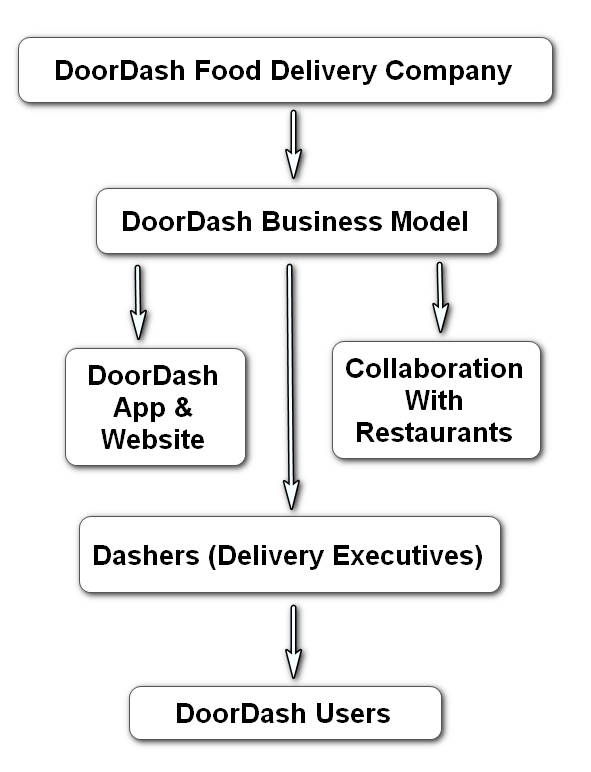 The company pays its Dashers in many ways, including basic pay for the order, incentives for working during high demand, and accomplishing challenges, such as a specific number of deliveries in a certain period. The back-office staff handles the payment process and the marketplace.
Customers directly pay DoorDash while ordering. Then, restaurants receive their money from the DoorDash platform. It delivers food from restaurants and allows customers to order from convenience shops and other marketplaces.
DoorDash Working Procedure
Here are the working procedure steps:
Customers have a lot of alternatives when it comes to eating food because there are so many places to pick from food online. Users can check the most popular orders from customers in any restaurant and choose their favorite dishes. Users can also get recommendations for new options based on their past orders with an intelligent AI system.


After placing the order on the DoorDash platform, the next step is enabling users to pay the bill. The total amount is applicable based on the restaurant and the delivery location. Users can make payments on the DoorDash app. After the successful payment from the users, the order gets forwarded to the appropriate restaurant for food preparation and shipment.


When the ordered food is ready from the restaurant, delivery staff pick it up and go to the delivery site. Customers can check the status of their orders using the app's tracking feature.


The delivery executive's objective is to complete the order as quickly as possible. The company gets the delivery charge, and the company compensates the delivery executives for their services. Dashers earn gratuities based on the customer's review. The DoorDash app also allows users to rate the Dasher, delivery, and order experience.
Note: The DoorDash Executive Members are also called Dashers.


You may also read about one of the leading retailers and largest supermarkets, Walmart's Business Model.
How Does DoorDash Make Money?

DoorDash is a popular food delivery company. So, its customers and the people who want to work with DorDash are curious to know, How DoorDash makes money?

DoorDash makes money or generates revenue through delivery and service fees, commissions, premium membership plans, etc. This article will discuss how DoorDash makes money from its users and has become one of the best food delivery apps in the United States.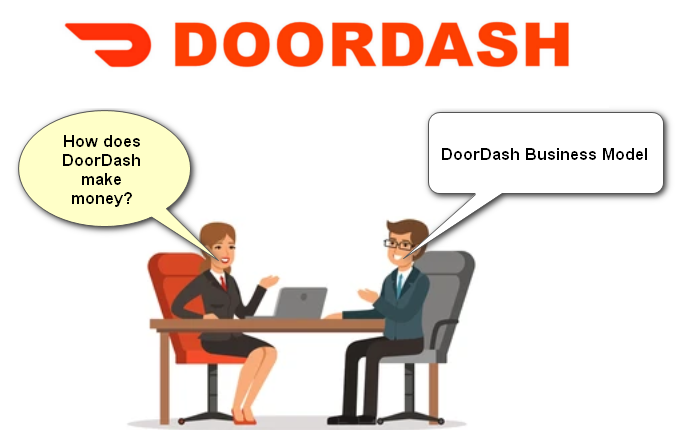 Recommended: Doordash Promo Code
Earning From Commissions
For every order, DoorDash charges fees from all partner restaurants.
Doordash implemented a tier-based commission system. Under this scheme, restaurants pay a 15% basic fee, 30% premier commission, or 25% plus commission in April 2021. The company charges the highest delivery fees and has a limited delivery region according to the basic plan.

The plus plan has the lowest delivery fees, increases delivery region, and enrolls establishments in the loyalty program. At last, the premier plan includes the lowest delivery fees, consists of the largest game region, the reward program, and ensures DoorDash delivers twenty or more orders every month. Otherwise, the partner restaurants receive a fee refund.
Depending on whatever plan a restaurant chooses, the company offers several benefits. For example, Plus gives eateries more exposure to the app and access to DashPass users.
You may also read about the Successful Business Model of OpenAI.
Delivery Fees and Other Service Charges
DoorDash earns money through delivery charges from its customers. The delivery charges are applicable for food and other convenient items. DoorDash delivery charges are $6 to $8, depending on the distance and demand of a particular product. Service charges are applied as a percentage of the order subtotal.
The service charges allow them to exhibit several expenditures, including marketing, app or web development, and payment processing. DoorDash also uses these fees to pay its Dashers (Delivery Executives). But the company does not reveal how much of the service charge is spent on Dashers. DoorDash also charges service fees based on the total amount of the order.


Earnings From DashPass Service
DashPass is a DoorDash Subscription Service that helps its customers to reduce delivery fees and service charges. The customers pay $9.99 monthly, and they get free delivery on orders over $12. It's a good deal for customers who order meals regularly. DashPass subscribers also get the advantage of low service charges. DashPass subscribers also have the right to deactivate the subscription at any time.


DoorDash's Drive Service
A white-label logistics service that helps other restaurants to use the DoorDash fleet of Dashers is called Drive. This service is aimed at restaurants that already offer delivery but cannot meet rising needs, especially during peak hours.
Recommended: How Does Boxycharm Make Money? Secret Behind the successful Business Model
History Behind DoorDash Business Model
In 2013, DoorDash was founded by Stanford University students Tony Xu, Andy Fang, Stanley Tang, and Evan Moore. They launched a food delivery company, Palo Alto Delivery in 2013, in California. Initially, most of the customers were students at Stanford University, California. Initially, it received $120k from Y Combinator in return for a 7% stake. Later, in 2013, it was incorporated as DoorDash.
In 2017, the Chief Financial Officer, Mike Dinsdale, left DoorDash within a year after joining another company. DoorDash secured its second position among delivery companies in October 2019. The company established its first ghost kitchen with four restaurants in Redwood City, California. In April 2020, DoorDash became the fastest-growing food delivery company.
Also Recommended for you: How Does Discord make money?
Funding, Investors, Valuation, and Revenue
According to Crunchbase's information, DoorDash has raised around $2.5 billion in funding. During its series H round in June 2020, DoorDash raised $400 million.
At the end of the year, the company raised another $3.4 billion. The company achieved that during its IPO. DoorDash entered the public market with a valuation of around $40 billion. They had the typical IPO burst, allowing the stock to surge to $66 billion. DoorDash is presently worth about $55 billion. The company invested in DoorDash are Durable Capital Partners, Sequoia Capital, Sequoia Capital, Darsana Capital Partners, T. Rowe Price, and more.
During the 2019 financial year, DoorDash generated $885 million in revenues, according to its S-1 filing. DoorDash recorded its total earnings of $1.916 billion in the first nine months of 2020. Despite its rapid expansion, DoorDash remains an unsuccessful firm that was driven mainly by the epidemic. It reported a net loss of $667 million for 2019, but in the first nine months of 2020, it still lost $147 million.
For comparison, DoorDash competitor Grubhub reported $1.3 billion in revenue for the fiscal year 2019. Meanwhile, usage estimates suggest that DoorDash has 10% more market share than Grubhub.
Also Recommended for You: How Does Peloton make money?