How Does Boxycharm Make Money? Boxycharm is a monthly subscription service that sends beauty items. The company curates the boxes each month based on suggestions from its subscribers.
Boxycharm focuses on producing high-quality beauty and lifestyle products. Each box is curated by a different beauty influencer, who chooses the best to include in the box. They work with brands across industries – from makeup to skincare – so you can rest assured you will be receiving premium products.
Boxycharm makes money from online store sales and its subscription fees. Its business strategy is based on subscriptions.
Boxycharm was founded in 2013 and evolved to become one of the leading subscription boxes in the United States.
IPSY acquired Boxycharm in October 2020 for $500 million.


Brief Information about Boxycharm
Boxycharm is a monthly glam beauty subscription platform. Boxycharm delivers five deluxe beauty products in a box and one bonus box of 4-5 exclusive beauty products. It costs $21.
The company's purpose is to deliver excellent value to women looking to make the most of their beauty routines.
They offer four types of subscriptions: Beauty, Fashion, Home, and Fitness. Each subscription includes five full-size or sample products. You also get 2-4 bonus samples.
There are five types of products included: Skincare, Haircare, Makeup, Fragrances, and Nail Care.
Eyeliner, highlighters, lip gloss, mascara, bathing goods, and many more items are available in various categories.
Boxycharm collaborates with hundreds of companies, including Marc Jacobs Beauty, Natasha Denona, NARS, Tatcha, and others.
First of all, users have to sign up for any service three.
The boxes are categorized as Boxycharm Base, Luxe, and Premium. As a result, they all feature differing amounts of things at varying pricing ranges.
After selecting a box, you will be brought to a Beauty Quiz designed to examine a few aspects of the consumer, such as their skin type or potential allergies.
Also Read: How does Robinhood make money?


How Does Boxycharm Work?
Boxycharm is a monthly beauty and makeup subscription that typically costs $25 per month. Subscribers can choose between three different types of boxes: beauty, makeup, and fashion & lifestyle. Each box typically contains 5-6 samples and some full-size products for women of any age to sample or buy.
If you love fashion, makeup, hair products, and everything in between, then you should consider subscribing to Boxycharm. Not only do they send the best brands at the lowest prices, but they also send their subscribers all types of items to test out. If you aren't 100% satisfied with your subscription any time within the first three months — no questions asked — they will cancel your subscription for free.
Purchasing makeup can be pretty inexpensive when done in large quantities.
The fact that the companies like Sephora must pay for both retail space and staff drives the exorbitant prices you see in stores. These costs do not apply to Boxycharm.
Moreover, cosmetic businesses spend billions of dollars each year to promote their goods, which adds up.
To get the best experience of Boxycharm, people have to go through the signup process. The steps are as follows:

First of all, go through the Official website of Boxycharm.

On the subscription page, you will see the "Join Now" button. Click that button, and you will be redirected to the signup page.

Then you will be redirected to the page where you have to choose a subscription. You may choose any subscription plan according to your convenience.

After selecting a plan, you will be redirected to the signup page, where you have to fill the form with the required information. Just fill out all the required information, including name, email address, set a new password, mobile number (optional), and address, and accept the privacy policy.

You may also read the privacy policy before processing.

On the same page, you will get the payment page section at the bottom.

Enter your credit card information in the box. If you don't have a credit card, you may go with an alternate payment method, Paypal.

You may also apply a coupon code if you have one.

You will sign into your Boxycharm account, where there is another message that reads, you are all set to go! Congratulations!


How Does Boxycharm Make Money?
Boxycharm Business Model: Boxycharm has a straightforward subscription business strategy. Customers register by filling the online form on the Boxycharm website. Every user gets the option to choose the monthly subscription plan.
The revenue of Boxycharm is generated through subscriptions. The company's goal is to add valuable beauty brands that can provide items at low charges.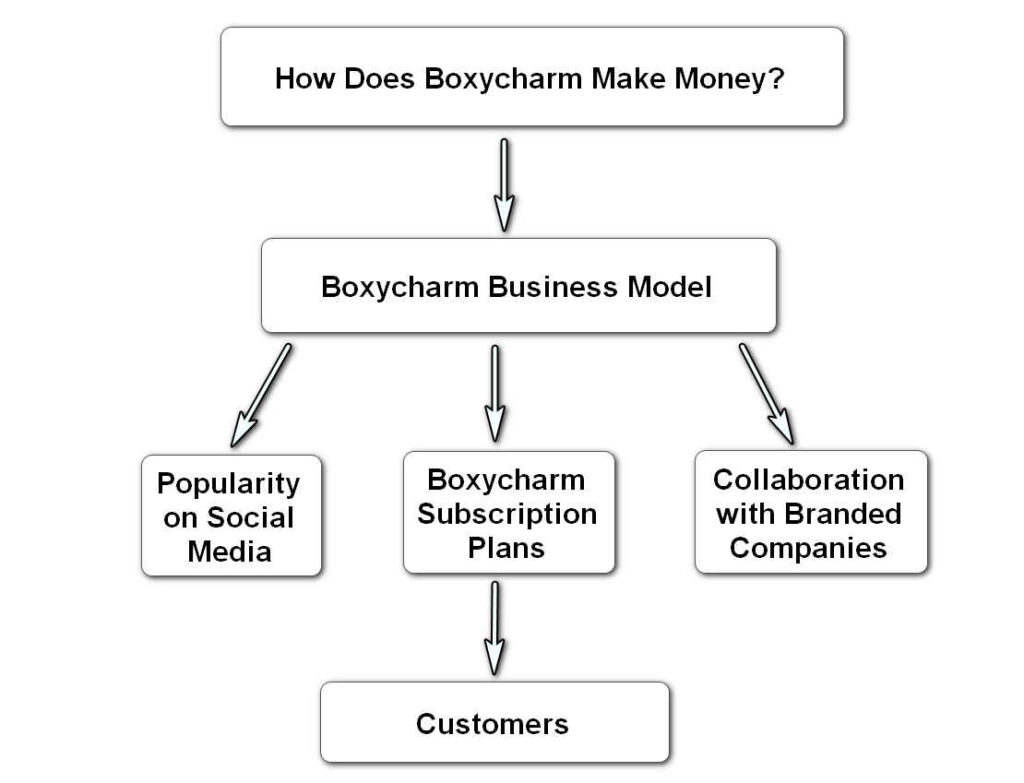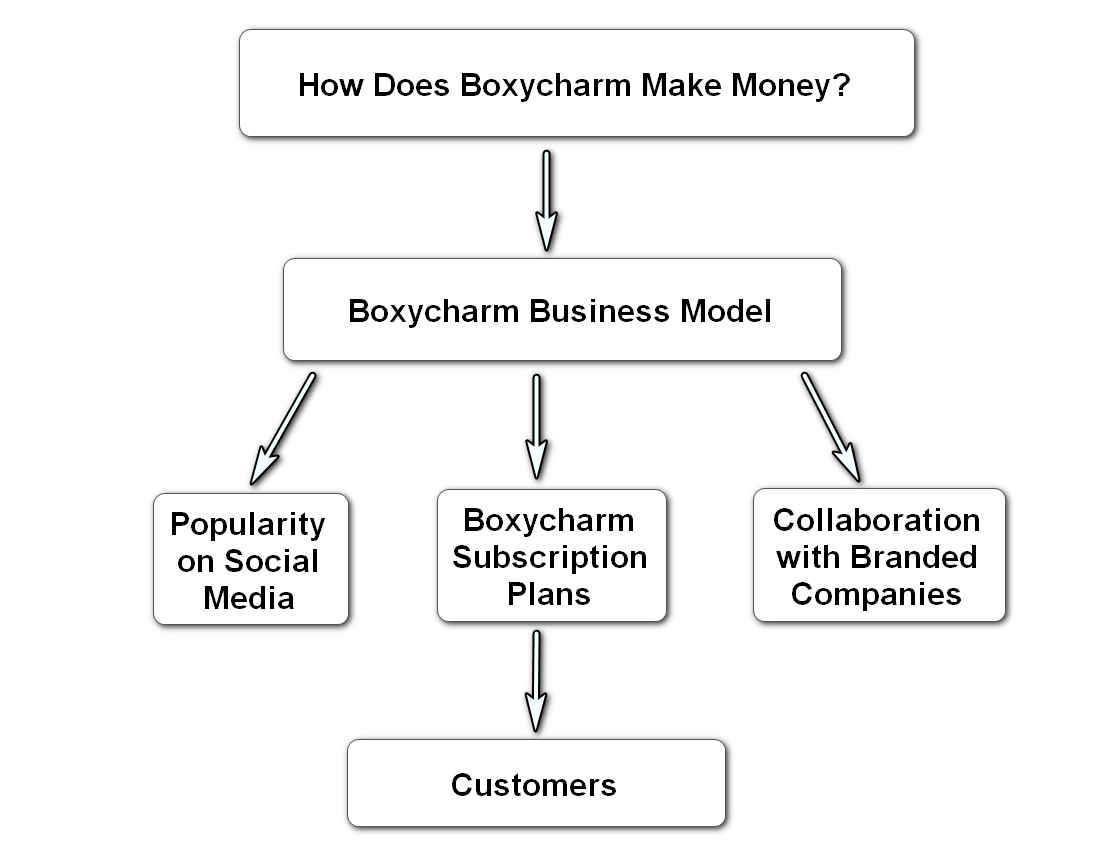 Since its inception in 2013, Boxycharm has been a private limited corporation. Its creator, Joe Martin, has kept the firm's finances in order through sales and retained earnings of the company revenue throughout the year.
Boxycharm acquires the top products in bulk from the firms that it advertises in its boxes. Purchasing cosmetics in bulk may be pretty inexpensive.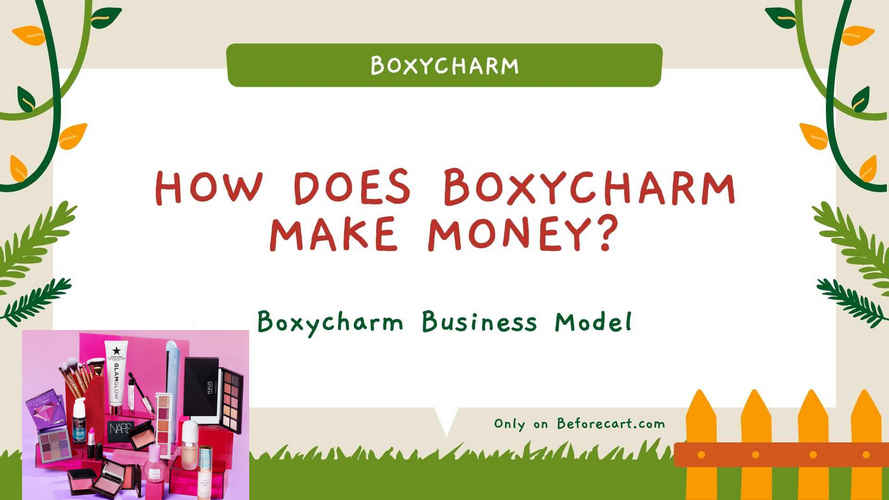 What indeed causes the exorbitant pricing you see in stores is that firms like Sephora must pay for both shop space and employees – both of which are not applicable to Boxycharm.
Moreover, beauty brands or cosmetic businesses spend billions of dollars every year to promote their goods, which adds up.
Also Recommended: How Does DoorDash Make Money?


Subscription Plans
Boxycharm generates maximum revenue from its monthly subscription charges. The company provides three boxes, which are as follows:
Each box contains five full-size beauty products. Each package has over $175 in products ranging from skincare and makeup to beauty equipment and color cosmetics. According to the basic plan, the average box value is $175.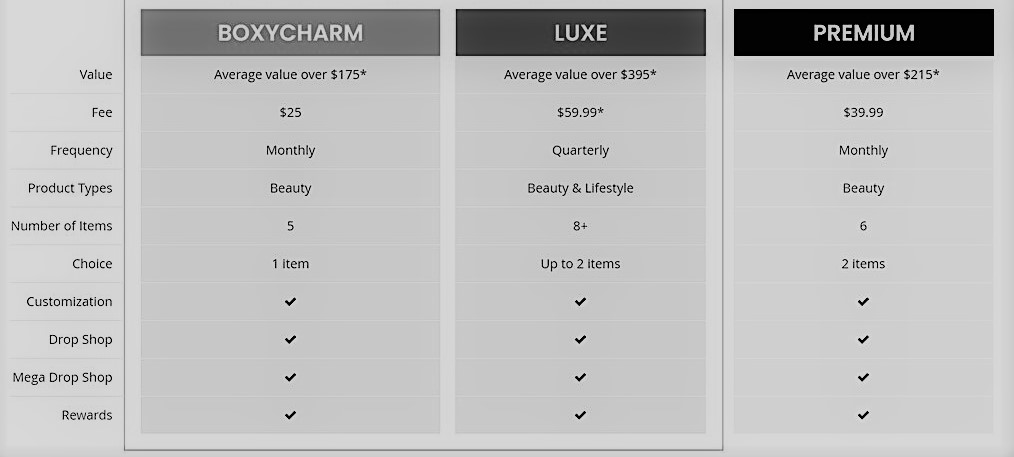 On the signup page section, people have to choose one plan out of four: monthly, quarterly, six-month, and yearly.
One-month plan: $25 (approx.)
Three months plan: $70 (approx.)
Six months plan: $138 (approx.)
Twelve months plan: $275 (approx.)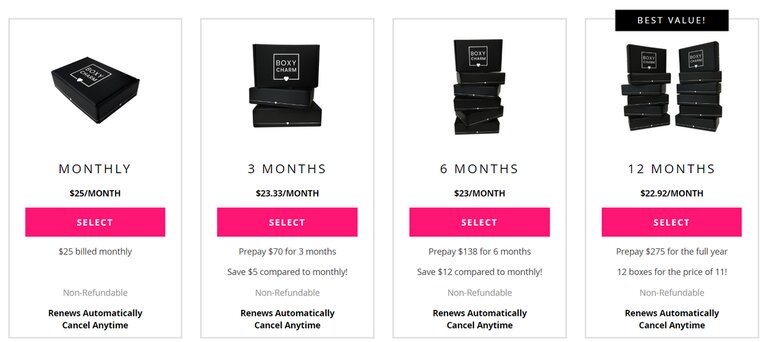 Apart from its subscription plans, Boxycharm allows customers to purchase its products directly from the online store.
Customers can buy single products from the store and even recreate past boxes using the filter on the website.
Customers, in all circumstances, have already received and utilized the goods and hence are unlikely to return them.
Moreover, considering that single-product pricing tend to be higher. Boxycharm gives extra discounts during the sales. Boxycharm organizes Mega Drop Shop sales events regularly to encourage people to explore its store. Here, people can get a discount of up to 80%.
Also Recommended: Take Hollister Survey via tellhco.com and Win $10


History Behind The Successful Business Model
In 2013, Israelian entrepreneur Yosef Joe Martin founded Boxycharm and headquartered in Pembroke Pines, Florida, United States.
Joe Martin went to the U.S. to complete a degree in International Business in 2003 at Florida International University. He always dreamed of establishing his own business. Initially, he sold whatever he could get his hands on through the most popular e-commerce websites like eBay or Amazon.
Furthermore, as a student of an international university, Martin needed to maintain his marks to continue his studies. But the fact is that selling products on a marketplace like eBay would take too much time, too much time to sell, and profit margins would be minimal.
Recommended: How does Zoom Make Money?
Therefore, Martin opted to sell bulk quantities. In 2004, his company, formed as Merchandise Liquidators, would buy excess inventory from wholesalers such as Walmart and sell it to other companies.
Martin had $375 when he started his company. So, he decided to learn how to build up a website quickly. He would go through the other few sites to gain technical information and utilize it for his project.
Moreover, Martin mastered the intricacies of search engine optimization (SEO) when many of his competitors had never heard of it. He was not disheartened even after he squandered $150 of his $375 budget on his first pay-per-click campaign.
At the end of 2004, Martin got a significant breakthrough before paying his education fees of around $8000 approx. He collaborated with Federated Stores, which practically paid for his education and then some.
Customers began to flock to him due to his SEO skills. He had enlarged his firm from his residence to a proper office. He eventually built Merchandise Liquidators to a yearly income of more than $10 million.
And the day came when a beauty subscription company came to his doorstep with nail paint samples, and that's how he became acquainted with the industry.
Martin spotted a void in the popular cosmetics subscription box sector. The majority of firms were mailing boxes with sample-sized goods that were neither trendy nor seasonally suitable.
In 2013, Boxycharm was ultimately introduced to the public. It charges the customers around $25 per month.
The brand is acclaimed for providing all-inclusive, value-for-money subscription boxes that include both cosmetics and skincare products.
Recommended: OpenAI Business Model
Some Key Facts of Boxycharm
Boxycharm has a large number of followers on social media. It amassed around 3 million followers on Instagram.

It is fully utilizing the power of social media. Its network spans all major social media platforms such as Instagram, Twitter, YouTube, Facebook, etc.

The company's CEO, Joe Martin, frequently promotes the company's products on Instagram. It is one kind of marketing strategy that few companies use.