BYD Business Model: Hello Friends! We are back with another informative article on the successful business model series. In this article, we will explain the secret behind the successful BYD business model, history, BDY founder, working strategy, and quick facts.

What is BYD? Who Founded It?
BYD Corporation Ltd is a Chinese company headquartered in Shenzhen, Guangdong, China. A Chinese entrepreneur Wang Chuanfu founded this company in February 1995. The tagline of the company is "Build Your Dreams."
There are two significant subsidiaries of BYD: BYD Automobile and BYD Electronic. For more convenience, you may also read BYD Automobile Business Model and BYD Electronic Business Model.
It manufactures automobiles, electric bicycles, buses, trucks, solar panels, forklifts, electric vehicle batteries, and rechargeable mobile batteries.

History of BYD Business Model
The BYD Corporation Ltd. was established in February 1995. On July 31, 2002, the company was listed on Hong Kong Stock Exchange. Initially, the company started manufacturing rechargeable batteries. Later, they started competing in the Chinese market against Japanese technologies.
Credits: South China Morning Post | YouTube
In a 2022 news report, BYD was claimed to have surpassed Tesla in sales of electric vehicles. In the first six months of 2022, over 300,000 plug-in hybrid vehicles were sold by BYD. Electric vehicles do not include plug-in hybrids with internal combustion engines.

Recommended: How does Paypal make money?
BYD Is Known For
Among their innovations, the company has developed technology that allows mobile phone batteries to be manufactured at room temperature rather than in expensive, heated drying rooms.
In BusinessWeek's top ten list, BYD company acquired the eighth position among the world's most innovative companies in 2010. In the same year, BYD also appeared as the fastest-growing company.
According to PV Magazine, BYD won the top award for innovation in three categories: modularity, charging capacity, and efficiency for its recently launched battery storage system.

Recommended: How does OpenAI make money?
BYD Company's Growth In Early Days
BYD captured over half the world's mobile-phone battery market within ten years and became the most significant Chinese battery manufacturer. If we talk about its world ranking, BYD became the fourth largest company worldwide.
Among large and fast-growing tech companies, BYD topped the Bloomberg Businessweek Tech 100 list in 2010.
The company expanded beyond batteries to include automobiles and mobile phone components by replacing machines with local workers.

BYD Automobile Business Model
In 2002, BYD Automobile Co Ltd was formed following the acquisition of Tsinchuan Automobile Co Ltd.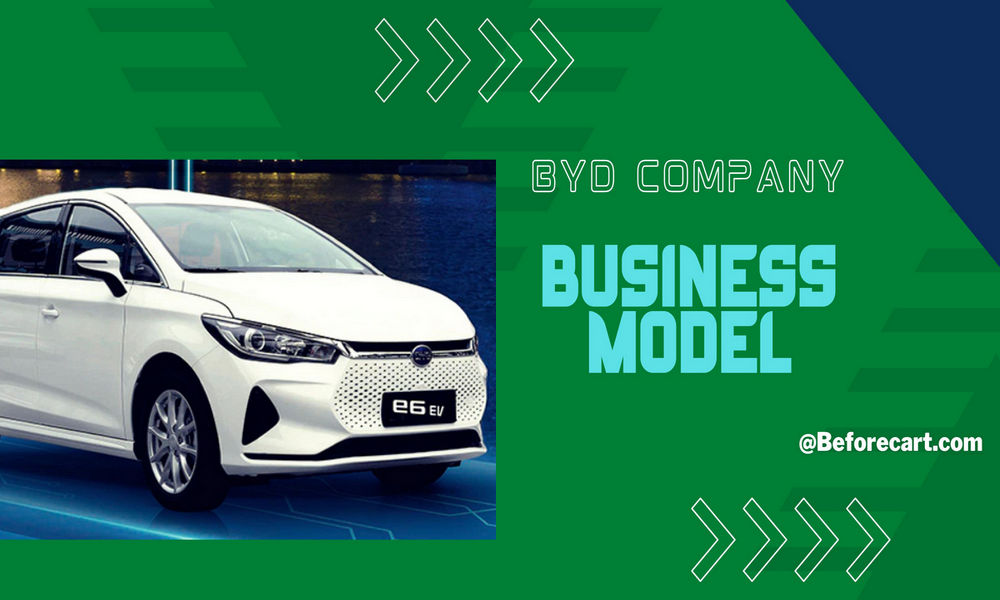 It ranked sixth in sales volume among Chinese automakers in 2010.
The same year, the company intended to stop producing combustion engine vehicles and focus only on electric vehicles.

Recommended: Hotel business model – How does Hotel Business Owner Make Money?
Intention To Enter The Global Rail transit Market.
BYD announced in 2016 that they would enter the global rail transit market with a working monorail prototype marketed as Skyrail. Skyrail's first public route opened in 2018 as a 9.7 km loop line at Yinchuan's (the capital of the Ningxia Hui Autonomous Region, China) flower expo.
There have been several systems built by BYD since then, including the Guang'an Metro (In China), the SkyRail Bahia (In Brazil), and the Guilin Metro (In China).
In addition, BYD won a pre-development contract to build a monorail connecting Los Angeles to the San Fernando Valley via Sepulveda Pass.
BYD also produces rubber-tired trams called SkyShuttle. Rubber-tired trams have been put into operation in Bishan, Chongqing.

Recommended: How does SpaceX make money?
BYD Started Manufacturing Mobile Phone Components
In 2000, BYD started producing mobile phone components, but unfortunately, they stopped this project in 2007.

Some Frequently Asking Questions About BYD Company:
1. When did BYD company found?
BYD Co. Ltd. was founded in February 1995.

2. Where is the headquarter of BYD Company?
The headquarter of BYD is in Shenzhen, Guangdong, China.

3. Who is the founder of BYD Company?
A Chinese billionaire entrepreneur, and chemist, Wang Chuanfu, founded BYD company.

4. What products does BYD company manufacture?
BYD Company manufactures mobile-phone rechargeable batteries, electric bicycles, buses, trucks, solar panels, electric vehicle batteries, etc.

Recommended: Apple Stock Price Prediction 2023

Conclusion:
In this article, you have learned about BYD Business Model, its founder, subsidiary companies, History, Growth, rail projects, FAQs and more. If you enjoyed this article, please share it with your family and friends. For more educational content, you may reach out to our other articles.
For any queries, you may write to us in the comment section below. Thanks for reading the complete article.