Bilt Rewards Business Model is based on a loyalty program that offers cashback rewards to customers who pay their rent. In addition to interchange fees, Bilt Rewards receives referral fees from its partners and property managers.
In just a few years since its inception, Bilt Rewards has experienced rapid growth. With a market value of $1.5 billion, the company has reached a new milestone. This article will let you know "How does Bilt Rewards work? Detailing The Founding Story of Bilt Rewards, How Do Bilt Rewards Make Money? An assessment of Bilt Rewards' funding, revenue & valuation, and Frequently Asked Questions."
So, we recommend you read the article till the end for complete information.
How Does Bilt Rewards work?
The Bilt Rewards loyalty program rewards its customers for paying their rent with cashback rewards. Wells Fargo administers the Bilt World Elite Mastercard, which is at the center of its offering. With the credit card, customers can pay their rent or make other purchases such as travel and dining.
In addition to rewarding customers, the Bilt Rewards Alliance is a group of real estate management companies. Companies like Equity Residential and Veritas rent 2M+ homes that members can access.
Furthermore, renting a Bit Alliance property can build up your credit score unexpectedly. After getting permission from its customers, the company automatically reports payments to Experian, TransUnion, or Equifax.
Bilt Rewards rewards card usage through its various tiers by providing members additional benefits. Gold tier members, for example, can earn interest on their points or take advantage of the homeownership concierge service.
Bilt's official website and mobile app are available on Android and iOS, and you can access Bilt Rewards through either.
Detailing The Founding Story of Bilt Rewards
In 2019, Ankur Jain and his tech accelerator Kairos HQ founded Bilt Rewards, based in New York City, United States. Ankur belongs to Bellevue, Washington, United States.
As a result of his economics at the Wharton School of the University of Pennsylvania, he entered the business world immediately. Ankur founded Humin in 2012, a contact management app that organizes all user connections. Several years after starting Humin, he sold it to Tinder for an undisclosed amount.
He remained at Tinder as its VP of Product for the next year or so. Despite this, the desire to start something new was too strong to resist. Jain, Alex Fiance, and Zoe Oz launched a tech accelerator Kairos HQ in May 2017. Since then, the company has incubated various consumer-facing startups, including Rhino.
Kairos HQ builds products that address issues across an individual's lifespan, such as buying a house or keeping children healthy. In an interview with The Street, Jain explained why Bilt Rewards fit into that narrative:
"As entrepreneurs, we wanted to solve various problems, and we kept coming back to housing as a solution. I remember that I had an Amex and a Chase card before this, and I earned points on everything. My credit card won't work for rent. Why is that? My question to Barry Sternlicht, who started Starwood Group, was, "Shouldn't landlords care about loyalty and attracting new tenants?"
He answered, "You may not realize that airlines and hotels make all their money through loyalty programs and credit card businesses … airlines typically lose money on flying planes, but they make money on having a loyalty (program)."
"When we realized that the rental market is one-fifth the size of those categories where Americans spend a hundred billion a year on travel, that was an eye-opening moment. It was at that point (moment) that the lightbulb came on. The scale of this is massive if we can figure out how to make the model work for housing."
However, there was one major problem: points earned via credit cards or other reward programs were not redeemable as down payments. Initially, Ankur talked to regulatory bodies like the Federal Housing Administration and mortgage lenders like Fannie Mae.
After nearly two years of back and forth, the Bilt Rewards program and associated Mastercard finally went live in June 2021. A few months after raising $60 million from investors, Ankur built Bilt Rewards into a $350 million company with 40,000 apartments.
Throughout 2022, Wells Fargo, Amazon, Expedia, Virgin Red, and others offered loyalty programs. After experiencing stellar growth, Bilt Rewards has secured yet another funding round. In October, the company secured $150 million in funding, worth $1.54 billion. With the company's growth, rewards will be extended, as will its user base.
Recommended: Doordash Promo Code.
How Does Bilt Rewards Make Money?
The company earns money from its property management partners' interchange and referral fees. In the following section, we will examine each of its revenue streams in more detail.
You may also read, How does Doordash make money?
Commissions for the Referrals
The company also generates revenue through its partners' referral and interchange fees. More than 2 million rental properties are included in the Bilt Rewards Alliance, which the company previously created. Renters can earn reward points by renting a home in the network.
Companies in the network, like Windsor Communities, pay Built Rewards a referral fee for attracting tenants. Bilt Rewards does not disclose the details of the deals, but it can be assumed that it takes a cut off members' rental payments.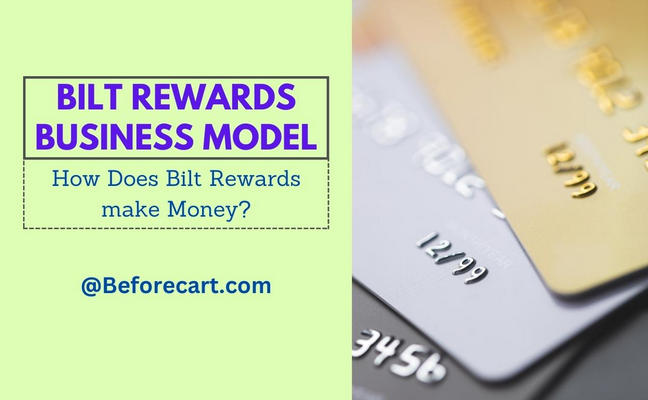 In October 2022, the company launched Bilt Homes, a platform that lets tenants share their rent payments and credit scores to find homes that may be affordable based on their credit scores. The company works with other mortgage lenders, who then pay a referral fee to Bilt Rewards on behalf of the loaned sum.
Furthermore, Bilt Rewards is compensated when members purchase items from other reward partners' websites using Mastercard, such as Expedia or Turkish Airlines.
Recommended: How Does Vivino make money?
Fees associated with Exchanges
The merchant that accepts the payment pays the so-called interchange fee whenever someone uses their debit or credit card. Different exchange fees depend on payment modes, card types, etc. Mastercard generally charges between 1.50 percent and 2.70 percent plus $0.10 for each transaction. All parties involved, Bilt Rewards, Mastercard, and Wells Fargo, split the interchange fees accordingly.
Most of Chime's revenue comes from interchange fees, another strategy used by lean FinTech startups like Bilt Rewards. With continuous rewards, Bilt Rewards can maximize the revenue it derives. Keeping its customers in the ecosystem can maximize the chances of constant interchange income since the cards are used for all transactions.
Members of Bilt Rewards have access to additional benefits like interest on earned points and the ability to purchase individual works with their effectiveness through the company's art collection.
An assessment of Bilt Rewards' funding, revenue, and valuation
According to Crunchbase, Bilt Rewards has raised $213.3 million in four rounds of venture funding. Aside from the incubator Kairos HQ, other notable investors include Wells Fargo, Left Lane Capital, and Prosus Ventures.
In October 2022, Bilt Rewards raised $150 million in Series B funding, valuing the company at $1.55 billion. According to founder Ankur Jain, Bilt Rewards hit profitability earlier in 2022 but does not disclose revenue figures.
Frequently Asked Questions:
Is Bilt Rewards profitable?

Yes, the Bilt Rewards program is profitable, and more than 500k active members have taken advantage of it.
Who is behind Bilt Rewards?

Ankur Jain, the founder & owner of Bilt Rewards, is the only person responsible for the company's success.
How does Bilt Mastercard make money?

In addition to free access for residents and free access for real estate agents, Bilt earns revenue through standard credit card merchant fees on any transactions outside of rent.
How much is a Bilt reward point worth?

There is also the option to redeem points through Bilt's travel portal. For 10k Bilt points to be redeemable, you need 1.25 cents per point, so $125 in travel is equivalent. 
Recommended: Top 7 Most Surprising Business Models You Never Heard Before.
Conclusion:
In this article, you learned the complete information regarding the "Bilt Rewards Business Model" and "How does the company work?" I hope you enjoyed it.
Thanks for reading!