Friends, today we are going to tell you about such an application from where you can earn ₹50,000 per month. We are talking about the Turtlemint Pro App. The brand ambassador of Turtlemint Pro App is the former captain of Indian International Cricket, Mahendra Singh Dhoni. You can imagine how big a leading company it is.
How will you earn money from here? How to apply? You will get to know about all these things through this article. So, start with a quick look at the company.
Take a Quick Look About The Turtlemint Pro Company
Insurance is one of the highest products whose demand can never diminish. What do you think? Let me know in the comments! Insurance work will never decrease in the future; it will only increase. Insurance is such a platform that no matter how many competitors come, its demand never decreases.
Turtlemint is a company that offers all kinds of insurance, such as Car Insurance, Bike Insurance, Health Insurance, and Life Insurance.

The company has also received the number one title. More than 45 Insurance Partners have joined hands with Turtlemint.
More than 3.5 million customers and 240k+ advisors are involved in this company.
In today's world, every person needs insurance; whether he belongs to a middle-class or a wealthy family, it doesn't matter. It is such a deal that a person needs it again and again.
Suppose you bought a bike and got Insurance and its Insurance done; the matter does not end here. You will have to renew the insurance every year.
How to make money from Turtlemint Pro App?
You must complete the KYC process by creating an account to earn from this App. For detailed information about account opening and KYC in Turtlemint Pro App, you can read our article 👉🏻 "Turtlemint Pro App Complete Guidelines."
After successfully creating an account and completing KYC in Turtlemint Pro, you can start earning from this App. The company keeps coming up with offers from time to time so that you can also make extra income. A section of Refer and Earn will also appear in the App, with the help of which you will get less money even by sharing this App with your friends.
But the primary option to earn from Turtlemint App is the sell option. After opening the Sell option, you will see all types of insurance such as Bike, Car, Commercial Vehicle, Health, Personal Accident Life Insurance, and Term Life. Turtlemint has recently added the option of Mutual Funds as well.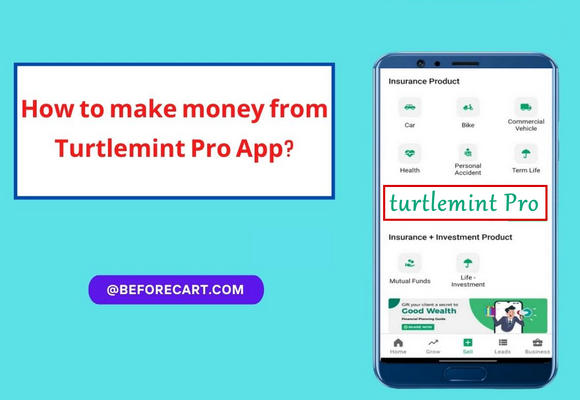 If you click on any option, you will get complete information there. You will also be given all the information related to that insurance through that video. In this, you will get insurance from many companies.
Now whatever you get here, you have to share it. You can send it directly from Whatsapp to share. Otherwise, you can go to the option with Get Quotes. There you will be asked for details of customers like Gender, Name, Occupation, Pincode, and Mobile Number. Your insurance plan will be delivered directly to the customers once we have processed all these details.
You will get to see all such types of insurance here, where you can reach the people. You will generate a good commission whenever people buy insurance from your link.
Turtlemint Pro Tutorial
You will get the complete tutorial on how to do business with Turtlemint Pro App in this App. There is also a blog section in the App to gather much knowledge.
Recommended: If you have a good credit score and want proper information about the best personal loan platform, you may go through this helpful article, "Navi Personal Loan Complete Guidelines in 2023."
Conclusion:
Turtlemint Pro is an insurance app from where you can buy or sell insurance. This is a better platform for those who want to passive income online. However, one thing you should keep in mind. Hard work and dedication are necessary for success in any endeavor. You will earn a healthy income if you are dedicated and work consistently.
We hope that you will like this little information given to us. You can tell us through the comment section if you have any questions about this article. We will try our best to help you.
Thank you for reading the article thoroughly.