Hello and Welcome, Friends! We are back with another business model article on a multinational company. This article is all about BYD Electronic Business Model. So, read the article till the end, and we assure you won't get disappointed.


Short Introduction:
BYD Electronic is a multinational Chinese company that manufactures handset components and assembles mobile phones. In 20 years of development, BYD Electronics has built a reputation for quality, innovation, and technology.
Besides providing smartphone and notebook PC solutions, BYD Electronics also offers new intelligent products, autonomous systems, and medical devices.
Credits: The Limiting Factor | YouTube
Its one-stop service encompasses new product design, material development, logistics, manufacturing, supply chain management, and customer after-sales service.
The company claims that it makes the world's safest battery. Check out this helpful video regarding this topic.
Recommended: Unleashing the Power of the MK3 Supra: A Timeless Icon of the Sports Car World
History Behind BYD Electronic Business Model
BYD Electronic is a subsidiary company of BYD Corporation Ltd, created in 2002 and headquartered in Shenzhen. On June 14, 2007, the company went public on the Hong Kong Stock Exchange after being incorporated in Hong Kong.
The company produces a variety of components and modules for handsets, including casings and keypads. In addition, the company assembles PCB (Printed Circuit Board).
Recommended: Rivian Stock Price Prediction 2023
BYD Electronic Business Model | Products and Revenue
Considering BYD's revenue composition in 2020, Wind data shows the mobile phone parts and assembly business accounted for 38.34%, the automotive business accounted for 53.64%, and the secondary rechargeable battery business accounted for 7.72%.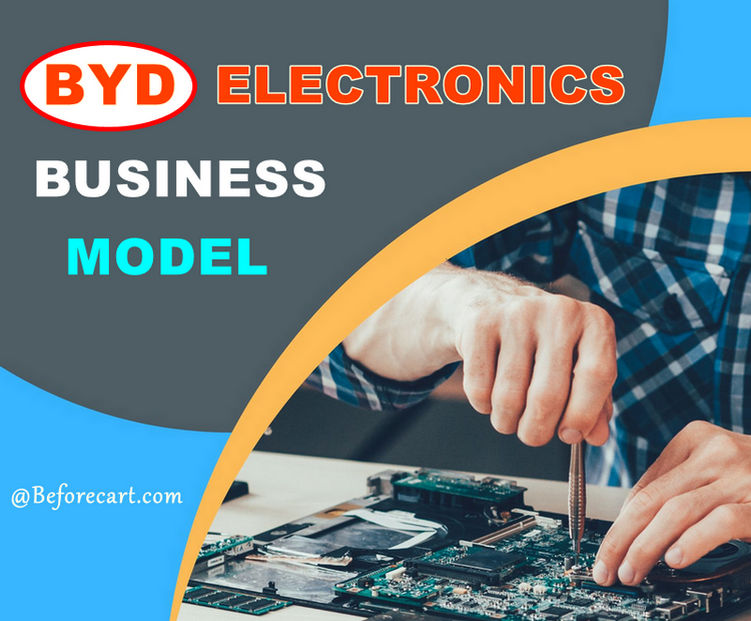 It is important to note that BYD Electronic has production facilities both inside China and overseas. The company has three overseas production facilities: one in Cluj, Romania; a production base in Komárom, Hungary; and a base in Chennai, India, completed in 2008.
In addition, BYD Electronic has production bases in Huizhou, Tianjin, and Baolong Industrial Park, Longgang District, Shenzhen.


Recommended: LUCID Stock Price Forecast 2023

Some Frequently Asking Questions About BYD Electronic:
What does BYD Electronic do?
BYD Electronic (International) Co., Ltd. manufactures and sells handset components and modules. The company produces handset components such as keypads, modules, and casing and assembles PCB.


Recommended: How does SpaceX make money?
Does China own BYD Electronic?
The BYD Electronic Company is a Chinese company headquartered in Shenzhen, Guangdong, China. Wang Chuanfu founded its parent company BYD Company Limited in February 1995. BYD Company Limited has one more subsidiary, BYD Automobile.


What does BYD stand for?
BYD stands for Build Your Dreams. The company designs and manufactures electric vehicles with innovative technology for buses, cars, trucks, and rail systems.


You may also read, OpenAI Business Model.
Is BYD a good investment?
A reasonable valuation might be found for Byd Co., Ltd. based on valuation metrics. It would be a good investment choice for value investors.
According to its financial health and growth prospects, BYD company has the potential to compete with the top manufacturing brands such as Tesla, Rivian, etc.


Recommended: Is NIO stock a good buy?
Is BYD stock overvalued?
The current market price of BYD Company Limited is the US $24.46 (On October 15, 2022). According to some technical analysts, this is the perfect time to invest in BYD Company Stocks.
Why does BYD stock drop?
BYD stock drops after Berkshire Hathaway cuts its stake. The shares of Chinese electric vehicle maker BYD fell nearly eight percent in Hong Kong after Warren Buffett's Berkshire Hathaway disclosed it had reduced its holdings.


What is BYD's target price?
According to our analysis, BYD's stock price may reach a maximum of $80, a minimum of $22.40, and an average of $50 by the end of 2022. Its average price may be $50.


Recommended: How does Paypal make money?
Some Unknown Facts About BYD Electronics:
To create an outstanding high-end flagship smartphone, BYD Electronics provided the glass back cover and assembly solutions for the HONOR 60 Series in 2021.


BYD Electronics achieved the Outstanding Supplier Award from the popular brand OPPO in December 2021.


In December 2021, BYD Company became the center of attraction after achieving the Best Household Energy Storage Supply Award.


You may also read; Apple Stock Price Prediction 2023
Conclusion:
In this article, we have shared information about BYD Electronic Business Model, History, Products, Revenue, Facts, Stock Forecasts, and more. I hope you enjoyed this article. Please share this article with your family and friends to spread this information.
For any queries, you may write in the comment section below. Thanks for reading the complete article.