Netflix is today one of the famous online streaming video services with the most significant number of users in the world: television programs, series, documentaries, exclusive premieres, etc.
Netflix is ​​known for its largest online video streaming service in the world today. It serves in 190 countries with more than 200 million users, with movies and series in 21 languages, and all without advertising ruining, to give you the best user experience.
So when Netflix has a vast database and millions of active users, the first question that comes to our mind is ….
How exactly does Netflix make money?
Founded in 1997 by Reed Hastings and Marc Randolph to use the internet to rent DVD movies, Netflix, streaming its movies today surpasses cable television in the United States.
Both Hastings and Randolph admired the digital revolution that Amazon was achieving by selling books online and decided to replicate the idea with movies in DVD format. That was their first business model, based on they started their journey, and finally, they are online right now.
However, Amazon began selling everything online a short time later, so Netflix had to rethink its business model to stay active on track.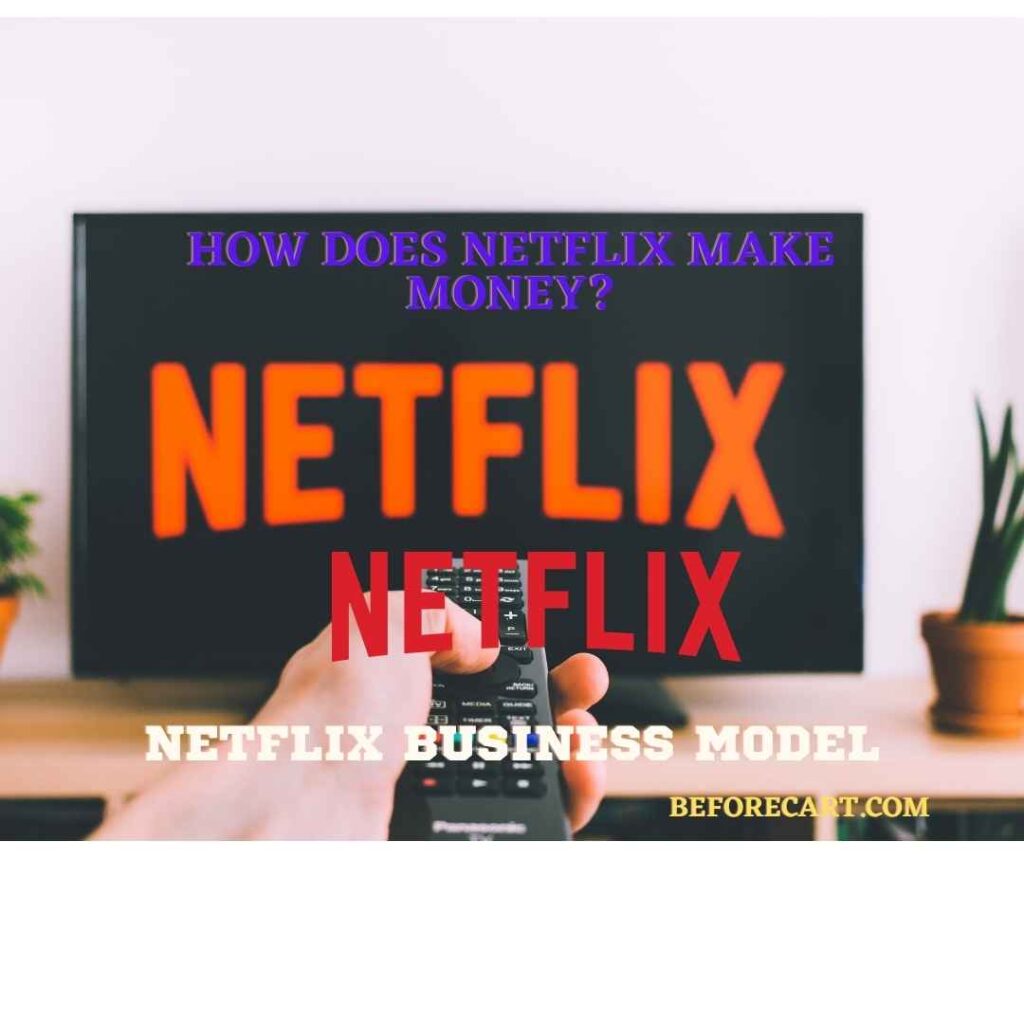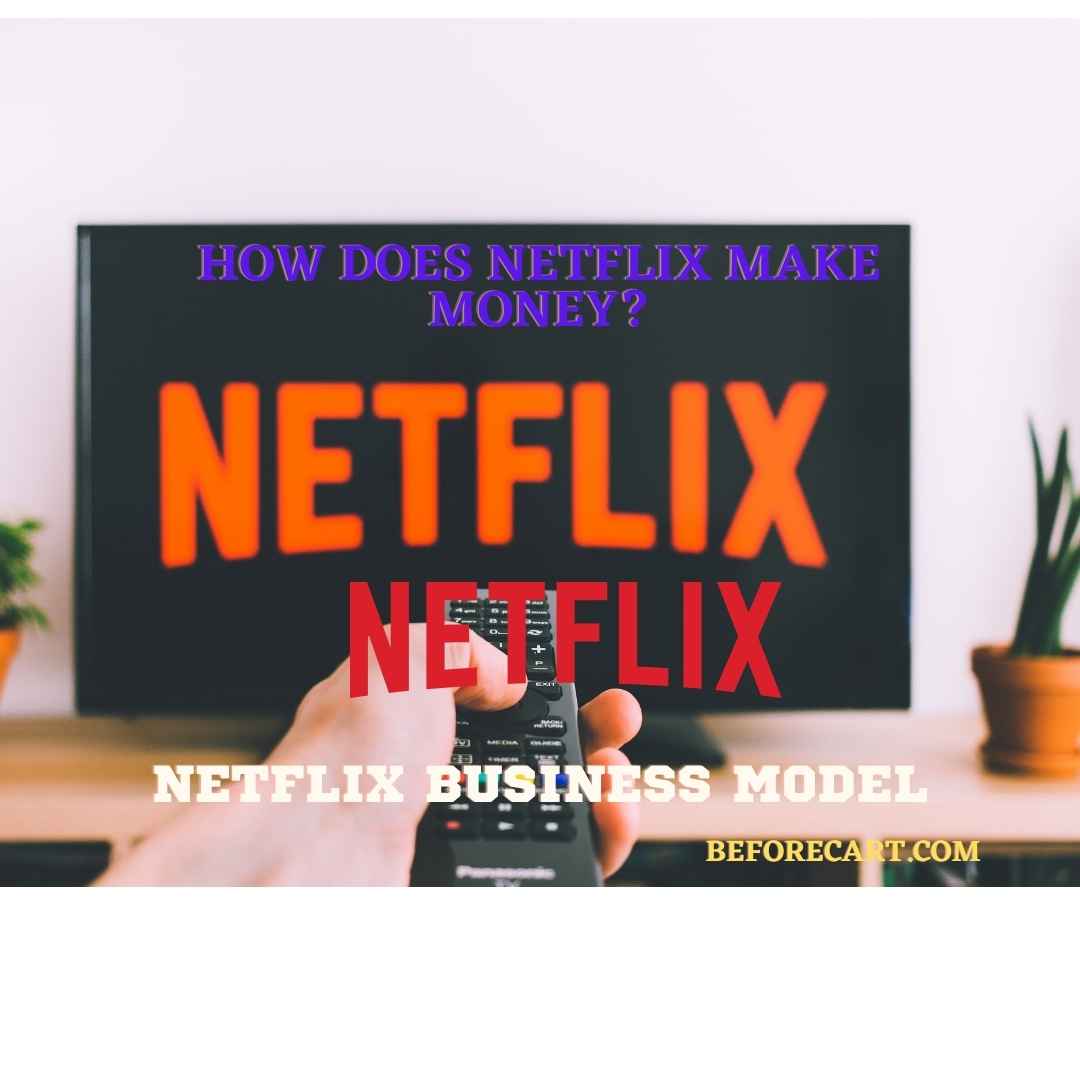 With a modest initial investment (from the sale of their previous company), Hastings and Randolph founded Netflix offering an extensive catalog of movies for rent. They started sending them to your home by mail after selecting them from an online catalog.
Its subscriber base is so large that account holders create over one-third of Internet traffic during peak hours. With these facts and figures, questions again come on this company like 'How does Netflix make money? and what is Netflix's business model?'
They will undoubtedly crop up in your mind. But before we move on to these questions about Netflix's business and revenue model, let's first look at Netflix's operating model. If we can guess how Netflix works, it will be easier to get how much they make and their secret business model tricks.
They entertain more than 200 million subscribers around the globe. How has it become the most successful multimedia platform of the moment? We analyze their business model below.
Recommended: Discord Business Model
What is Netflix, and how does it work? Netflix business model
Netflix is ​​a very innovative company. From the beginning, it was clear that they wanted to revolutionize the entertainment industry; however, when they started, it was not very clear how they would achieve this. The answer was obtained over many years, and other hits and trial methods were applied in this business model.
Netflix is ​​an online streaming content provider that enables subscribers to watch their favorite TV shows, movies, documentaries, and more on many internet-connected devices. The company also offers DVD rental plans in which it offers shows and movies on DVD.
This video-on-demand streaming company operates on a subscription-based model. Users pay for a monthly subscription plan and access streaming shows, movies, documentaries, and other content available on Netflix in various available video qualities like SD, HD, Ultra HD, etc., they pay for.
Let's take a look at the Netflix Business Model to get a clear idea before moving on to answering the question of how Netflix makes money?
Origin of Netflix – Short history of Netflix Business Model.
Netflix emerged in California in 1997 thanks to the idea of ​​its founder: Reed Hastings. Reed rented the Apollo 13 film on the BlockBuster video store chain and was delayed a few days in the return. This resulted in a fine of approximately $40. That was the main reason behind the establishment of Netflix.
That's when Reed decides to start a project by creating an online video club that doesn't fine users. A new concept for consuming multimedia content is renting and selling DVDs, video games, and programs physically through a mail system.
Today, the concept created by Reed Hastings has evolved to become a powerful online streaming platform that allows you to view your favorite content on a multitude of devices that have an internet connection running in it. They just need to pay a monthly fee only.
Also Read: Myspace Business Model
Netflix started in 1997 as a DVD-by-mail rental service. Today, that part of the business is still active, but only in the United States, and it is still responsible for 10% of its revenue. However, we all know the company for one thing only: streaming Online Streaming. This technology was what helped them to expand internationally: they arrived in Canada and Latin America in 2011; The United Kingdom, Ireland, and Northern Europe in 2012; Austria, Belgium, Germany, France, and Switzerland, in 2014; Spain, Japan, Italy, and Portugal, in 2016. Currently, they are in more than 190 countries worldwide.
Today's online-based streaming business models have changed a lot to emerge from the old DVD-based primary business model. Firstly they dropped their classical idea and adopted the trends. Some older users may feel nostalgia, but new young users may feel comfortable and relaxed. Time demands running a new business in any circumstance smoothly, any period, and trends. Better, it can say Netflix Business Model is Trend following business model.
Also Read: Telegram Business Model.
Netflix business model 2021
Netflix's business model is a Subscription model. It currently has three different plans with a fixed cost: basic, standard, and Premium. This business model is characterized by requiring a high investment to continue expanding.
One of the strategies to achieve a more significant number of subscriptions and differentiate yourself from the competition is to create your own content or access exclusive content and try to provide more attractive services, especially for users who opt for the Premium package.
Since the highest percentage of the company's income depends on the subscription model, it is necessary to make a constant review so that the investments remain profitable and the expenses do not exceed the income.
Remember that Netflix has to face significant content licensing expenses, so it needs an effective strategy to win subscriptions and avoid negative cash flow.
Since 2013, Netflix has been producing its own audiovisual products. Today, it is an undisputed pivot of the VOD (video on demand) industry that is changing television as we know it.
Introducing a subscription model to a video-on-demand service was undoubtedly risky for them, but they took it and became successful. Before Netflix, this practice was still strange, but today, inspired by the company's success, many VODs company copied their business model. However, Netflix has been ​​the undisputed leader, with almost ninety percent of this market since 2013.
Aside from being one of the industry pioneers with its subscription model, the value proposition is another element that helped this particular service become as popular as it is now. There are a total of three elements that are making all the difference: the affordable price of the subscription, the accessibility to the platform, and the content that not only contemplates commercial successes but independent works that would not otherwise be spread.
While Netflix offers more than twenty thousand audiovisual products at a relatively low price, it also provides its content through multiple and diverse devices. There is no service on the market that covers more electronic devices than this. The ranking algorithm is undoubtedly a feature that adds value. Still, the icing on the cake is undoubtedly the original content produced by Netflix itself, ranging from serials to films and documentaries of all kinds of subjects.
Netflix Online Streaming as a gold mine
In 2007, Netflix saw the future of entertainment in on-demand content. As a result, they began offering streaming videos to view from a PC or web-enabled device. Initially, they did not charge extra for this service. The hope was not only to meet a new and growing market demand but to reduce their operating costs and dependence on physical DVDs, warehouses and postage, that is, expand their business opportunities.
Several independent film producers made their content available to stream on the Netflix website, allowing independent studios to gain wider distribution on a web platform. According to an Internet traffic report from Sandvine, Netflix's online streaming service accounted for around 30 percent of all web traffic at the time.
After 2007, Netflix enjoyed meteoric growth, becoming an example of business success. Employees-shareholders and customers were happy with the service and preached their satisfaction, and became loyal to the brand.
However, in that same year, Netflix made what many observers consider was its most serious mistake: CEO Reed Hastings announced in September that the company would charge separately for DVD rentals and streaming content and that a new A company called Qwikster would be formed to handle the physical rental of DVDs, while Netflix would keep streaming only. The net effect for subscribers was, of course, an increase in prices.
After a great outcry from users, as well as a significant number of subscription cancellations, Mr. Hastings admitted the strategic error and scrapped the separate billing plans and independent companies.
Also Read: How does Peloton make Money?
Netflix target audience
Netflix is ​​the world's leading Internet television network, with more than 200 million members in more than 190 countries who enjoy more than 125 million hours of TV shows and movies per day. The company's target market includes men and women between the ages of 17-60 and households with income levels of $30,000 and up. With so much disparity between people who belong to the target group, it can be easily deduced that Netflix segments its users based on psychographics and not based on demographics.
In terms of psychography, users are segmented into 3 primary groups:
People who are too busy to go out to watch movies in theaters or auditoriums.

People who want to get the most value for their money.

People who are frequent renters and movie buffs.
Netflix business model in India
Although it has not been officially announced, 'Economic Times' has obtained statements from Netflix confirming some discounted subscription plans in India. Those plans would offer 3, 6, and 12-month options and would carry discounts of 20%, 30%, and 50% off the original price. In statements to the media, Netflix has stated that " we believe that our subscribers could value the flexibility that comes with paying several months at once ."
This novelty comes just a few months after the platform's executive director, Reed Hastings, announced notable spending of more than 300 million euros on own production in India in the 2019-2020 season. A large amount underscores the growing importance of this market for Netflix, making it an excellent testing ground for new business models. " As always, this is a test, and we will introduce it more broadly if people find it useful, " the same source told in Economics Times.'
Both Netflix and Amazon are struggling to conquer the large Indian market, a key market for online streaming in the coming years; now that growth is slowing in the West, but they do not have it easy due to competition from Bollywood and well-established local companies.
According to the Boston Consulting Group forecasts, with the increasing number of Indians watching movies and shows online, streaming revenue will increase from around $500 million in 2018 to $5 billion in 2023.
As some Western markets are becoming saturated, and China, the central Asian economy, has effectively shut down foreign streaming giants, India is a good match for its 1.35 billion people and booming smartphone market nowadays.
"India is super important to Netflix and Amazon," confirms Tony Gunnarsson, an industry analyst for consulting firm Ovum.
"Netflix" must continue to generate new subscribers, and there is no better place for this than India," he told AFP in Singapore.
But competition is stiff on this multi-ethnic and multi-religious subcontinent, with several dozen streaming services already running.
Some benefit from their experience in producing content adapted to local tastes and in various languages.
One of the market's heavy-weight online streaming competitors is Hotstar has an unstoppable weapon: it broadcasts live the matches of the first Indian cricket league. And also, the group bought by Disney will begin at the end of March to propose the Disney Discovery + service.
Another Indian rival, ZEE5, is part of the television group Zee Entertainment, while ALTBalaji is the streaming service of Bollywood producers Balaji Telefilms.
These companies sell deals, often combined with subscriptions for mobile phones.
How to grow in emerging countries
These prices, which may seem very cheap for a European user, are the key to the growth that Netflix intends to have in less privileged countries. After reading this year's benefits, Netflix reported that one of its priorities was improving and increasing the service in countries like India, where it is not so easy to implement due to economic and technological reasons.
With the platform's blockage in China, India is undoubtedly an attractive market, especially considering the reports that attest to its tremendous growth. The subscriber base for streaming services is expected to reach 50 million in just a couple of years from now.

Netflix's first Business Model didn't work?
The first years of the company were very difficult. Initially, they competed with Blockbuster. The rental rates were similar, and the late-delivery penalties were also very similar.
Even the financial position of the company was so complicated that several times they considered selling it. They even offered it to Blockbuster for $50 million. Today this decision by Blockbuster is regarded as one of the worst business decisions.
But a few times later, step by step, the money flows improved, the rents increased, and finally, the financial health of the company improved. The great innovation in Netflix's business model was the decision to switch from a subscription model. Unlimited DVDs, no late return fees, or complications make them top of this competitive industry.
This, combined with declining DVD player prices and a brilliant movie recommendation system, helped Netflix position itself at the top of this Industry.
The evolution to a digital model
In the early 2000s, it was evident that the revolution of the internet would bring to its business model would come very quickly. That is why Netflix decided to invest in a new form of content distribution over the internet, and by 2005, they almost had it ready. Originally the concept was to sell a device capable of downloading a certain number of movies at night and then having them available for consumption.
They were about to start their commercialization when YouTube debuted. Seeing the success of streaming, they decided to refocus their efforts and developed, matured, and grow up in such a way that we all know this incredible business model as Netflix today.
Value proposal
Netflix's main proposal is to offer the most excellent variety and the best news in entertainment content. The contents cover all types of audiences, so they manage to cover the preferences of all customers. They can also access at any time, 24 hours a day, and without advertising.
Netflix gives you legal access to an extensive database of movies and TV shows, the best-personalized suggestion algorithm, and seamless service without the interruption of ads. The service is compatible with the broadest range of devices, including PCs, televisions, mobile phones, and game consoles. One of the differentiating factors of Netflix is ​​that it launches new and exclusive series as full seasons and not an episode at the same time that it keeps its users hooked.
The service is packed with great TV shows, Stranger Things or Black Mirror; as a viewer and subscriber, you surely want to know how Netflix plans to keep running more episodes of your favorite shows. Let's find out.
Another advantage of consuming Netflix content is the visual quality is excellent. Netflix provides online Streaming of high-definition MP4, HD, Ultra-HD, MKV format.  In addition, it is possible to share the same account among a group of people, with a specific profile adapted to the content preference of each of them. And the customer only needs a device connected to the internet; that's it. Just connect, log in, and enjoy your day.
Customer Segments
The content offered by Netflix is ​​aimed at all groups of people. In fact, customers can find them grouped by theme and even by age. From children to adults through family content, all users can customize the content they want to see.
Channels
Although the leading distribution channel for its content is the platform and the application for devices, Netflix also uses social networks to keep in touch with potential customers. Through these media, it invests heavily in advertising to publicize its services and content.
Activities
Netflix's main activity is to improve the experience of its users with the platform. To do this, it performs:
Investment in technology and advertising.

Analysis of user preferences and their requirements and trends.

Platform maintenance for high-performance hassle-free experience.

Negotiations to get the most demanded and exclusive content.

Relationship with producers and filmmakers to create unique content with a strong impact.

Improve and analyze the pricing strategy to adopt subscription models without losing money.
How does Netflix make money?
Now the question arises How does Netflix make money? Netflix gives you legal access to an extensive database of movies and TV shows, the best-personalized suggestion algorithm, and seamless service without the interruption of ads.
The service is compatible with the broadest range of devices, including PCs, televisions, mobile phones, and game consoles. One of the differentiating factors of Netflix is ​​that it launches new and exclusive series as full seasons and not an episode at the same time that it keeps its users hooked. This is one kind of excitement that attracts people to watch it completely.
The service is packed with great TV shows, be it Stranger Things or Black Mirror. As a viewer and subscriber, you surely want to know how Netflix plans to keep running more episodes of your favorite shows. Let's find out.
How much does Netflix make in a day?
Around $ 1.4 million per day. What Do you think about this big number?
Netflix is ​​wary of the numbers about its day-to-day operations or about how much content is being watched. The best estimate comes from the company's reported earnings, which showed a net income of $130 million in Q3 2017 ($1.4 million per day).
This is only an approximation and not an actual figure. Also, it keeps changing based on the earnings report for each quarter. But it's safe to say that this trend should continue, as Netflix expects more net income in the next quarter.
Source of income
Netflix's source of income is based on the fees paid each month by the millions of users who have contracted a subscription plan to watch their favorite episodes, web series, or short films via online streaming.
Netflix's main challenge is to find the balance that allows it to face the heavy investment it needs to make to maintain the quality and exclusivity of its content in relation to the number of subscriptions. To be very honest, they focus on their productivity and service qualities that help their boat run smoothly.
Netflix's main resource is its platform. However, behind this great engine that is the basis of the company's income, there is a group of people who are in charge of analyzing user demand and checking what type of content is the most viewed. They are based on a system of recommendations for users that works based on their preferences. Now they have invented AI-generated artificial Big data analysis systems so that they can do miracles.
AI-based automatic Big data analysis tools help them find the trends and demand for the viewers to watch on Netflix. So you just make a wish, and their part is to complete them instantly.
On the other hand, the software developers are responsible for the maintenance and development of the platform, and the group of filmmakers and producers are accountable for creating their engaging valued content.
Who are the NetFlix's Partners
Netflix partners are part of the world of film and television. They are the agents with whom they obtain the licenses to offer exclusive content on their platform.

But, in addition, Netflix has other partners related to the world of electronics such as X-Box, Wii or PlayStation from where it broadcasts its content.

Another type of partner is investors.

Another Prtner will be ISP(internet Service Provider) like Jio, Airtel, Vi, etc, who provide service on their Mobile Apps taking certain subscription from their users in India.
Relationship with the client
Netflix uses its powerful platform as the primary means of communication with its customers:
On the one hand, the use that customers make of the platform and the searches they carry out activates the algorithm of recommendations that will allow us to offer a more personalized experience with content more suited to their needs and preferences.

On the other hand, Netflix ensures excellent communication through different channels such as social networks, email, online chat, or telephone assistance.
How much does Netflix pay for content?
It depends on the show, movie, or deal, but Netflix says, "We will spend $7-9 billion on content (based on profit and loss) in 2018)." The company also has $17 billion in content commitments in the coming years, and it is a big number compared to the previous history.
However, this is the total expense, which includes both the license fees and the original programming. Netflix has been a champion of original TV series, and that costs the company differently.
"The Get Down" became the most expensive TV series ever made, with a budget of $120 million. The two biggest current hits are also quite expensive. The second season of "Stranger Things" cost $8 million per episode, while the second season of "The Crown" cost $10 million per episode.
How much does Netflix spend on original movies?
These are the most expensive movies Netflix has made so far:
Bright (2017): $90 million

War Machine (2017): $60 million

Okja (2017): $50 million

Death Note (2017): $40-50 million

The Irishman (2018): $100 million
But these are exceptions, either because of a big star or director or because it was based on a famous franchise. Bright with Will Smith, while The Irishman is a Martin Scorsese project. On average, Netflix makes movies on a much smaller budget. For example, Angelina Jolie's film First They Killed My Father has a reported cost of production of $22 million.
Good content costs a lot of money
The content they didn't produce
In order to stream movies, series, and documentaries that they didn't make, Netflix must pay for various licenses. In 2018, the company spent between $7-8 billion on content, between original and purchased material.
Netflix original content
This is one of the most important offerings of the company, and some of its series are the most famous in the world. And the costs here are no small thing. For example, his series The Get Down became the most expensive series ever made on a budget of $120 million. Each chapter of the second season of Stranger Things cost 8 million dollars; for "The Crown," the cost was $10 million per episode.
His movies are not cheap either, and they do not do as well as the series. Some of his most expensive productions have been Bright ($90 million), Okja ($50 million), War Machine ($60 million), The Irishman ($100 million).
The cost of all the other things
This includes marketing and advertising to compete with other platforms such as Amazon Prime Video, Hulu, Roku, and other forms of entertainment. In fact, they consider that more than film and pay TV, their biggest competitor is Fortnite. Yes, the video game.
The costs of research and development of technology and administration are also included almost the same as any other business behind the curtain.
Is Netflix losing money?
Technically, yes. Netflix's free cash flow (FCF) was around $2 billion in 2017. Currently, the company has total gross debt of $4.8 billion. That being said, you are making a profit every quarter, and they are growing.
Netflix says debt is part of its strategy as it continues to grow its original content. It's a "spend money to make money" perspective, as Netflix is ​​all about getting people to join its service. If people are looking forward to a new show or movie each month, they are more likely to subscribe and continue to subscribe to their service. The strategy appears to be working, as the company consistently adds 5 million subscribers each quarter.
When certain movies or TV series don't justify the cost, Netflix cancels them. Over the past year, it has canceled great original shows like The Get Down, Girlboss, and Sense8. It also damaged their reputation and became obstacle-free smooth cash flows.
Debt is part of the business.
In 2017, Netflix's free cash flow (the money available to the company to pay off debts) was nearly $2 billion. Today, they are almost five billion dollars in debt, but they continue to grow anyway.
The important thing is that this debt comes from investment. With this money, they are creating new content, one of the most important engines of their growth. Plus, they get nearly 5 million subscribers every quarter.
Keep reading the pros and cons of Netflix paying taxes in Mexico in the below paragraph, which will let you know how they are performing right now despite the debt.
Cost structure
License cost
To stream your favorite movies and shows in a legal environment, in a legitimate way, Netflix must bear a license fee and purchase content from the owner, which differs from content to content owner to owner. High-quality, high-demand contains cost much more than we think.
Production cost
Netflix introduced Netflix Originals in 2013 to evade licensing costs and as part of its marketing strategy to produce exclusive Netflix content. These original series involve huge production costs. This large spending on new exclusive content production has made Netflix one of the largest media consumers in the category.
Marketing cost
Netflix is ​​not the only content streaming website on the internet. It has to compete with many new and established platforms like Amazon Prime, Hulu, Hotstar, Disney, etc. That involves a great deal of marketing expense.
Marketing costs mainly include advertising expenses, payments to affiliate and device partners, and fees for the first month of each user who signs in. They offer a grand welcome to their new users, and the first month of each new subscriber is absolutely free.
Sometimes, free sign-up for 1 month or offers like Black Friday Deal attacks lots of newly interested customers; later, they become paid and loyal ones. This is how Netflix is currently gaining popularity, increasing its database nowadays.
Research and development cost
Netflix spent lots of money and appointed skilled people in its research and development department. Because of this department has come this far and continues to lead the market with its subscription-based business model.
This Research and Marketing Department Helps them bring lots of sales and ultimately pushes Netflix to the next level of success.
Technology and development cost
There are millions of users streaming content on Netflix at the same time. To make your experience seamless and satisfied, Netflix has partnered and will continue to collaborate with hundreds of ISPs to locate substantial amounts of traffic with integrated Open Connect Appliance implementations. These partnerships carry tremendous costs.
They spend on, Technology and development costs, transmission delivery technology costs, expenses related to designing applications for new devices, and other infrastructure costs, which are the company's backbone.
General and administrative cost
These costs include payroll and other expenses in the company's human resources any and professional and association fees related to the company's administration.
Netflix's business incurs many other miscellaneous costsness. Some of them are given below.
Payment processing fees.

DVD shipping cost.

payback of streaming content library, etc.

Free Sign up Credit for first month.

Black Friday Deal for a discounted price.
Netflix's cost structure is characterized by a high risk in the initial investment, which had to be high enough to gain a foothold in the market. Today, the main costs of the company are:
Mainly the purchase of content dealing with licenses and rights.

Platform maintenance and development service for newly coming devices.

Own production of television series and films.

Software development and marketing research.

Advertising campaigns, infrastructure, and human resources.

Investment in artificial intelligence systems that analyze consumer tastes and Trends.
Is Netflix's business model sustainable?
The jury is still out on whether Netflix can continue to do what it is doing. So far, the company's executives and shareholders are happy with the business model.
It helps that Netflix has a proven track record of changes over time. While it started as a DVD rental company, its early Blue-Rays Disc into video streaming has paid off. Although the company still rents DVDs and Blu-rays, that is a small part of its business.
Additionally, Netflix regularly passes the cost of good content on to its subscribers. The company's standard plan was first increased to $8.99 (from $7.99) in 2014, then to $9.99 in 2016, and $10.99 in 2017. And despite the higher prices, the subscriber base has only increased, showing that Netflix is ​​worth the money.
Netflix statistics and data 2018
Netflix statistics and data 2018-2021
Netflix will spend up to $10 billion on content in 2021.

The company now has a market capitalization of more than $150 billion.

He now has more than 209.18 million streaming subscribers around the world.

Netflix has its customer base in 190 countries worldwide.
Curiosities about Netflix- Some lesser Known facts about Netflix.
When Netflix went live, it had 30 employees and 925 titles.

The cost of renting a DVD was $4 plus $2 shipping with the possibility of having them longer for an additional charge.

In its day, the successful company Blockbuster rejected the purchase of Netflix for 50 million dollars. Today, Netflix has a market value of over $150 billion.

The approximate weight of all the content that Netflix owns is 1024 TB, or even more.

Netflix employees have a free subscription to their service.

Netflix originally started out as Kibble.

The first original content produced by Netflix was "Example Show," a film that lasted 11 minutes and served as a test to see how it looked from the platform.