The SpaceX Business Model is primarily focused on manufacturing and launching spacecraft. SpaceX receives money from the government and commercial customers to send goods into space. The company sells merchandise and provides broadband internet and research services.
What is the Full Form of SpaceX?
The Full Form of SpaceX is Space Exploration Technologies Corp.
What is SpaceX?
It is an American spacecraft manufacturing company founded on March 14, 2002, in El Segundo, California, U.S., by the world's richest person, Elon Musk.
This company was established to enable the colonization of Mars at a low cost. SpaceX manufactures Falcon 9 & Falcon Heavy rocket engines, Heavy lift launch vehicles, Cargo Dragon & Crew Dragon spacecraft, and some communications satellites.
Using these projects, the SpaceX company can send any payload from satellites to terrestrial animals to the Earth's orbit. Also, SpaceX can send humans to space very quickly by mounting its Dragon Capsule. SpaceX showed proof of this in 2020 by flying from the International Space Station for Nasa's astronauts.
If all these models are compared to Starship, then Starship is many times more efficient than them. Although it is still not completely sold, it is being speculated that soon the Starship will be completely tired.
With the help of Dubbed Starlink, the company has provided high-speed broadband internet in planes. Besides sending satellites, objects, and animals into space, SpaceX is also engaged in setting up its own set of satellites. It is believed that the Starlink system currently includes 3300 satellites; according to experts, this figure will likely exceed 30000 in the future.
The Successful SpaceX Business Model Complete Explanations
SpaceX Business Model gained massive success in sending goods, humans, animals, satellites, etc. The company uses this business model to charge money from people and the government when they send something into space through SpaceX.
The main reason for the demand for SpaceX being high in this regard is the reusable rockets used by them. The company saves a lot due to reusable rockets. And compared to other companies, SpaceX can deliver goods to space at a lower cost.
Reusable rockets are just one part of SpaceX's business model. Let's check out all the business model strategies of the company.
Reusable and Scaling of SpaceX
The company and its employees deserve credit for revolutionizing an industry with innovative ideas.
Let's take a glance at the history of space launches. There was little change in the cost of launching a kilogram into space between 1970 and 2000.
The estimated cost per Kilogram is $18k+ (As of 2022). Recently, there has been a considerable reduction in Space Launch costs. You may check here 👉🏻 Space Launch Cost Reduced.
As of 1981, NASA's Space Shuttle cost $54.5k per Kilogram. It would be expected for missions to cost $1 billion or more.
There was a total expenditure of around 209 billion USD for this program alone. Most of that money came from taxpayers. Moreover, two Space Shuttle launches resulted in tragedy, killing 14 astronauts.
What was the reason for the high cost of launches? Consequently, NASA's representatives were not incentivized to devise a more economical solution since the agency is not profit-driven.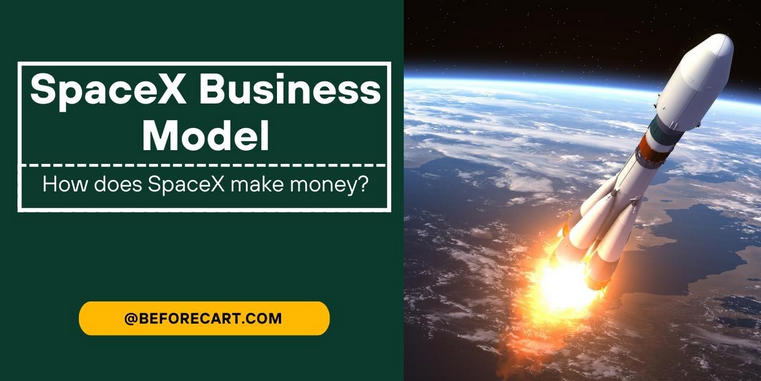 A very inefficient setup resulted as more and more suppliers entrenched themselves in the bidding process. Due to this, when one party in the supply chain began to raise their prices, the others would follow suit.
Moreover, a significant portion of the rocket's parts, such as its external tank, were disposed of after each mission, adding to its exorbitant cost.
Consequently, NASA had to procure, manufacture, and assemble these parts within an increasingly expensive supply chain environment.
Also, many parts were outdated technology that wouldn't last very long, resulting in waste.
A Russian rocket designer reportedly spat on Elon Musk's shoes after he wanted to purchase some of their rockets, which inspired him to start SpaceX. Eight years after Falcon 9's founding, the company launched its first successful commercial.
Five years later, SpaceX launched the first reusable rocket into space during an orbital launch. SpaceX now dominates the launch service industry due to its successful launch.
The cost of loading a kilogram of Falcon Heavy depends on the container's size and weight, according to Oxford professor Bent Flyvbjerg. Despite its 44x lower price, this rocket is significantly more powerful than SpaceX's competitors, such as United Launch Alliance (ULA) or Rocket Lab.
Again, the reusability of SpaceX's products ensures that the company can undercut its competitors. According to the company, the Falcon 9 rocket can be reused 10 to 15 times. However, this number has reached as high as 12 launches in recent years.
In order to recoup the costs associated with developing and manufacturing the rocket, SpaceX launches more frequently. Previously, the company reported that Falcon 9 launches cost 67 million USD.
In addition, SpaceX's superior supply chain management contributes to its dominance.
Unlike Elon's other company Tesla, SpaceX relies heavily on in-house manufacturing instead of procuring parts from third parties.
Despite outsourcing some parts, the company's headquarters in Hawthorne develops many of the rocket's core parts, such as its engine, stages, and software.
"During a conference in 2016, Elon Musk said Tesla and SpaceX can quickly manufacture a part if a supplier fails to deliver it.
It's not just about saving money but also about improving quality since Mask's company can tailor each part to its specific purpose. Furthermore, the lead times to deploy a piece are substantially shortened.
Based on first-principle thinking, SpaceX's low-cost approach has no provable basis. This means no further assumptions can be made from it.
A rocket manufacturer must boil things down to their most fundamental truths, like what components are needed and how much each should cost realistically.
The book Ashlee Vance wrote about Musk demonstrates this method of thinking best. SpaceX engineer Steve Davis was assigned to find an actuator for Falcon 1 in 2004.
Musk told him that part was no more complicated than a garage door opener after being quoted $120k. There is a $5k budget for your project. Let's make it happen.
After nine months, Davis had developed an actuator at $39k, a 96% reduction in cost.
Musk brought another critical principle to Silicon Valley: moving fast and iterating to overcome obstacles.
On December 18, 2022, Elon Musk Tweeted to congratulate SpaceX and its team for launching three perfect orbits within 36 hours.
In place of hiring thousands of engineers and waiting years before launching, SpaceX started with a few dozen engineers that iterated multiple times to learn.
It was also possible for Elon to fail fast since he and his engineers did not have any bosses to report to (unlike NASA officials, whose failures attracted substantially more public scrutiny at that time).
Nevertheless, maintaining public admiration has become crucial for SpaceX as it grows and becomes more popular.
Complete Regulatory Process of SpaceX:
It won't be enough for SpaceX to launch rockets into space based on its technological prowess.
An organization often needs to go through a lengthy process to obtain permits for launching a service or testing a product.
In June 2022, the Federal Aviation Administration (FAA) announced that SpaceX would have to follow 75 procedures before launching its Starship rocket from Boca Chica.
It ensures that SpaceX consistently monitors the impact of its rocket ships on the environment. Despite regulations, SpaceX and Musk have launched them in the past.
"In their conduct, SpaceX and other Musk-led companies make their point clear: rules are for other people, and anyone who insists on or requests compliance deserves ridicule and ad hominem attacks. SpaceX and other Musk-led companies launch satellites with unlicensed antennas, launch rockets without approval, build unapproved launch towers, and reopen factories in violation of shelter-in-place orders. In September 2021, Yahoo Finance published an article about Amazon.com's plans to develop a competing satellite constellation. You may also read Amazon business model.
However, SpaceX remains compliant with local regulations to avoid being scrutinized further, even if this is true.
In terms of SpaceX's Starlink business, gaining regulatory approval is particularly important. The company plans to deploy around 30 thousand satellites to Low Earth Orbit.
Although Starlink is leading the market, it is being challenged by several competitors, including OneWeb, Amazon's Kuiper Systems, and Telesat.
According to Reuters, China claimed that one of Starlink's satellites nearly hit one of theirs in low orbit. Although space is infinite, Earth's low orbit may not be.
The firm's largest customer, NASA, issued a letter stating that its Starlink Gen2 satellites will endanger astronauts and even people on Earth (as space debris will uncontrollably crash onto the planet).
Even though potential solutions, such as lasers, enable satellite-to-satellite communication, there is no assurance that companies will be interested or able to work with their competitors or foreign adversaries.
Thus, it is crucial to be the first to market and deploy its fleet before further issues and conflicts arise.
Musk has amassed a loyal following over the years that cannot be undervalued in this regard.
It is certainly possible that he might shift the debate in his favor of him, as he has over 120 million followers on Twitter alone.
History Behind the Success Business Model
Last but not least, the business model of SpaceX relies on taking advantage of the first-mover advantage it has built.
Musk announced that he could create a company to produce affordable rockets. And he later founded a company name SpaceX. All happened between 2001 to 2004. All funding for the company's founding and hiring of industry veterans came from Elon Musk.
In 2006, Falcon 9 was awarded roughly $250 million by Commercial Orbital Transportation Services (COTS); its first successful launch occurred in 2008; in December 2008, NASA awarded Falcon 9 $1.6 billion, which saved the company from bankruptcy. NASA and other agencies have awarded the Falcon 9 reusable rocket and Dragon capsule multiple contracts.
After launching the world's first reusable Falcon 9 rocket and raising billions in venture capital, the company amassed a $30.5 billion valuation. Launching Starlink with commercial launch income, venture funding, grants, etc.; transporting humans to the ISS; dominating the launch market.
The simple summary above shows that SpaceX uses an adaptive approach to its rocket manufacturing and business strategy.
This proof of concept helped the company attract NASA funding, which eventually led to the development of its reusable rocket. Today, the company can fund its broadband service with the money earned from reusable rockets.
In addition, SpaceX plans to funnel the proceeds from Starlink back into other moon-shot projects, such as the Starship.
Here are some data points that show just how dominant SpaceX has become. For example, SpaceX has competed against itself for the last three NASA Launch Services II contracts.
Approximately 50 percent of all rocket launches across the globe use the Falcon 9 and Heavy. Moreover, the Russian invasion of Ukraine has made many companies unable to use Russia-made rockets like the Soyuz and Proton.
Several Starlink competitors, including Amazon and OneWeb's Project Kuiper, had to contract SpaceX to get their satellites into space because of its dominance.
Through its rocket launches, SpaceX essentially subsidizes the development of Starlink. This is SpaceX's competitive edge.
In rideshare missions, companies can have half their loads carried by Starlink satellites, with the remaining half carried by their loads (Goods). SpaceX charges very low than its competitors for launching goods from its customers.
In addition, since SpaceX is scheduled to launch missions until 2025, with more likely to follow, a sustained dominance will not be squandered anytime soon.
Due to its dominance, SpaceX has been able to grow its valuation dramatically and attract investors for additional funding. In February 2022, the company even split its stock on a 10-for-1 basis to make it more accessible to new investors.
In August 2021, SpaceX announced its first acquisition after purchasing satellite startup Swarm Technologies, which has also helped boost other company divisions. The company produces micro-satellites weighing 400 grams, which can provide IoT connectivity.
Its mini-satellites were deployed accelerated by being placed on SpaceX's Falcon rockets, which greatly reduced its cost base. Until now, you have a lot of information about the company's history.
SpaceX and Tesla worked together and paid each other in the past. Currently, Tesla is a leading brand in the field of Electric Vehicle Manufacturing industry. So its share is highly demanded among the stock investors. If you want to know about its stock forecast, you may check; Tesla Stock Price Prediction. Now let's find out; How does SpaceX make money?
How Does SpaceX Make Money?
Launching objects and people into space, providing research services, offering broadband internet, and selling merchandise are all ways SpaceX makes money.
Recommended: IBM Business Model
Launch Services of SpaceX
SpaceX's main revenue source is transporting items into space, representing its core business. According to SpaceX, NASA has awarded $2.04 billion to the firm in the fiscal year 2022 alone.
A further $1.4 billion was provided in August for five more NASA astronaut missions to the International Space Station (until 2030).
During that same month, SpaceX signed its second contract for spy satellite deployment with the U.S. Space Force.
Many customers other than U.S.-based governments use SpaceX's Falcon 9 and Heavy models, including the Korean Army, Sirius XM, the German Intelligence Service, Türksat, the Italian Space Agency (ASI), Intelsat, and others.
The company also launched the first space tourist payloads as part of efforts to build a launch business.
With three other people who won seats via a lottery, Jared Isaacman (American entrepreneur, pilot, philanthropist, and commercial astronaut) entered a circular orbit of about 585 kilometers on September 20, 2021.
With Yusaku Maezawa (Japanese billionaire entrepreneur and art collector) and ten more dearMoon crew members, SpaceX is taking its Starship on a trip around the moon.
The secret to making a launch business work is minimizing all kinds of failures. By safely transporting people and items, SpaceX ensures trust in its services and therefore is being booked.
As a result, SpaceX will save more money per rocket with each successful launch.
It has done this for the most part. The last time one of its rockets exploded in mid-air was in 2015. It hasn't landed back on a booster since February 2021, so that's a fairly good record.
SpaceX's Super Fast Internet Services
Starlink's internet broadband service is the second major revenue stream and likely its largest in the next few years. With Starlink, remote areas can browse at speeds up to 200 megabytes per second, substantially improving over previously available.
Geostationary satellites usually provide those services up to 35,000 km away. Since the communication between the user and satellite is extremely high, activities such as online gaming or video calls are almost impossible.
A thousand satellites roaming at around 550 kilometers distance from each other are Starlink's way of turning that concept on its head. To provide global coverage and virtually zero downtime, Starlink plans to deploy roughly 30,000 satellites that constantly communicate with each other.
SpaceX monetizes Starlink in two ways. It charges a one-time hardware fee of $599 to send the kit and accompanying manuals. The user then setups the system. Additionally, customers pay a recurring monthly cost of $110 for access to the service, which can be canceled at any time, unlike many other internet offerings.
The potential customers for Starlink have increased in recent years. For example, SpaceX offers Starlink for RVs, which lets customers access the internet while traveling. For the mobile plan, Starlink charges an additional $25 per month.
Business-to-business customers make up the third type of customer. For example, Starlink has a deals with Royal Caribbean to increase connectivity for passengers and crew or Hawaiian Airlines to provide in-flight internet service for absolutely free.
There are different fees for Starlink depending on what business customers it works with. According to TechCrunch, the setup costs $10k and the monthly payments are $5k.
It is worth noting that this is a fraction of what others might charge – TechCrunch reports that SpaceX was paying $165k per month for a third-party VSAT provider.
It is important to note that you can predict revenue by offering internet services to consumers and businesses. At the moment, Starlink is cheaper and significantly more efficient than any other service on the market.
The Starlink satellite constellation, however, has not been all positive. Scientists are concerned that it could affect the night sky, causing streaks on astronomical images. Additionally, there is the concern of potential crashes resulting in orbital debris, which may pose a threat to astronauts during their missions.
Despite these concerns, Starlink introduced restrictions in November 2022 that would result in slower speeds for customers who use one terabyte during peak hours of the day. The peak hours of the day are between 7 am to 11 pm.
As more people sign up for the service, average download speeds appear to drop between 5 percent and 54 percent, according to web speed testing firm Ookla. To solve that problem, SpaceX and Starlink will have to deploy new satellites continuously, which they can certainly do.
Company's Revolutionary Research Services
The reusability and supply chain integration of SpaceX has revolutionized the entire industry. It is especially evident when looking at NASA's Artemis program, which targets landing the first woman and person of color on the moon, among other initiatives.
This has led to other companies, such as Boeing and SpaceX, developing these rockets. Since 2014, NASA has already awarded contracts to both companies despite Artemis being announced in 2020.
NASA awarded Boeing 60 percent more than SpaceX since it believed the former would be able to complete its Starliner rocket much sooner. Today, SpaceX has made much faster progress in its development than Starship, which is scheduled to have its first crewed flight in 2023 but has yet to launch.
During the fiscal year of 2022 alone, SpaceX received $2.04 billion from NASA, while Boeing received $1.72 billion. SpaceX has since replaced Boeing as NASA's second-biggest contractor.
As a result of SpaceX's launch services, NASA astronauts can travel to the ISS using the Dragon capsule.
SpaceX conducts research on behalf of clients to the extent that a substantial portion of its revenue is dedicated to it.
There is no limit to what SpaceX can develop for NASA. The Air Force Research Laboratory (AFRL) recently awarded SpaceX an $8.5 million contract to research different manufacturing techniques for heat shields.
Several other companies received grants from the U.S. Space Force, including SpaceX and competitors like Blue Origin and Rocket Lab. SpaceX received $14.4 million for combustion stability analysis and Raptor engine testing.
It has been illustrated above how SpaceX can help agencies like NASA achieve substantial cost savings and avoid working with foreign adversaries like RKK Energiya.
Merchandise of Elon's SpaceX
Besides selling merchandise through its website and licensing agreements, SpaceX sells merchandise on its official website for a small, but not insignificant, amount of revenue. Various clothing items are available for fans of the company, including T-shirts, jackets, etc.
Those clothing pieces are aimed at men, women, and children. SpaceX also sells accessories such as journals, water bottles, posters, and more. For instance, a $30 SpaceX-branded journal illustrates how popular the company must be when looking at the pricing.
Additionally, SpaceX has entered into a licensing agreement with toy manufacturer Mattel to sell merchandise through its website.
Elon's other company, Tesla, recently forged a similar partnership with Mattel. Under the agreement, SpaceX will receive a percentage of the toys Mattel sells.
SpaceX Social Media Platforms:
SpaceX has amassed over 16.4 million followers on its official Instagram profile. On Twitter, the company has 27.1M+ followers and 6.12M+ on its official YouTube channel.
| | | |
| --- | --- | --- |
| Social Media Platforms | Social Media Profiles | Followers/Subscribers |
| Instagram | @spacex | 16.4M+ Followers |
| Twitter | @SpaceX | 27.1M+ Followers |
| YouTube | @SpaceX | 6.12M+ Subscribers |
SpaceX Social Media Platforms
How Much Does SpaceX Make Every Year?
According to Jefferies analyst Sheila Kahyaoglu, SpaceX generated $2 billion in launch revenue during the fiscal year of 2018.
According to its income statement and balance sheet, the firm's revenue in 2019 is likely to be lower, given that it 'only' launched 11 rockets into space. However, this ultimately depends on how the contracts it signs are accepted.
In 2022, SpaceX launched 24 external payloads into space, increasing the firm's revenue considerably. SpaceX has launched over 30 rockets to deliver Starlink satellites, enabling more than 500k customers to access satellite broadband internet.
For example, If SpaceX earns $100 per month from its 500k customers, its annual income will be $600 million.
Including the $500 price tag on installations, the $25 per month RV subscribers pay on top, and the substantial premiums business customers pay, this figure ignores everything.
As a result, Starlink alone might already generate a revenue rate of close to $1 billion annually. SpaceX has quadrupled its valuation from $30.5 billion in December 2018 to $125 billion, so it is only natural that the company's revenue has also increased.
Recommended: What is ChatGPT, and how does it work?
Conclusion:
In this article, you read the complete information regarding SpaceX Business Model. Feel free to post your questions in the comment section.
Thanks.