How Does Paceline Make Money? Using Paceline, members can earn rewards simply by working out, making it a popular fitness application.
Paceline generates revenue from various sources, including interchange fees, annual fees, late payment fees, and advertising on the app.
Since its establishment in 2019, Paceline has garnered over 500k users, and the company has recently secured nearly $35 million in funding.
What Is Paceline?
Paceline allows members to earn rewards from companies such as Noom and Les Mills by working out and achieving at least 150 minutes of elevated heart rate per week.
Paceline values all types of physical activity, from running and yoga to cycling. It relies on wearables like the Apple Watch, Garmin, or Fitbit to track members' heart rate data and transmit it back to the app.
In addition to the app, Paceline offers users the opportunity to apply for a credit card that gives them up to 5 percent cashback on eligible purchases, with the maximum reward available for shopping at Whole Foods and other merchants offering between 1.5 to 3 percent cashback.
Paceline users who reach their weekly fitness goal can earn at least 2.5 percent cashback with their credit card, while those who do not will receive 1.5 percent cashback.
Taking a closer look at Paceline business model
Joel Lieginger, who had nearly two decades of experience in the financial services industry at major companies like AIG and AIA, founded Paceline in late 2019. The San Francisco-based company is now headquartered in California.
Lieginger's work in the financial services industry was primarily focused on Japan and Hong Kong. He oversaw multi-billion-dollar bancassurance relationships with major institutions such as Citibank during his time at AIA.
As Lieginger's personal life evolved with the arrival of three children within three years, he found less time for exercise and a healthy lifestyle. When he was eventually able to prioritize working out again, Lieginger came to realize that good health is a crucial aspect of the human experience.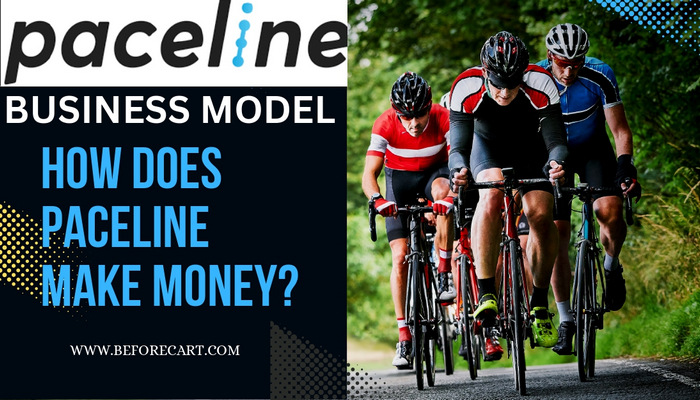 Lieginger's realization of good health benefits for individuals and industries, including increased productivity, inspired him to start developing Paceline. To secure the necessary funding, Lieginger and his family relocated to San Francisco, where they established the company's headquarters.
Indirect competitors like Strava, headquartered in San Francisco, made the city even more appealing to Paceline. In January 2020, Lieginger launched Paceline after months of hard work. By the end of the year, the app's beta users had logged over 1.2 million workouts and redeemed rewards worth $500k.
Considering the Covid-19 pandemic somewhat limited workout opportunities, this number represents an impressive accomplishment. Despite facing challenges, Lieginger and his small team persisted and eventually secured $5 million in seed funding by December 2020.
Mark McCombe, a BlackRock veteran who had known Lieginger since 2013, was one of the investors in Paceline's seed round and came up with the app's name. In an interview with Benzinga, McCombe explained that he came up with the name Paceline for the app because he believed it represented the power of individuals working together for the team's benefit, a concept familiar to avid cyclists.
When Lieginger pitched him the idea of creating a rewards community based on health and wellness and financial services, McCombe knew that Paceline was the perfect name to express his vision.
In June 2021, just six months after raising $5 million in seed funding, Lieginger and his team at Paceline he secured an impressive $29.5 million in Series A funding from top-tier investors such as Acrew Capital, Mubadala Capital, and existing backers. As part of the funding round, McCombe joined Paceline's board of directors, further solidifying his support for the app and its mission.
Despite many obstacles, Paceline successfully launched its credit card in March 2022 after using some of its funding. Paceline's ability to secure partnerships with various health and sports companies, such as Ragnar Relay and the Detroit Pistons, has helped it gain industry recognition.
With over 500,000 active users and 2 billion minutes of activity logged, Paceline's rewards program has proved to be a hit with fitness enthusiasts. Paceline's rewards program has been incredibly successful, with users having already redeemed over $4 million in rewards value.
Paceline's credit card launch and partnership agreements have helped it to establish itself as a significant player in the health and wellness industry.
Recommended: Brave Business Model
How Does Paceline Make Money?
Paceline's revenue streams are diverse and include various fees, as well as income from advertising on the app.
Paceline's business model is based on incentivizing user growth through its rewards program, which encourages more and more users to join.
By cross-selling different offerings to its growing user base, Paceline is able to drive revenue without having to spend a lot on customer acquisition costs.
Paceline's low customer acquisition costs are a result of its unique business model, which relies on rewarding users for their activities.
Paceline's revenue streams may expand beyond its credit card to include subscriptions or insurance in the future as it continues to grow and expand its offerings.
Interchange and Annual Fees
Paceline's primary source of revenue comes from interchange and annual fees imposed on both consumers and merchants.
Interchange fees, which are paid by merchants, typically range from 1.5% to 3% of the transaction value, plus a fixed fee of $0.10.
While Paceline collects a significant amount of revenue from its fees, a portion of that revenue goes to Visa and Evolve Bank & Trust, the issuer of the credit card.
Paceline charges a $60 annual fee to users, which is used in conjunction with cashback rewards to keep users within the ecosystem.
Paceline also applies late payment fees to users who do not pay their credit card bill on time, but it is unclear whether Paceline retains any of that revenue.
Paceline's revenue model is heavily dependent on its credit card offering, but it may expand its revenue streams in the future as it grows and diversifies its offerings.
Earn Money Through Advertisements
Paceline incentivizes users to make purchases at qualified merchants by offering cashback rewards, which are funded by the very same companies it promotes.
Advertisers like Lululemon benefit from partnering with Paceline because they gain access to a health-conscious consumer base that aligns with their target customer.
By deploying marketing dollars more efficiently, advertisers are able to attract and retain repeat customers, which ultimately drives revenue.
Paceline's rewards program not only benefits users, but also allows advertisers to build direct client relationships with potential customers.
Advertisers like Lululemon can reactivate customers by sending out cost-efficient promotional campaigns via email after users have made purchases using Paceline's credit card.
Paceline is not the only fitness app that utilizes advertising partnerships to drive revenue; Sweatcoin also partners with many of the same brands as Paceline.
Recommended: Mastodon Business Model
Valuation, funding, and revenue for Paceline
According to Crunchbase's report, Paceline has attracted significant investment from notable venture capital firms, having raised a total of $34.5 million across two rounds of funding.
Some of the investors who have placed their bets on Paceline's potential include Acrew Capital, Montage Ventures, Propel VC, and Northwestern Mutual, among others.
As a privately held company, Paceline is not required to disclose its valuation or revenue run rate to the public, leaving investors and competitors to speculate on the company's financial health.
Paceline's ability to attract such a large amount of venture capital funding is a testament to the potential of its business model and the broader trend of fintech startups disrupting traditional financial services.
By keeping its financial metrics private, Paceline may be able to avoid the scrutiny and expectations that come with being a publicly traded company, allowing it to focus on growth and innovation without the pressures of quarterly earnings reports.
Conclusion:
Paceline's business model revolves around driving user growth through rewards tied to physical activity. By offering a unique credit card rewards program, Paceline seeks to differentiate itself from traditional credit card providers and attract a health-conscious customer base. The question of "How does Paceline make money?" can be answered by looking at the company's revenue streams.
Paceline generates revenue primarily through interchange fees, annual fees, late payment fees, and advertising partnerships with health and sports-related companies. The vast majority of revenue comes from interchange and annual fees paid by both consumers and merchants, with a considerable portion going to Visa and Evolve Bank & Trust, the issuer of the credit card.
Paceline also charges a $60 annual fee, which the user pays, and applies late payment fees for those that fail to cover their monthly credit card bill. The company's advertising partnerships with health and sports-related companies allow it to offer various cashback rewards for making purchases at qualified merchants. It gets compensated by those companies in return.
Overall, Paceline's innovative approach to credit card rewards has attracted significant investment from well-known venture capital firms, positioning it for potential success in the growing health and wellness market.