Brave, the revolutionary internet browser, empowers users to traverse the web with unparalleled privacy while enabling them to access and experience a world of online content easily.
Brave, the innovative browser that prioritizes privacy, generates revenue through many sources, including banner ads, premium subscriptions, affiliate marketing, search advertisements, and an extensive online store that offers a range of digital and physical products.
Recommended: How Does Honey Make Money?
Since its inception in 2015, Brave has garnered an impressive $42 million in funding and cultivated a robust user community of 36 million individuals, solidifying its position as a leading player in the privacy-focused browser market.
What Is Brave?
Brave, the browser that places privacy at the forefront, empowers users to navigate the web seamlessly, access a vast array of online content, and run web apps efficiently, all while keeping their data secure.
Credits: @mksguide
What sets Brave apart is its unwavering commitment to privacy. Unlike other browsers, Brave blocks all forms of advertisements as standard, offering users a seamless browsing experience free of intrusive ads and all of it at no cost.
Moreover, Brave goes beyond just blocking ads. It offers comprehensive privacy protection by not tracking user behavior or collecting IP addresses, providing robust security against malware and phishing, and enabling anonymized network routing through its built-in Tor mode.
Brave provides unparalleled privacy and delivers lightning-fast browsing speeds by blocking intrusive ads and scripts, offering users a seamless and efficient web experience.
While Brave eliminates unwanted ads by default, it still provides an advertising experience for users who opt into Brave Rewards. These users can view Brave-supported ads and earn Basic Attention Tokens (BAT) for each privacy-compliant ad they receive, creating a win-win scenario for both users and advertisers.
Built upon Chromium, the widely-used open-source project maintained by Google and other browser operators, Brave leverages the strengths of Chromium while integrating privacy-focused features and functionality to create a unique and powerful browser experience.
In addition to its browser, Brave also offers a range of services, including its search engine, a customized news feed, offline playlist capabilities, and Brave Talk, a secure and convenient online video conferencing solution.
Brave can be easily accessed via its browser client for Windows and Mac as well as its mobile apps for Android and iOS (iPhone users), providing users with a seamless browsing experience on any device.
Recommended: Fintech Business Model
History Behind The Successful Business Model
Brave, the pioneering privacy-focused browser company, was founded in 2015 by tech industry veterans Brendan Eich and Brian Bondy and is headquartered in the tech hub of San Francisco, California.
Brendan Eich's impact on the web is immeasurable, and his role as a visionary in the tech industry cannot be overstated. Let's take a step back and examine his history to appreciate his contributions fully.
In 1985, he graduated from the University of Illinois at Urbana-Champaign after studying Computer Science at Santa Clara University and the University of Illinois at Urbana-Champaign.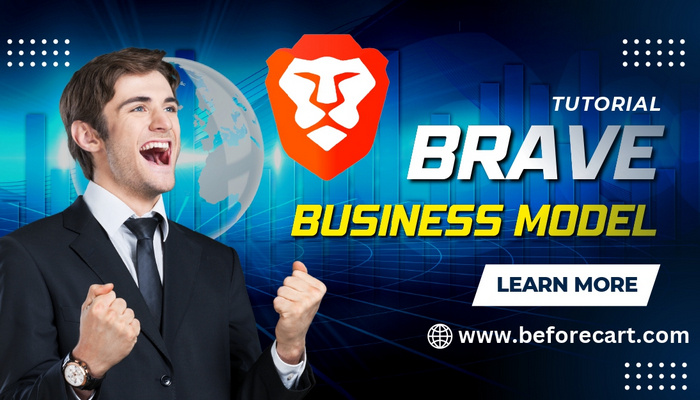 Eich's expertise in computer science was further strengthened during his master's studies, leading to his successful stint at Silicon Graphics. During his time there, the company's annual revenue saw a massive increase, going from $5.4 million to an impressive $188 million by 1992.
Before joining Netscape in 1995, Eich spent three years at MicroUnity Systems Engineering, further solidifying his skills and experience in the technology industry.
When Eich joined Netscape, he was entering fierce competition with Microsoft to control the browser market. The company, co-founded by tech giants Marc Andreessen and Jim Clark, was at the forefront of the fight.
With the advent of browsers, the internet was revolutionized and made accessible to the masses for the first time. This newfound ease of access opened doors for developers to create products across various operating systems, including Windows, Mac, and Linux.
With its monopoly on Windows, Microsoft sought to monopolize the internet by limiting its users to only using its pre-installed Internet Explorer. Facing the threat of domination, Netscape had the request to either divide the web browser market or risk being destroyed by Microsoft.
In response to Microsoft's threat, Netscape devised a plan to release the Netscape Navigator 2 Beta browser in September 1995. This browser allowed third-party developers to build software on top of it; however, a crucial missing component was a scripting language for developers to create websites and software, unlike Microsoft's Visual Basic.
The situation was further complicated by Netscape's recent agreement with Sun Microsystems. The new scripting language needed similarities to Sun Microsystems' Java, but it couldn't be an exact duplicate due to copyright laws. This posed a challenge for Netscape to create a unique language that met its and Sun Microsystems' requirements.
Netscape assigned Eich the task of creating the new scripting language due to his prior experience developing such languages during his college days. Despite the short time frame and pressure, Eich rose to the challenge and delivered what is now widely known as JavaScript – a programming language used by millions globally just ten days before the browser's launch.
Eich's contributions to the tech world did not end with creating JavaScript. While still at Netscape, he played a vital role in forming the open-source software project Mozilla in 1998. The purpose of Mozilla was initially to support Netscape by offering contributions to its source code.
Eich remained at Nets cape until 2003 when the company sold to AOL for $10 billion in 1999. Despite his efforts, the company eventually lost the browser wars to Microsoft.
Despite the downfall of Netscape, the Mozilla project had gained significant momentum, leading its creators to establish the Mozilla Foundation, a non-profit organization responsible for overseeing the project's growth and development.
In August 2005, the creators of Mozilla announced the formation of the Mozilla Corporation, its for-profit counterpart. Eich took on the role of CTO at the new organization. During his time at Mozilla Corporation, Eich met Brian Bondy, who joined as a software engineer in 2011 and stayed for nearly three years. In 2014, Bondy left for a short period to join Khan Academy.
On March 24, 2014, the Mozilla Corporation announced that Eich would be appointed its new CEO. However, he held the position for only a little over a week.
In 2008, Eich made a political contribution of $1,000 towards the 2010 California Proposition 8 legislation, which aimed to repeal gay marriage. This donation would later become a source of controversy for him.
Eich's appointment as CEO faced opposition from Mozilla employees and the general public, particularly those who used Mozilla's products. The protests led to Eich announcing his resignation and departure from the company on April 3, 2014.
After stepping down from Mozilla, Eich stayed low-key for the next 1.5 years while working on a new project, Brave. In November 2015, it was reported that he had raised $2.5 million in seed funding for the project, now named Brave Software.
Brave was designed to revolutionize online privacy and security by blocking unwanted advertisements and tracking scripts, all while being faster and more efficient than its competitors. The browser quickly gained popularity among users looking for a more secure and private browsing experience.
The promise of an ad-free internet appealed to many, but one particular cohort did not: publishers. Newspaper Association of America representatives issued a cease-and-desist letter in April on behalf of companies such as The New York Times and Washington Post.
The complaint against Brave by the publishers was due to the browser's built-in ad-blocking features and its "Basic Attention Tokens" system, which rewards users for viewing ads.
The publishers argued that these features and designs manipulated the traditional online advertising model and unfairly competed with publishers and advertisers. Despite the complaint, Brave continued to evolve and gain popularity among users who appreciated its privacy and security features.
The business model faced criticism from publishers, who argued that the compensation offered was insufficient to sustain their business. Brave faced several legal battles over the years, including a formal complaint from the Newspaper Association of America. Still, it has continued to grow in popularity among users who value privacy and a faster browsing experience without the distractions of ads. Brave has over 20 million monthly active users and continues to innovate, recently launching a privacy-focused search engine and a cryptocurrency wallet for its users.
Investors, on the other hand, were pleased with what they saw. In August, the company received a $4.5 million investment from Founders Fund and Pantera Capital. As part of the funding, BitGo and Coinbase announced partnerships to facilitate Bitcoin payments.
Brave introduced Payments within a month, allowing users to pay directly to publishers rather than pocket the Bitcoin they collected. As time went on, Brave's growth slowed, primarily due to users who preferred to keep Bitcoins than hand them over to publishers.
BAT, built on the Ethereum blockchain, aimed to create a new, decentralized advertising platform that would give users more control over their data while rewarding publishers and advertisers for their efforts. BAT's success allowed Brave to fund the development of the browser and grow its user base, which had reached millions of users by 2019. The BAT token also became one of the most popular cryptocurrencies, being listed on numerous exchanges and used for various purposes across the decentralized web.
The switch from Bitcoin to Basic Attention Token (BAT) allowed Brave to reduce fraud and improve efficiency for advertisers and publishers. The company believed that using BAT would result in a better overall experience for all parties involved in the online advertising ecosystem.
This move helped the company attract and onboard many content creators and build a strong community around its ecosystem. With the help of its BAT currency, Brave aimed to create a fairer, more transparent, and more efficient advertising system that would benefit users, advertisers, and publishers alike. The company continues to develop and expand its product offerings, focusing on privacy and user control over its data.
It was previously possible to tip only publishers and creators before BAT was adopted. In June 2018, the company introduced banner ads to its browser. It would then be served by partners such as BlockFi, eToro, MyCrypto, and Ternio BlockCard. During the same period, Eich and Brave employees like Dr. Johnny Ryan began criticizing competitors' lack of privacy.
For example, Brave filed a privacy complaint in Ireland and Britain against Google in September 2018, citing repeated violations of the EU General Data Protection Regulation (GDPR). Only a month later, Eich strengthened his stance on the issue by urging members of the U.S. Senate to look at the GDPR law as a regulatory model that could be applied to the United States.
A surge in adoption was attributed to Google's invasive privacy policies. Throughout 2018, Brave grew from one million to five million users 2018. In 2019, Brave entered into several new partnerships, including allowing users to tip others on Twitter, Vimeo, and Reddit.
With nearly 11 million users at the end of 2019, it doubled its user count from the previous year. Furthermore, over 340,000 verified publishers were counted, up from 28,000 at the beginning of the year.
As part of its anti-Google campaign, Brave filed a complaint with the U.K. consumer protection agency in February 2020. According to them, Google collects excessive data; it has an unfair advantage due to GDPR laws being enforced in the country. In April, it filed a second complaint with the European Commission, accusing 27 other EU countries of violating GDPR.
Aside from its legal battles, Brave has continued expanding its product lines. In the wake of the Coronavirus pandemic, Zoom reached dizzying heights, causing global lockdowns.
As a matter of course, Brave wanted its piece of the pie. The company introduced its video conferencing system in May. Additionally, Zoombombers could not interrupt video conferences with the product's end-to-end encryption.
As word of the browser spread, more and more people began exploring it, including podcaster Joe Rogan, who admitted to using it on one of his shows. Even though Brave has grown exponentially, it has also encountered some backlash.
In June, the company was reported to have quietly inserted affiliate links for specific search queries without users' knowledge. One month prior, Brave had added a home widget for Binance that redirected users through its affiliate program.
Brave maintained its course despite public backlash. It was announced in July that Guardian VPN and firewall services would be added to the company's offerings. In December, the company released a newsreader with privacy features. By the end of the year, Brave had grown its user base to over 24 million due to all of these innovations.
In addition, several significant partnerships were announced by Brave. It first announced a deal with Ecosia in January 2021 (to provide Ecosia as a search option within Brave) and then added MrBeast to its list of verified publishers in February 2021.
It wasn't until a few months later that the most significant announcement was made. It was announced in March that Brave would launch its search engine. To do this, it acquired the team behind the open-source search engine Tailcat. By the end of June, the search engine had been launched.
The company removed Google as its default search engine in October, showing how serious it is about its search product. Brave continued to expand its product suite (introducing a crypto wallet, for instance), add new partners (like Solana), and reach 50 million users (January 2022).
Recommended: Sweatcoin Business Model
Brave's Business Model: How Does The Browser Monetize?
In addition to banner advertising, subscription fees, search ads, affiliate commissions, and selling digital and physical products online, Brave makes money from banner ads, subscription fees, search ads, and affiliate commissions. In the following sections, we'll examine each revenue stream in more detail.
Recommended: Who Owns Mastodon?
Advertisements on Banners
In Brave, ads are displayed across the browser, primarily in the form of Banners, which generate the majority of revenue. In addition to established companies like Verizon and Barron's, Brave advertisers are mainly situated in the crypto domain.
Users are shown no ads by default when using Brave Ads because they are opt-in. Ads are only displayed after the user explicitly accepts them. In the event that users enable ads, they are entitled to 70 percent of Brave's ad revenue. Tokens are issued in the form of BAT.
In addition, Brave will receive 30 percent of the remaining funds. It is possible, however, for users to donate the BAT they receive to publishers they like.
Advertisements in Search Engines
Search ads for Brave's own search engine were first introduced in November 2022. In a similar fashion to DuckDuckGo and unlike Google, those ads are served based solely on search queries, not by tracking users.
However, I would assume that ads are monetized similarly. As a result, the top result is determined by an auction-based system, where advertisers with the highest bids appear first.
Every time a click is triggered on that search ad, Brave gets paid. In contrast to Google, which has minimized its ad classification over the past few years, Bing's ad-based search results are marked pretty heavily.
Earnings from Affiliate Programs
After inserting affiliate links into its home widget without informing users, Brave faced serious backlash in June 2020. The company apologized, but affiliate sales still make up a significant portion of its revenue. People can purchase cryptocurrencies using the different exchanges Brave partners with when they open the browser, including Binance, FTX, and Crypto.com.
Further, Brave offers a dedicated deal page called Brave Offers. Users can purchase heavily discounted products here, such as Television, Tablets, or Skillshare courses. In return, Brave receives a commission on the sale price. Brave may also continue to receive compensation for subsequent purchases, similar to its partnerships with cryptocurrency exchanges.
Brave's Subscription Plans
As Brave has expanded from simply being a browser towards becoming a super app, it has become more than just a browser.
In addition to its own search engine, the company introduced a video conferencing system, VPN, and firewall products. Brave generates revenue through its VPN and video call products through monthly subscription fees.
The company introduced a video conferencing tool, Brave Talk, which is absolutely free of cost for its users. But, to access the advanced features of Brave Talk, like call recording and video conferencing facilities, the users have to pay a monthly subscription fee of around 7 to 10 dollars.
Brave's browser is a gateway to other services it develops (see sections above). As Brave controls the rails, namely the user's internet access, it can cross-sell multiple products throughout the user's digital journey.
It is, therefore, likely to be able to market other privacy-focused products to its users. In addition to its free search engine, Brave has a subscription service called Brave Search Premium, which offers ad-free results. It costs $3 per month to use the premium search experience.
Revenue Through Swag Store
Additionally, Brave makes money from its Swag Store by selling physical and digital products. The company sells various fashionable items, including T-shirts, shirts, stickers, jackets, and more.
The company also participated in the NFTs (Non-Fungible Tokens) Meme Competition hosted by the famous social media platform Reddit in 2021.
Afterward, the top three submissions would be tokenized and sold through the Swag Store. In spite of the fact that Brave's NFTs didn't get CryptoPunk-like returns, they still sold.
The Brave Business Model Explained
As part of its business model strategy, Brave aspires to become a platform for everything privacy-related.
A key component of its offering is the firm's browser, which serves as a channel for acquiring customers.
As a result, users are attracted to Brave's ecosystem by its reward system, namely the tokens it hands out for consuming its advertisements.
Brave facilitates financial transactions at substantially lower costs through cryptocurrencies, catering to its privacy-centric mission (since one of crypto's most significant selling points is the disintermediation of big financial institutions).
To signal why it is the better choice over Google or Facebook, Brave counterpositions against them (i.e., privacy, no tracking).
A selection of paid products is used to monetize the goodwill accumulated by the company. This strategy is exemplified by its firewall and VPN offerings.
In comparison to software providers like ExpressVPN or NordVPN, which have to invest millions in online advertising, Brave has a competitive advantage.
As a result, Brave obtains users for free through its browser, thus significantly increasing its profit margins.
Google is currently facing various antitrust lawsuits for promoting its products over its competitors. There is also a company named DuckDuckGo, also in the list of this competition.
A privacy-focused search engine, DuckDuckGo offered an app-based browser, then moved into other associated products (it provides a browser-based app).
Recommended: Mastodon Business Model
The funding, revenue, and valuation of Brave
According to Crunchbase, Brave has raised $42 million in venture capital funding across seven rounds.
Many notable investors have invested in the company, including Founders Fund, Rising Tide, Abstract Ventures, Pathfinder, Hone Capital, and others.
Brave is a private company and is not obligated to disclose revenue or valuation figures to the public.
Who is the Owner of Brave Browser?
Brave Software, Inc. is the company behind the Brave browser, and its co-founder and CEO is Brendan Eich. The owner of the company is Brendan Eich and Brian Bondy.
Moreover, as the company's CEO and public face, Brendan holds a larger stake than Bondy. In addition, his reputation for creating JavaScript and launching Mozilla should've contributed as well.
Furthermore, the ICO, which netted the company $35 million, likely helped extend its runway significantly.
The fact that Brave hasn't raised any funding since then supports this claim. It had already announced two funding rounds totaling $7 million before the ICO.
According to institutional investors, the Founders Fund holds the largest share of the second round.
Conclusion: Brave's Business Model
In this article, you have learned everything about Brave's Business Model. You may write in the comment section if you still have anything to ask. For a more successful business model, you may visit our homepage.
Thanks for reading!