Introduction:
The Luckin Coffee scandal was a major controversy that hit the Chinese coffee chain in early 2020. Luckin Coffee, which was founded in 2017, had rapidly grown to become one of China's largest coffee chains, with a market valuation of over $12 billion. However, the company's success was short-lived when it was revealed that it had fabricated sales and overstated its revenue.
This resulted in a major drop in the company's stock price. This is just an introduction about a major scandle. To know more about it please read the article till the end.
What is Luckin Coffee?
"Luckin Coffee: The Chinese Coffeehouse Chain with a Name Meaning Happiness and Luck." It is a popular coffeehouse chain in China that offers a wide range of beverages and food items through its extensive network of kiosks and shops.
Its innovative online-offline model allows customers the convenience of ordering their favorite beverages and food through the company's app or other popular platforms, offering pick-up options in-store or delivery straight to their doorstep.
The model allows customers the convenience of ordering their favorite drinks and food through their app or popular platforms, and having it either ready for pickup in-store or delivered straight to their door.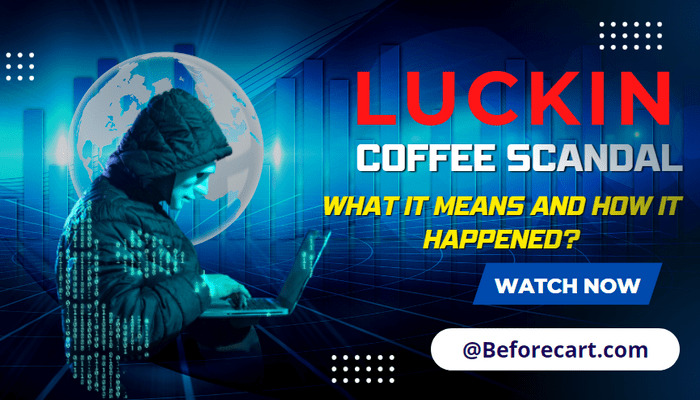 The company's cashier-less model relies heavily on technology, allowing customers to easily place orders and make payments through a machine instead of interacting with a human cashier.
Luckin Coffee's growth was also attributed to the significant discounts offered through coupons, setting it apart from Starbucks and resulting in upselling opportunities, such as the sale of Apple products, where the company generates profit.
Luckin Coffee's public listing on the Nasdaq stock exchange in May 2019 was followed by an accounting scandal that severely impacted the company's reputation and stability.
The details surrounding the accounting scandal and the fate of Luckin Coffee will be discussed in depth in subsequent chapters.
Recommended: What happened to Myspace? How did it fail?
Who founded Luckin Coffee? An overview of its history.
Luckin Coffee was founded in 2017 in China by Jenny Qian Zhiya and Lu Zhengyao. It aimed to provide high-quality coffee and beverages to consumers, with a focus on innovation and technology.
Prior to her role as CEO of Luckin Coffee, Zhiya served as COO of the Chinese ride-hailing platform UCAR, where she successfully managed the raising of billions of dollars in funding.
Charles Zhengyao Lu, the founder of CAR Inc. – one of China's largest car rental companies, was the leader behind UCAR, which was previously led by CEO Zhiya as COO, where she successfully raised billions in funding.
With a mission to provide high-quality coffee at an affordable price, the dynamic duo aimed to disrupt the market and challenge Starbucks' dominance in China.
The Chinese market's embrace of local champions like Luckin Coffee over multinational corporations such as Google and Facebook marked a shift in preference for domestic success stories.
In just one short year, Luckin Coffee's rapid expansion and strategic growth tactics allowed it to surpass many established competitors and secure its place as China's second largest coffee chain, boasting over a thousand locations.
The founders' ability to attract hundreds of millions in venture capital fueled Luckin's rapid growth, allowing it to undercut Starbucks with generous discounts and quickly become the second-largest coffee chain in the country after opening over 1,000 stores.
Instead, Luckin opted for smaller, highly-efficient stores that enabled quick and convenient purchases for busy customers on the go. This approach, combined with its deep discounts, resonated well with Chinese consumers who were looking for affordable and convenient coffee options.
However, in 2019, the company was rocked by an accounting scandal that raised questions about its financial reporting practices. Despite reporting a net loss, Luckin's IPO was able to bring in significant funds for the company.
Luckin Coffee reported that it had a net loss of over 241 million dollars on sales around 125 million dollars in 2018. Meanwhile, the IPO was seen as a major turning point for the company netted the firm over 560 million dollars, allowing it to expand further and solidify its position as one of the leading coffee chains in the country. The additional funds would also give it a much-needed boost in its mission to challenge Starbucks' dominance in the market.
An article pointed out Luckin Coffee's peculiar focus on aggressive discounting and rapid store expansion, which seemed unsustainable for the long run. These early doubts were soon proven to be true as the company's downfall started just a few months later.
However, despite Luckin Coffee's rapid growth, questions were being raised about the company's background, including the past of its Chief Marketing Officer, Yang Fei, who had served more than two years in prison for violating China's advertising law before joining UCAR and inventing growth hacking techniques that helped boost its valuation to $5.5 billion.
Regardless of the reason, Fei's resignation raised questions and sparked speculation about the company's practices and potential legal issues. The timing of his departure, just before the IPO, only added to the uncertainty surrounding the rapidly growing coffee chain.
Despite its rapid expansion, Luckin's strategy of aggressive growth came with its own set of risks and the company's financial health came into question as it continued to operate at a loss, relying on capital infusions from investors to fund its operations.
Luckin Coffee, despite reporting huge losses, managed to offset portions of them through a fundraise of $865 million through a follow-on share sale and the issuance of convertible bonds, as part of its continued growth-at-all-cost strategy.
Luckin Coffee's rapid expansion and aggressive growth strategy fueled speculation that it had surpassed Starbucks in terms of store count, however, this was short-lived as darker events were yet to unfold.
Recommended: Why did HQ Trivia shut down?
Explaining the Luckin Coffee Scandal Business Model
What causes a corporate scandal to spread across continents? The report claimed that Luckin Coffee had falsified financial documents and inflated its sales numbers by as much as $310 million. Muddy Waters, known for its high-profile short bets against companies like Wirecard, called Luckin a "complete fraud." This caused Luckin's shares to plummet, and the company's market value dropped by more than half within a week.
The SEC and SSE began to investigate the allegations, and Luckin's internal investigation found that the company's Chief Operating Officer and other employees fabricated the sales numbers. In April 2020, Luckin admitted to the fraud and its shares were delisted from the Nasdaq. The company's rapid rise and fall serves as a cautionary tale about the risks of rapid growth, aggressive expansion, and the dangers of cooking the books to meet growth expectations.
According to the report, Luckin Coffee allegedly inflates its sales numbers by over 11,260 hours through surveillance video recordings. According to the coffee maker, the numbers were inflated by as much as 88 percent.
It should be noted that the issuance of the report coincided with the outbreak of the Coronavirus in China and later worldwide, which forced Luckin to temporarily close most of its stores.
The company denied those allegations swiftly and vehemently, asserting that the "methodology of the report is flawed" and that the "evidence is unsubstantiated."
Consequently, nothing much happened over the next two months. Several shareholders claimed they planned to sue the company because of the report. On April 2nd, 2020, however, a bombshell dropped.
According to the Securities and Exchange Commission (SEC), Luckin Coffee disclosed that its board had initiated an internal investigation into the activities of its former COO Jian Liu. Approximately $300 million was suspected to have been inflated from his sales numbers for FY 2019.
As a matter of fact, the alleged fraud began in Q2 2019, right around Luckin's IPO. The negative news continued to pile up in the coming days.
According to reports, Charles Lu defaulted on a $518 million margin loan issued by Goldman Sachs (the money actually came from Morgan Stanley, Credit Suisse, Haitong, CICC, and Barclays).
Until the matter was fully resolved, Nasdaq also halted trading of Luckin Coffee's shares. Disgruntled investors filed dozens of lawsuits around the world in the meantime. There were even raids on the offices of the firm by Chinese officials looking for additional evidence.
During the financial crisis, Charles Lu had to sell portions of his holdings in CAR Inc to satisfy lender demands. It was inevitable that something, or rather someone, would have to give with billions of dollars in shareholder losses.
In 2020, Luckin's board terminated CEO and founder Jenny Zhiya Qian as well as COO Jian Liu, both of whom were terminated by Luckin's board. Despite the vote of confidence, Chairman Lu Zhengyao holds on to his position – for now.
It is interesting to note that American lawmakers, fueled by Trump's trade war, soon began to question the legitimacy of Chinese businesses listed on American exchanges. Additionally, TAL Education, which is also listed on the Nasdaq, had a scandal of sales inflation.
For companies in jurisdictions that have"secrecy laws, blocking statutes, national security laws, or other laws or regulations restricting access to information by regulators of U.S. listed companies" Nasdaq introduced tighter listing standards, not explicitly mentioning Luckin or any other Chinese company."
In June 2020, Luckin Coffee was delisted from the Nasdaq due to the scandal. Its board filed a resignation letter with the SEC that same day, requiring chairman Lu Zhengyao to step down. Lu, however, survived the vote of no confidence once again.
Despite this, the investigation by the Special Committee of the company ended somewhat unspectacularly.
"Over 550k documents were reviewed by the Special Committee and its advisors during the Internal Investigation, over 60 witnesses were interviewed, and extensive forensic accounting and data analytics were conducted," the filing stated.
Specifically, Luckin Coffee overstated revenues by $35 million in Q2 2019, $9 million in Q3, and almost $166 million in Q4 (current dollar terms) for a total of $300 million.
Charles Lu was finally ousted from his position as chairman on July 15, 2020, which put Luckin's proverbial foot down. As soon as Lu and the rest of the parties involved were out of the way, it was time to write the next chapter in the company's story.
Recommended: Luckin Coffee Scandal
Resulting in the Aftermath
Some speculated that Luckin's demise would result from the ousting of its founders and delisting of its shares.
As Luckin remained a loss-making operation, there was simply no way to access the capital markets or institutional investors for additional funds. In addition to the already ravaging fire, the Covid-related closure only added fuel to the flames.
There was also the possibility of fines hanging over the firm's head. First signs of what was to come were the $9 million fine Chinese regulators imposed on the firm in September 2020.
In December of that year, the SEC fined Luckin Coffee $180 million for not admitting or denying the allegations.
Eventually, Luckin Coffee filed for Chapter 15 bankruptcy in February 2021 as a result of mounting debt. When foreign entities wish to restructure debt from their U.S. operations, they commonly use Chapter 15 protection.
This allowed Luckin's stores to remain open and its operations to continue. As part of its debt repayment obligations with the Securities and Exchange Commission, Luckin Coffee raised $260 million from Centurium Capital (which contributed $240 million in senior convertible preferred stock) and Joy Capital.
In addition, Luckin laid off staff and closed over 600 stores (from around 4,500 to 3,900). A franchise model was also introduced in January 2021, shifting the set-up cost to the franchisee.
Lastly, Luckin ceased its heavily discounted offers and instead focused on converting existing users to more lucrative offers by funneling them to other offers.
During September 2021, the last bit of its legal troubles would be resolved. A global settlement around $188 million was reached with Luckin Coffee's shareholders in the same month.
Having dealt with most of the financial uncertainty, it was time to get back on track. As part of Luckin Coffee's new timeline, former backer Centurium Capital announced it acquired the remaining shares in the company.
In March 2022, its new chairman and CEO Guo Jinyi turned the company around, surpassing Starbucks in China (store count) for the first time. It took Luckin Coffee a month to emerge from bankruptcy only to report its first profitable quarter a few weeks later.
In addition to expanding into other countries, Luckin Coffee is also planning to expand into Southeast Asia.
Neither the firm's executives nor its employees have lost their sense of humor. What's the reason? According to rumors, Luckin Coffee intends to relist on Nasdaq within the next few years.
Conclusion: Luckin Coffee Scandal
In this article, you have learn the complete details about Luckin Coffee Scandal. We have collected all the above information just to provide you with proper informations. What's your opinion about Luckin Coffee Scandal? Please let us know in the comment section below.