How Does VRChat Make Money? VRChat Business Model. It is an online virtual reality platform which helps people to interact with others in graphical representation. VRChat is specifically intended for usage with virtual reality headsets such as Oculus Quest Series, Oculus Rift, as well as SteamVR headsets. Virtual reality social media is on the upswing, with apps like VRchat and RecRoom achieving more significant concurrency peaks every day. These platforms provide unique ways for businesses and startups to promote their products and services.
VRChat makes money or generates revenue by providing a premium membership service and selling products through its online store.
VRChat, founded in early 2014, has evolved to become one of the world's largest virtual reality communities. As of 2021, the firm has raised more than $95 million in venture capital.
In this article, we will discuss a successful virtual reality platform, its founders, its business model, advantages, some unknown facts, and more. Please read the complete article, and we assure you this will be very exciting and informative. And we will also let you know the complete information regarding the most curious topic, "How Does VRChat Make Money?"


VRChat Features
The gameplay of VRChat is similar to a few games, such as Hobbo Hotel and Second Life. Players can make their instances in which they can interact with one another via virtual avatars. Software development equipment included with the game allows players to design or import character models from numerous brands and use them as their avatars. Participant models can handle eye-tracking and blinking, the full range of motion, and audio lip-sync.
A significant advantage of VRChat is that it can be used without a VR headset in desktop mode, operated by a gamepad or a keyboard and mouse.
There are some limitations in a few activities in desktop mode, such as the failure to adequately operate an avatar's limbs or conduct activities that need more than one hand.
Shiba Inu Token (Shib), Business Model, New Projects | 2021


How Does VRChat Make Money?
VRChat is a platform where anyone can create, socialize, and play interactive games using virtual reality. The company has done very well with its VR chat app, but how does VRChat make money? It is because VRChat has not created any advertising solutions for users.
To earn revenue, they have to generate income from transactions, subscriptions, and sponsorships. Take a deep look at each of these revenue sections given below:
VRChat Subscription Plans:
VRChat plus subscription members get extra advantages over non-subscription members. The list of benefits is as follows:
If you are a plus member, you will be able to upload photos to your VRChat account.

VRChat allows its plus members to save 25 to 100 avatars in their favorites. Hope many features for the subscribers will come in future.

You may choose the photo to be shown as a "icon" next to your nameplate. You may access the page after clicking the Icons button in the VRChat Home interface's sidebar.

You may also use the User Icon interface to upload beautiful photos taken in VRChat.

You may access your account information in Steam by going to the Steam Account Details page. You may also access information by clicking the arrow next to your name in the Steam client's upper right corner, then choosing Account Details.

The subscription plan can be managed or canceled or renewed from the "Manage Subscriptions" option.

Canceling a subscription will result in the cessation of periodic payments, and your current subscription term will continue until it ends.

Customers have the option of subscribing on a monthly or annual basis. The monthly plan costs $10, while the yearly package costs $100.

How Does Kahoot! Make Money? Secret Behind the Successful Business Model 2021
VRChat Online Sales:
Some other source of revenue for VRChat is the products it offers through its online store. Users may buy VRChat-branded clothes as well as accessories like phone covers. The company takes a leaf from Twitch's playbook here. People may use the streaming service to buy apparel and other products from Amazon.

It does not provide firms with a new advertising channel, but it also raises awareness of the platform itself. Due to their popularity across various platforms, professional streamers representing your apparel might be a particularly desirable intended audience.
Also, Recommended: How Does ShopBack Make Money?


History Behind The Successful Business Model
In 2014, Graham Gaylor and Jesse Joudrey founded VRChat, headquartered in San Fransisco, California, United States. They continue to collaborate with other projects and raise funds from investors.
The pair started working with Ron Millar. Millar is famous for his work on Warcraft, which resulted in creating the first virtual-reality social platform.
On January 16, 2014, the game was launched as a standalone program for Microsoft Windows.
Oculus VR had collected over $2.5 million through a Kickstarter effort two years before and Facebook owned it for a stunning $2.3 billion in March 2014.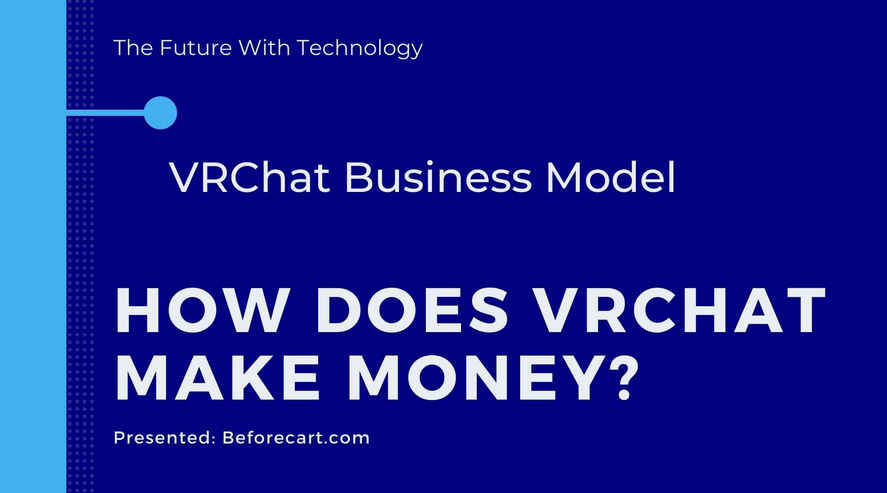 VRChat was able to utilize its potential to realize the desire of virtual reality enthusiasts by raising around 1.2 million dollars in a seed round, on October 4, 2016. Next year, VRChat was released through Steam's early access program.
VRChat is compatible with various VR headsets, including the Oculus Rift, HTC Vive, and more.
On September 5, 2019, VRChat raised $10 million in its Series C investment round. Some big companies like HTC, Brightsome Venture and others supported VRC for funding. Now, they have eight investors, but the owners are Joudery and Gaylor.

You may also like to read: Venmo Business Model


Some Facts about VRChat Revenue & Earnings
VRchat is a social platform that is available for free. It's uncertain how the organization makes money for the most part. People can use VRChat freely and has yet to implement revenue in the games.


The firm's only source of revenue comes from external sources. It includes establishing 3D material for customers. The firm also makes money from the investors who purchase the VRChat integration.


Crunchbase reports that VRChat has generated over $95 million in venture capital funding over five rounds.


For the time being, the income of social VR platforms is solely derived from external factors. Because of its growing popularity, social VR has the potential to build its own brand. VRChat is heavily reliant on investor funding.


The company can also make money by working with well-known businesses that will profit from the collaboration. For example, HTC. It is a major investor because of its innovations, such as HTC Vive. It is a device that many gamers and players rely on.


If VRChat Traders are enlisted into the firm, the door to riches may be opened for VRChat in the future. It is not an attempt to dominate the industry.


VRChat is not required to reveal revenue or valuation to the public because it is a privately held corporation. It might do so in the future.

Also, Recommended: How Does Flink make money? – Secrets Behind the successful Flink Business Model 2021