Introduction
Rivian Automotive is a new American automotive company that has been making waves in the industry with its innovative electric vehicles (EVs). Founded in 2009, the company has been quietly developing its technology and building a team of experts in the field. In 2018, Rivian made a splash with the reveal of its first two production models, the R1T pickup truck and the R1S SUV.
Rivian Automotive Background
R.J. Scaringe, an engineer and entrepreneur passionate about sustainable transportation founded Rivian Automotive. Scaringe started the company to create an electric vehicle that could go on long trips and tackle challenging terrain. The company's focus has been on developing a unique platform that can be used for multiple vehicle models, including trucks, SUVs, and vans.
Technology
Rivian's electric vehicles are built on a modular platform that allows for flexibility in design and production. The platform is designed to be scalable and adaptable, allowing for creation of different vehicle models with varying lengths, widths, and heights.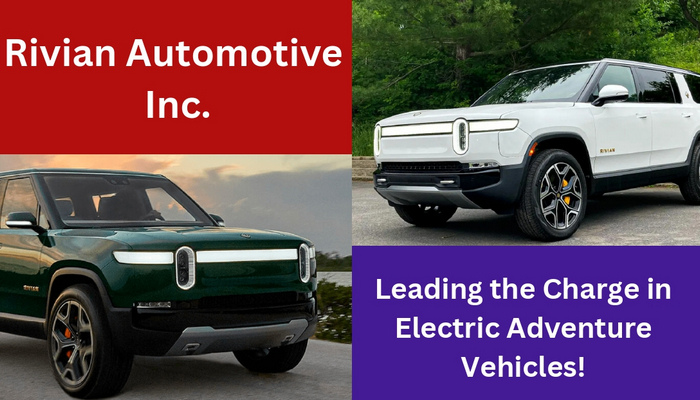 The company's vehicles also feature a unique "skateboard" design. The battery pack and drivetrain are located in the lower portion of the vehicle, allowing for a low center of gravity and improved handling. The battery pack is designed to have a high energy density, allowing for long-range and fast charging capabilities.
R1T Pickup Truck
The R1T is Rivian's first production model, a full-size electric pickup truck set to compete with traditional gas-powered pickups. With a high-speed charger, the R1T ranges up to 400 miles and can charge from 10% to 80% in just 45 minutes.
The R1T also features a unique "Gear Tunnel" storage system, a storage area between the cab and the bed accessible from inside and outside the vehicle. The truck also has an adjustable air suspension system that can raise or lower the vehicle to accommodate different terrains.
R1S SUV
The R1S is Rivian's second production model, a full-size electric SUV designed for adventure and off-roading. The R1S has a range of up to 400 miles and can charge to 80% in just 45 minutes with a high-speed charger. The R1S also features a unique "Quad Motor" system, which gives the SUV four electric motors, one at each wheel.
This allows for torque vectoring and improved traction control, making the R1S capable of tackling challenging terrain. The SUV also has an adjustable air suspension system that can raise or lower the vehicle to accommodate different terrains.
Future plans
Rivian plans to start production of the R1T and R1S in 2020, with deliveries starting in 2021. Rivian is introducing a smaller SUV and a van among its expansion plans.
In addition to its vehicle production, Rivian is also developing new technologies and services, such as a network of charging stations and a subscription-based service that would allow customers to access a fleet of Rivian vehicles for different adventures.
Recommended: Unleashing the Power of the MK3 Supra: A Timeless Icon of the Sports Car World
What About Rivian Stock?
RIVN stock refers to Rivian Automotive, Inc., a Michigan-based electric vehicle manufacturer. The company specializes in electric adventure vehicles, including trucks and SUVs. RIVN stock is not publicly traded as the company is privately held. You may read another article, Rivian Stock Price Prediction, to know more about this stock.
Conclusion:
Rivian Automotive is a company to watch in the E.V. market. Its innovative technology and unique approach to vehicle design sets it apart from traditional automakers and position it as a leader in the electric vehicle space. With its first production models set to hit the market in just a few months, Rivian is poised to impact the industry significantly. This makes Rivian's vehicles an excellent option for those who love the outdoors and want to reduce their carbon footprint.
Rivian's focus on sustainability is also evident in its production process. The company has committed to using sustainable materials in its vehicles and implementing energy-efficient manufacturing processes. This is in line with the company's mission to impact the planet and promote sustainable transportation positively. What's your opinion about this automobile company? We would love to hear your thoughts about Rivian; please share them in the comments section below.
Thanks for reading this article!